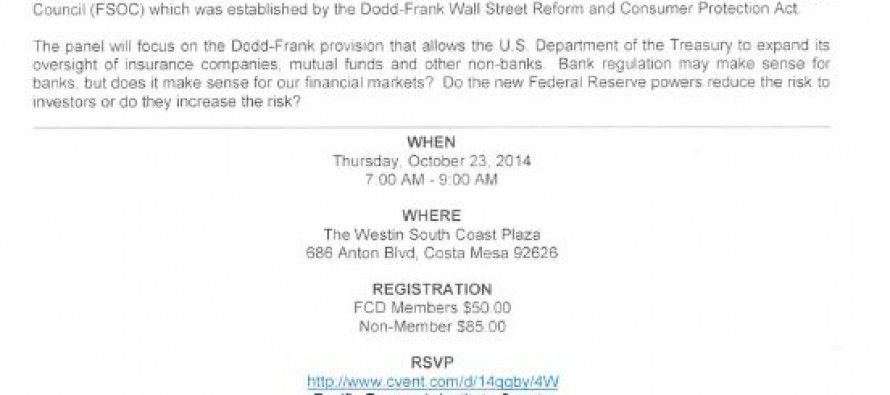 The Pacific Research Institute, CalWatchdog.com's parent think tank, is partnering with the Forum for Corporate Directors in a breakfast panel discussion Thursday, Oct. 23 from 7-9 a.m.
Location: The Westin South Coast Plaza, 686 Anton Blvd., Costa Mesa, CA 92626.
According to the flyer (see below): "FCD Chair Chris Cox will moderate an in-depth discussion with SEC Commissioner Daniel Gallagher and Paul Atkins, CEO of Patomak Global Partners and former SEC Commissioner, about the Financial Stability Oversight Council, which was established by the Dodd-Frank Wall Street Reform and Consumer Protection Act."
Registration: FCD Members: $50.00. Non-members: $85.
rsvp: www.cvent.com/d/14qgby/4W
PRI guests, enter code: PRI2014FCD on the payment page to receive member discount.
---
---
Related Articles
Steven Greenhut: Flashreport's Jon Fleischman rightly takes the California Chamber of Commerce to task for its apparent sell out of
Jan. 6, 2013 By Chris Reed One of the staples of modern journalism is the piece in which a famous
The great economist Gordon Tullock died recently at age 92. He is most associated with Public Choice Economics. Under it,