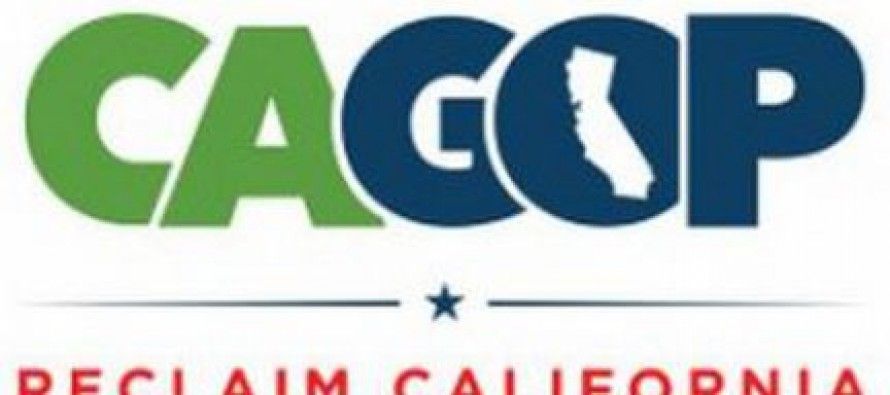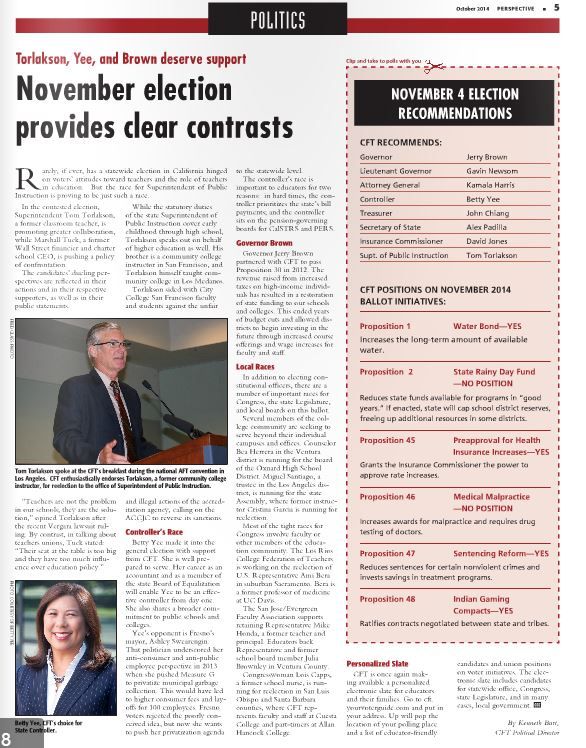 One of the most influential campaign documents for the Nov. 4 election is seen by few people: "Perspective," by the community College Council of the California Federation of Teachers; which is part of the American Federation of Teachers, AFL-CIO. Physical copies are sent to thousands of teachers across the state.
The October issue includes an endorsement of incumbent Superintendent of Public Instruction Tom Tom Torlakson, long a teachers union ally; and an attack on his opponent, reformer Marshall Tuck. Both candidates are Democrats for a nonpartisan office. It wrote:
"In the contested election, Superintendent Tom Torlakson, a former classroom teacher, is promoting greater collaboration, while Marshall Tuck, a former Wall Street financier and charter school CEO, is pushing a policy of confrontation."
But given the failure of California's K-12 schools, which perennially rank near the bottom of the states on national tests, it's hard to see how confrontation can be avoided if there's to be any improvement.
Vergara
"Perspectives" brought up the recent Vergara court ruling, in which a judge found the state's school seniority system discriminated against students in poor areas by providing a sub-par education. The paper wrote:
" 'Teachers are not the problem in our schools; they are the solution,' opined Torlakson after the recent Vergara lawsuit ruling. By contrast, in talking about teachers unions, Tuck stated: 'Their seat at the table is too big and they have too much influence over education policy.'"
Given that "Perspectives" largely is aimed at J.C. teachers, the paper  covered that:
"While the statutory duties of the state Superintendent of Public Instruction cover early childhood through high school, Torlakson speaks out on behalf of higher educatoin as well. His brother is a community college instructor in San Francisco, and Torlakson himself taught community college in Los Medanos.
"Torlakson sided with the City College of San Francsico faculty and students against the unfair and illegal actions of the accreditation agency, calling on the ACCJC to reverse its sanctions."
Torlakson's statement is here.
A court trial on the accreditation issue is scheduled for Oct. 27. According to the Chronicle:
"City College has been in a state of limbo since 2012, when the [accrediting] commission gave it eight months to correct numerous fiscal and governance issues that were out of compliance with accrediting standards.
"In 2013 — after the state sidelined City College's elected Board of Trustees and empowered a "special trustee" to make unilateral decisions — the commission still found the college was out of compliance. It voted to revoke accreditation, effective July 31, 2014."
But shouldn't the superintendent and the union favor tough standards to make sure students are learning and taxpayers are getting maximum bang for every education buck?
That's one thing voters will decide in this race on Nov. 4.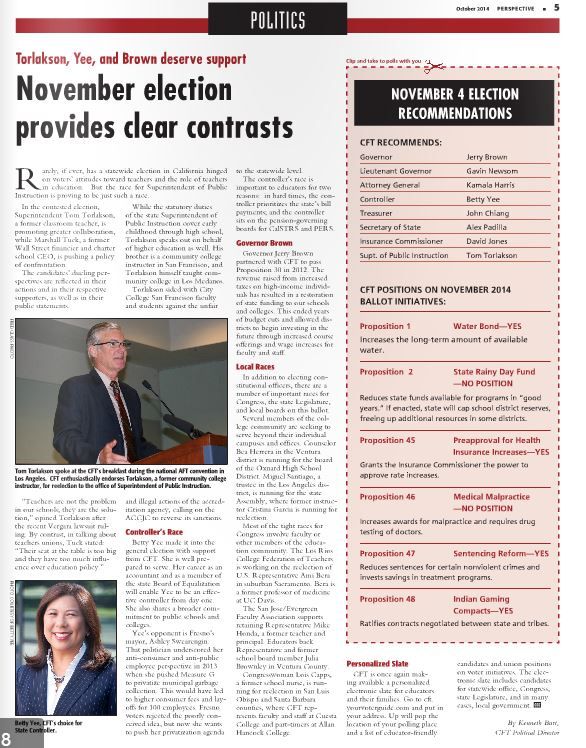 ---
---
Related Articles
John Seiler: Forget the President Obama "Birther" controversy over his birth certificate. What I want to know is: When did
Guess who's the movie villain: A. The two-term New York City mayor running for re-election; whose wife is played by
I was driving around yesterday morning with a country music fan. He had on our local country station, Go Country