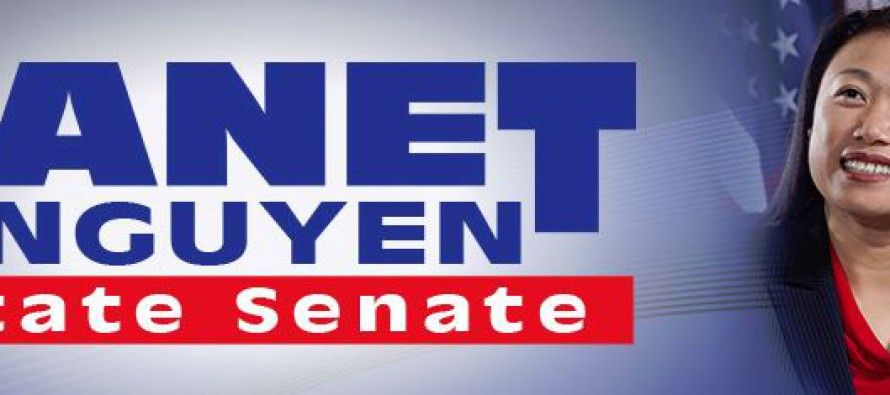 Republicans, who have already blocked a Democratic super-majority in the California Senate, have also succeeded in defeating a Democratic super-majority in the Assembly.
The only question remaining: How many seats will Democrats lose in the lower house?
Buoyed by low voter turnout and an effective ground operation, Republicans picked up two Southern California seats and held a slim lead in another Bay Area district, which was considered the top priority of the state's labor unions. Those pickups, which aren't expected to change with the counting of late absentee and provisional ballots, would be enough to make up for losing a coastal Ventura County seat currently held by a moderate Republican.
Entering yesterday night, Democrats held 55 seats in the Assembly, compared to 24 seats for Republicans, with one vacant GOP-leaning seat.
From the Bay Area to Los Angeles, the GOP recruited non-traditional candidates to prove the party means business about expanding its base and intends to adapt to the state's changing demographics. Republican candidates for Assembly posted stronger-than-expected results, with some safe, off-the-radar Democratic seats remaining too-close-to-call for most of Election Night.
Young Kim wins in Orange County
In the 65th Assembly District, Assemblywoman Sharon Quirk-Silva, D-Fullerton, lost by double digits to Republican challenger Young Kim, a former congressional aide to Rep. Ed Royce. With 100 percent of precincts reporting, the first-generation Korean American immigrant held a commanding 12-point advantage.
A gracious Quirk-Silva conceded the race late Tuesday night and offered her best wishes to Kim. "We fought hard, we worked hard, but tonight is not our victory," the former mayor of Fullerton posted on Twitter. "I wish my opponent #YoungKim the best in her new position, congratulations!"
More than $5.2 million had been spent on the race by the candidates, political parties and independent expenditure committees. Although Democrats have a 1.7-point advantage in voter registration, the district is considered a "lean Republican" seat, according to the ATC Partisan Index, which ranks districts based on their competitiveness. Kim performed well among absentee voters and benefited from strong support from thousands of Korean-American voters in the district.
In the 36th Assembly District, Asssemblyman Steve Fox, D-Palmdale, another first-term Democrat, lost reelection by a wide margin. With 100 percent of precincts reporting, Republican challenger Tom Lackey held an impressive 23-point lead in a district that Republicans let slip away in 2012 during late absentee and provisional counting.
This time, Republicans dispatched their top ground operatives to the Los Angeles County-based district to make up for a disastrous 2012 campaign. Fox, who won in 2012 by less than 200 votes, was pummeled this election with damaging mailers that reminded voters of his ongoing legal troubles.
The losses by Quirk-Silva and Fox marked the first time in two decades that a Democratic incumbent has lost reelection to the Legislature, according to GOP political consultant Matt Rexroad.
"1994 was the last time a Democrat incumbent lost to a Republican in CA Legislature," Rexroad, an award-winning political consultant, tweeted. "Two will lose tonight."
Parties split open targets
The two parties split a pair of open seats at opposite ends of the state.
In the 16th Assembly District, moderate Republican Catharine Baker, an attorney from Pleasanton, defeated Democrat Tim Sbranti, the mayor of Dublin, by four points with all precincts reporting. It is unlikely that Baker would lose the race with the remaining absentee and provisional ballots left to be counted. Her win will give Republicans enough seats to block the Democrats from reaching a super-majority.
Republicans, who traditionally struggle in the Bay Area, dedicated millions of dollars of their limited campaign funds to the competitive race after a brutal June primary. Aided by millions of dollars in independent expenditures from labor unions, Sbranti was ultimately weighed down by his ties to the unions, especially after a vicious primary against moderate Democrat Steve Glazer.
Several hundred miles south, Democrats picked up an open seat in the 44th Assembly District that was vacated by moderate Republican Jeff Gorell. The Ventura County-based seat was an expensive race between Republican Rob McCoy and Democrat Jacqui Irwin. With all precincts reporting, Irwin led McCoy 51.1 percent to 48.9 percent.
Other Democratic incumbents in trouble
At least one other Democratic lawmaker remains in danger of losing reelection.
In the 66th Assembly District, Assemblyman Al Muratsuchi, D-Torrance, was losing to Republican challenger David Hadley by more than 2,000 votes. The South Bay district was expected to be competitive, in part, because of low voter turnout.
In the 21st Assembly District, Assemblyman Adam Gray, D-Merced, defeated a late challenge from Republican Jack Mobley. With all precincts reporting, Gray had 52 percent to Mobley's 48 percent.
Republicans largely ignored Republican Jack Mobley's challenge to Gray. A moderate Central Valley Democrat, Gray endeared himself to the state's business community by occasionally delivering pro-business votes on hot-button issues. But the weak incumbent needed more than $310,000 in support from the party to beat back a last-minute campaign push orchestrated by CA GOP Chairman Jim Brulte.
Big upset: Democrat defeats Democrat
The biggest potential upset of the night was in the 39th Assembly District. Assemblyman Raul Bocanegra, D-Pacoima, was losing to unknown Democratic challenger Patty Lopez by 182 votes. However, with late absentee and provisional ballots left to count, that race remains too close to call.
In two other safe Democratic districts, the results were closer than expected.
In the 57th Assembly District, Assemblyman Ian Calderon, D-Whittier, held a slim lead over Republican Rita Topalian. Calderon, the son of former Assemblyman Charles Calderon, was weighed down by corruption charges filed against his uncle, outgoing state Sen. Ron Calderon.
In the nearby 48th Assembly District, Assemblyman Roger Hernandez, D-West Covina, defeated Republican Joe Gardner by single digits.
---
---
Related Articles
Three months after a Reuters study of national lead exposure data showed at least 13 communities in California faced as
In the wake of the disastrous healthcare.gov rollout, many defendants of the Affordable Care Act began to look for a
July 18, 2012 By John Hrabe National Journal's The Hotline released its first list of the most competitive U.S. House of