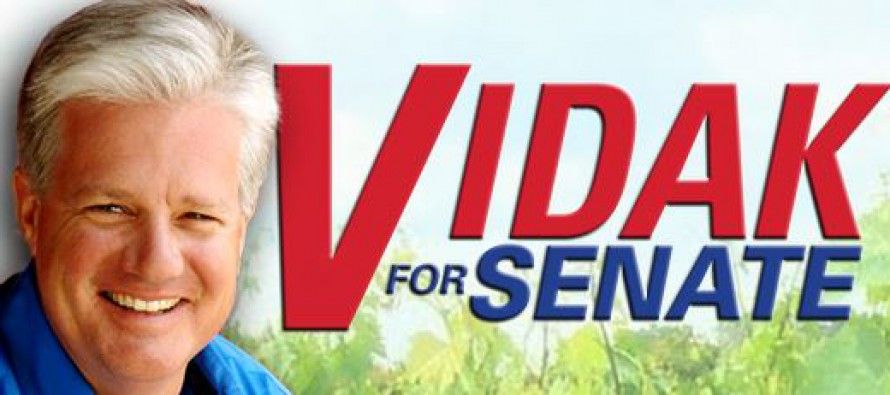 You knew Democrats were in the deep end of the pool over water issues in California back on May 14. That's when they asked Republican state Sen. Andy Vidak of Hanford to read out loud Joint Resolution 25 in the state Senate. It urged President Obama to find solutions to California's drought crisis.
It is rare in politics for one party to have to use a member of the opposing party to become the spokesperson for anything. But Vidak came from an area hard hit by the drought. And support from the Republican-controlled U.S. House of Representatives was crucial to getting federal relief.
The trend culminated yesterday when Vidak won another smashing victory — even though 54 percent of the registered voters in his 14th Senate District are Hispanic, and 49 percent are Democrat.
Who said Republicans can't win the Hispanic vote?
Vidak's victory, along with that of fellow Republican Janet Nguyen in Orange County, kept Democrats from regaining a two-thirds supermajority in the Senate.
Vidak got 55.5 percent of the vote in a district that encompasses the agricultural kingdoms of Fresno, Bakersfield and Mendota. Democratic Opponent Luis Chavez got 44.5 percent.
Vidak even got a greater percentage of the vote than in 2013, when he won 51.9 percent in a special election, against 48.1 percent for Democrat Leticia Perez.
Vidak, a Visalia-born cherry farmer, with an Animal Business degree from Texas Tech University, ran on a platform of passing a water bond with funding for new reservoirs in it, canceling California's High Speed Rail Project and voting against "job killing" bills in the State Senate.
Water bonds
Vidak became the spearhead for the Republicans' stance on the water bonds. As of late summer, scheduled for the ballot was a $11.1 billion bond dating to the Schwarzenegger administration. It had been postponed from the 2010 and 2012 elections because of almost certain voter disapproval. It also contained no money for dams and reservoirs.
Gov. Jerry Brown had offered a $6 billion bond, with $2 billion for dams and reservoirs. But Republicans didn't think that was enough.
Then, at the crucial moment when the Senate was gridlocked, Vidak offered an $8.7 billion water bond counter-proposal that included $3 billion for dams and reservoirs. That broke the dam of gridlock in the Legislature.
The compromise bond was Proposition 1, $7 billion in water bonds, including $2.7 billion for dams and reservoirs. It garnered bipartisan support across the state. Gov. Jerry Brown, cruising to his fourth term, spent the latter part of his campaign using his own funds to run ads featuring him backing Prop. 1, as well as Proposition 2, a strengthened rainy-day budget fund.
Prop. 1 won easily, 67 percent to 33 percent. Prop. 2 won as well, 69 percent to 31 percent.
Farmers
Vidak's leadership on the water bond was crucial to his garnering support from the farm community in his district. His campaign website said, pointedly:
"Water Is Our Lifeblood
"No one knows better than farmer Andy Vidak that our Central Valley way of life depends on building reservoirs and more water delivery projects . . . and, he's deeply concerned that too many local communities can't even get clean, safe drinking water for their families.
"A respected leader in the fight for more water, Andy Vidak authored the $9.2 billion "Safe, Clean and Reliable Drinking Water Supply Act of 2014" that provides critical water storage, emergency drought relief, groundwater cleanup and more regional water supply projects."
After his re-election, Vidak also sounded a bipartisan message:
"I'm cautiously optimistic. Common sense has no party lines. I think we've got a great message that's all about jobs, affordable reliable water and affordable reliable energy."
---
---
Related Articles
In an unusual exercise of power, California lawmakers in the state Senate launched a preliminary probe into the recent spike in
A new report tallying the costs of running against members of your own party revealed that Golden State Democrats spent big
Ten months after California voters rejected a rent control ballot initiative by more than 2.3 million votes – 59 percent