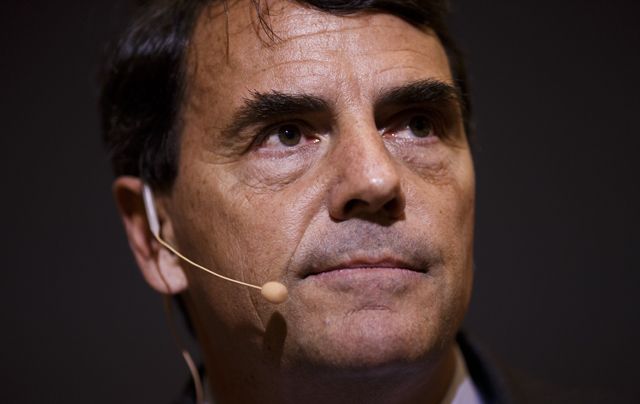 A fresh push to split California into multiple states his cleared its first hurdle, as state Secretary of State Alex Padilla granted Silicon Valley investor Tim Draper permission to solicit signatures to get the proposal on the ballot in 2018.
The new plan, backed by the billionaire bitcoin enthusiast, would divide the Golden State into three states — Northern California, Southern California and California.
Northern California would go from the San Jose area and extend to the Oregon border. Southern California would start in Fresno and cover most of Southern California, including the Inland empire and San Diego, and California would include Los Angeles County and extend up the coast to Monterey County. For more, here is a county-by-county breakdown.
The group must collect signatures from 365,880 registered voters to get on the ballot. And even if voters approve the measure in 2018, it would still require a vote by the state Legislature and the U.S. Congress.
"No one can argue that California's government is doing a good job governing or educating or building infrastructure for its people," Draper told The New York Times. "And it doesn't matter which party is in place."
Backers of the plan say it would equally divide populations and wealth, leading to better political representation with state capitals being closer to the people.
"The citizens of the whole state would be better served by three smaller state governments while preserving the historical boundaries of the various counties, cities, and towns," Draper wrote in the initiative's statement of findings. 
It's not the first time Draper has made the push. Back in 2014, he funded "Six California," which was a proposal for six states. And while it grabbed headlines, the measure failed to grab enough signatures to quality for the 2016 ballot.
If the latest effort did actually pass, it could have a major effect on the electoral map by putting one of the new states in play for the GOP, as the potential "Southern California" includes Fresno, Tulare, Madera and Kern counties, all of which voted for President Trump in 2016. Additionally, the historically conservative Orange County is in the theoretical state.
Like the previous campaign, this one is relatively sparse on details as to how issues like water rights, education spending, and health and social services would be worked out during the transition.
Moves to disrupt California's map have picked up steam in the Trump era, with some activists pushing for outright secession. For example, Louis Marinelli, the now ex-president of Yes California Independence, led a "Calexit" charge earlier this year but abandoned the campaign back in April after donors pulled out. However, the effort has since been renewed.
But any campaign to redraw the boundaries faces a steep climb, as the initiatives are still seen as fringe movements without the backing of prominent political leaders.
"California is the economic engine of the United States of America; we on our own, as a state, could be the sixth economic power in the world," state Attorney General Xavier Becerra recently said on Fox News Sunday. "The U.S. needs California as much as I believe California needs to be part of the United States."
---
Related Articles
The saga of Gov. Jerry Brown's budgetary labors has taken an unexpected twist, potentially triggering an all-but-forgotten provision designed
Most of the criticism of the Affordable Care Act rollout has been aimed toward rate shocks, canceled insurance policies and
Democrat Assemblymen Kevin McCarty and Phil Ting recently introduced Assembly Constitutional Amendment 22, a piece of legislation that calls for