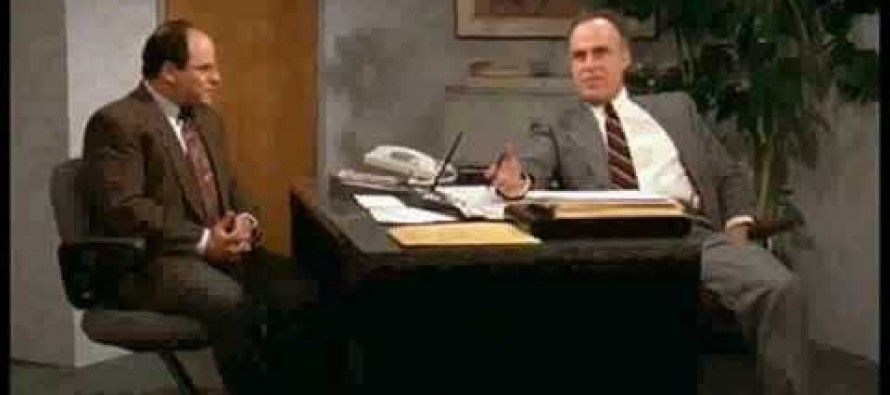 SAN DIEGO — The saga of serial groper Bob Filner took a hilarious turn Wednesday when it was revealed that the mayor's lawyer says San Diego taxpayers should foot the bill for any damages resulting from his sexual harassment because he was never given the city-mandated training that informed him it was unacceptable to paw female underlings, request they give up wearing underwear to work and make torrents of explicit sexual remarks to them.
Don't you understand? Filner knew NOTHING!
"'The City has a legal obligation to provide sexual harassment training to all management level employees,'" wrote Filner's lawyer Harvey Berger. 'The City failed to provide such training to Mayor Filner.'
"Berger also states that Filner never received such training as a U.S. Representative and may not know what indicates sexual harassment.
"'This is not an excuse for any inappropriate behavior which may have occurred, but I have learned that many – if not most – people do not know what is and what is not illegal sexual harassment under California law,' Berger stated."
But as I wrote for the U-T San Diego, Filner's political career has intersected with sexual harassment issues over and over again, making his claims to be ignorant of what was right and what was wrong seem even sillier.
"The ridiculousness of this claim is underscored by Filner's own history. He went from the City Council to Congress in 1992, succeeding Rep. Jim Bates, who was done in largely by a sexual harassment scandal that centered on his unwanted sexual advances toward his female staffers.
"In the bigger picture, 1992 was dubbed the 'Year of the Woman' because of a big increase in females elected to higher office. What triggered this phenomenon? The fall 1991 hearings of Supreme Court nominee Clarence Thomas, in which several members of the all-male Senate Judiciary Committee reacted to allegations that Thomas sexually harassed subordinate Anita Hill while chairman of the Equal Employment Opportunity Commission with scorn and innuendo about Hill's "proclivities."
"Then, during Filner's 20 years in Congress, he participated in House Veterans Affairs Committee hearings on the vast extent of sexual harassment in the military, including a wrenching 2007 session in which it was linked to high rates of suicide."
Filner: Clinton's consensual affair with aide 'indefensible'
"Here's the clincher: In December 1998, the House debated impeaching President Bill Clinton for having a consensual sexual relationship with intern-turned-aide Monica Lewinsky and for allegedly lying about it under oath. Filner opposed impeachment. But on the House floor, he trashed Clinton's conduct as 'reckless and indefensible.'
"So in 1998, Filner understood it was not OK for a boss to put the moves on a subordinate even if the subordinate was receptive. But now he says he had no idea it's wrong to put the targets of his unwanted advances in headlocks and to urge them to not wear panties while at work."
Filner's act is hilarious in how it evokes both "Seinfeld" and "Hogan's Heroes."
His contention that he had no idea it was unacceptable to treat the women who worked for him as sex objects to be pawed at whim reminds of the George Costanza moment just before he is fired for having sex with an office cleaning lady on his desk. George asks his boss, "Was that wrong?"
Filner's contention that he had no idea what he was doing was unacceptable of course evokes Sgt. Schultz ("I know nothing!") — but his whole behavior also reminds of Bob Crane, the "All-American Pervert" who played Col. Hogan.
Bonus Wednesday discovery: That Filner shares his birthday with … Anthony Weiner.
---
---
Related Articles
Former Los Angeles Mayor Antonio Villaraigosa announced he won't challenge state Attorney General Kamala Harris for the U.S. Senate seat
Robert Rizzo is going to jail. Facing over 100 counts of corruption and associated wrongdoing, he will spend 12 years