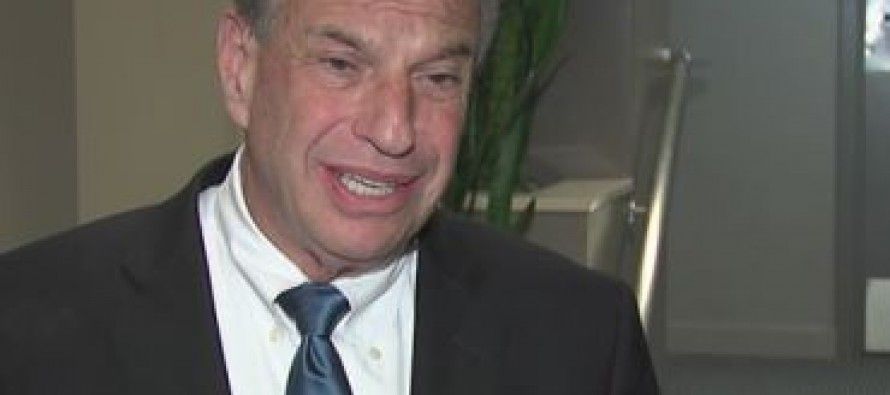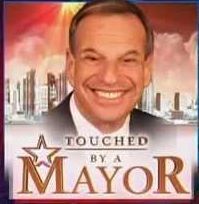 The saga of Mayor Headlock had one of its most eventful days Thursday as several reports illustrated the full range of his out-of-controlledness.
The oldest alleged victim yet came forward:
"DOWNTOWN SAN DIEGO — A great-grandmother who works as a volunteer staffing the senior citizens desk at City Hall charged Thursday that Mayor Bob Filner grabbed her and kissed her one day and on another occasion asked if she knew 'that I can go eight straight hours.'
"Accompanied by attorney Gloria Allred, Peggy Shannon said that after the first allegations of sexual harassment arose against Filner, he came by her desk, put his finger to his mouth and said 'shhhh.'"
But that's not even the half of it. There were also were two stories that provided fresh reminders that besides being a perv, Bob Filner is a very shady character.
An arrogant man who thinks rules are for other people
Here's No. 1:
"San Diego's city credit was endangered when Mayor Bob Filner and his assistant charged up thousands of dollars on a city purchasing card and failed to submit proper documentation to allow for payment, public records show.
"As Filner racked up debts totaling $3,200, U.S. Bank threatened the city's general goods credit through Dun & Bradstreet. The documents show the account fell to 120 days in arrears and was suspended.
"Along with his assistant, the records show charges totaling $11,095 for cards assigned to Filner's office. Expenses included items such as a juicer, a trip to Mexico, conference charges for a Las Vegas convention Filner did not attend and expenses at the Westgate Hotel across the street from City Hall, where Filner's bodyguards say he took women. …
"'I've discussed this issue with you several times, and as recently as last week,' Comptroller Ken Whitfield wrote on July 30 to Greg Bych, the city's chief financial officer. 'The mayor's office has not paid their p-card bill and it is about to go into collections and be written off by U.S. Bank, which will have a negative impact on our general credit rating." …
"The email goes on to say, 'Mayor Filner has yet to submit any of his receipts.'
"Submission of those receipts makes it possible for the city to pay the bill, Whitfield's emails say.
"The next day, Whitfield wrote with more urgency, saying, 'There is no more time for an extension, as we are already working on an extension of an extension.'
"The bill was apparently paid that day, although it's not clear whether the mayor ever did provide receipts as required under city policy."
Taking an entourage to Paris with a city credit card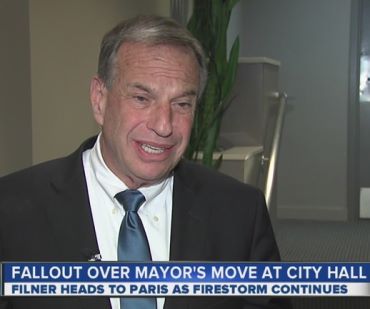 Here's No. 2:
"Taxpayers may have paid to book four people for San Diego Mayor Bob Filner's June trip to France — a potential contradiction of Filner's statements on his return that the city only footed the bill for his police security detail, which records show was a two-man team.
"The questions over how many people went on the taxpayer's tab emerged after U-T Watchdog obtained more records in regards to the trip. One email shows a city staffer seeking an increase in her city credit card limit to pay for airfare for Filner and his entourage.
"'Please increase my P-card transaction limit and monthly limit this month to $30,000 so that I am able to purchase airfare for the Mayor and staff (total 4) for an international trip planned for next week,' acting deputy human resources director Rimah Khouri said in a June 14, 2013 email to the city's charge card administrator."
"Filner had said in a June 28 news conference that a non-profit organization paid for his share of the trip and that Bronwyn Ingram, his fiance at the time, had paid her own way.
"The email does not square with the mayor's statements … ."
Besides all that … no one's seen him for weeks
Finally, there was this angle. Where is Bob Filner?
"Filner's been gone almost three weeks since his July 26 announcement he was entering two weeks of in-patient therapy to deal with 'inexcusable' treatment of women. In that announcement, Filner said he'd return on August 19 when his treatment was over. But things have changed since then. Filner exited therapy on Saturday, according to Filner lawyer James Payne, a week earlier than he had said because he had apparently started early. Payne said Filner was 'taking personal time' this week, though late Monday the mayor defended his fitness for office in an official response to a recall campaign against him. No one has said where the mayor is or confirmed when he will return to City Hall."
There was a Twitter report of a Filner sighting in San Diego on Thursday night. So maybe he's not an international fugitive.
---
---
Related Articles
Steven Greenhut: Assemblyman Brian Nestande, the Palm Desert Republican who recently attended a "no more cuts" rally sponsored by the
John Seiler: Republicans finally are wising up to a strategy I suggested to them long ago: Use the initiative process
Congresswoman Nancy Pelosi was mocked for saying about the Affordable Care Act, "We have to pass the bill so that