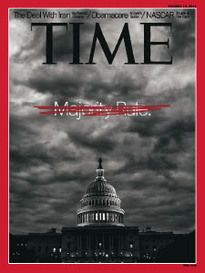 Here we go again. The cover of Time magazine I saw at a grocery store is nearby. The implication is that the U.S. House of Representatives, by failing (so far) to approve a budget that includes Obamacare, is against "Majority Rule."

That's because, as our commentator Steve Mehlman put it:
"The conswervatives are looking to overturn a law passed by Congress, signed by the President, ruled Constitutional by the U.S. Supreme Court and affirmed by the majority of American voters in the 2012 election."
But wait a minute. "Congress" has two parts. One part is elected nationally by democratic voting: the U.S. House — which is the one that's wants to get rid of Obamacare (at least so far)!
The other part of "Congress" is the U.S. Senate, which is undemocratically elected by state. Voters in Wyoming, population 576,412, have the same two senators as California, with 38 million people. The U.S. Supreme Court has ruled against basing state legislatures on such undemocratic processes; why hasn't the court ruled the U.S. Senate unconstitutional because undemocratic?
As to the "U.S. Supreme Court," it is an unelected, non-democratic body of nine lawyers. Which raises a similar question: Why doesn't the court rule itself as unconstitutional because undemocratic?
Thus, it seems that, contrary to Time magazine's contention, it is majority rule in action in the House, but not elsewhere.
---
---
Related Articles
Nov. 11, 2012 Katy Grimes: Despite losing two important Republican Assembly seats in the election and handing state Democrats a
Assemblywoman Cheryl Brown, a moderate African-American Democrat from San Bernardino seeking her third term, has brushed back the first challenge
Assemblywoman Shirley Weber, D-San Diego, is a former San Diego school board president and a longtime San Diego State professor.