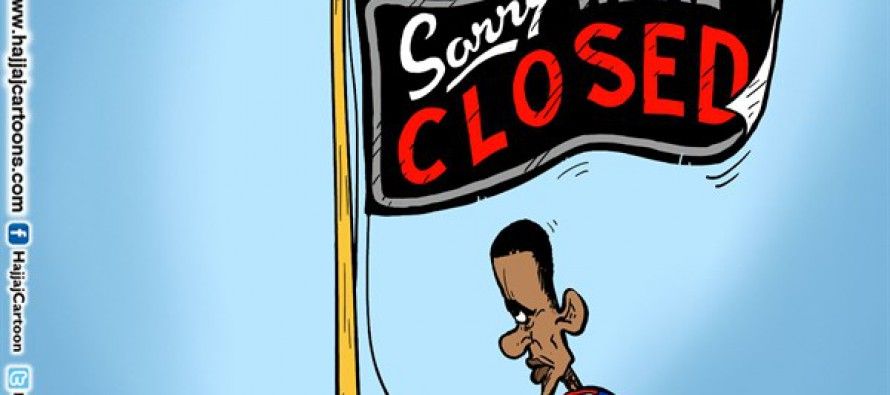 Earlier this week, CalWatchdog.com mentioned some of the political implications that the partial government shutdown will have on Congress, particularly a few vulnerable representatives from California. Members are dealing with the competing demands of winning leverage against the other party, while trying to stress their opposition to an ongoing shutdown. It's likely the shutdown will continue into next week and potentially even longer, as some conservatives have decided that a prolonged shutdown is a better political fight than one over raising the nation's borrowing limit.
So while the shutdown continues, lawmakers are now posed with a new question: To fundraise, or not to fundraise? In times of political crisis, lawmakers generally try to avoid fundraisers. After all, no elected official wants news to leak that they were eating shrimp with millionaires while 800,000 government workers are on furlough. But with the midterm elections just one year away, some politicians have decided it's best to stay away. For some, it's a matter of logistics: House Speaker John Boehner had to cancel a significant weekend fundraiser last month, and he may be forced to miss an upcoming event in Orange County, Calif. as well.
Vulnerable lawmakers are likely to avoid fundraising. Sen. Kay Hagan, D-N.C., was seen at a National Association of Realtors fundraiser earlier this week. Republicans blasted the vulnerable Democrat for raising money instead of negotiating over the impasse.
But politicians in safe seats who can take some political heat are continuing to fundraise, even sounding indignant at times. Roll Call reported:
Several more Democrats in safe seats continued to prime the pump. Reps. John D. Dingell and Sander M. Levin of Michigan and Reps. Charles B. Rangel and Nydia M. Velázquez of New York went forward with their fundraising events.
"Why shouldn't I?" Dingell responded to a question about one of his events. "I don't have to ask permission to have a fundraiser do I?"
Dems and Reps
Roll Call also explained the difference between Republicans and Democrats on the issue:
Some Democrats see the shutdown as the GOP's fault and argue that fundraising is a means to combat Republicans in the upcoming midterm elections. But other members, such as Rep. Jim Costa, D-Calif., canceled their events.
By comparison, Republicans are more skittish about raising money during the shutdown. One GOP operative said the only edict given to incumbents is "to use your head."
And some have decided to just go ahead and fundraise — or at least try to keep their donors happy somehow:
Still, some staffers concede their bosses are continuing to fundraise quietly. With Congress in session over the weekends, many members can't go home. As a result, they have blocks of unscheduled time on their hands — an unusual situation for members while they're in Washington.
Typically, congressional staff are trained to spot such windows of free time and schedule call time for the boss. But even phone time has proven less fruitful. Members are burned out from the fundraising push at the end of the second quarter. More to the point, donors don't want to hear their telephone pleas anyway.
Instead, aides say members are forced to use newfound free time for "donor maintenance" — offering thanks for previous donations.
And then there's First Lady Michelle Obama, one of the most prolific Democratic fundraisers. She has made several trips to the political ATM otherwise known as California.  But even the First Lady had to cancel a swing to the west coast:
First Lady Michelle Obama has cancelled a planned fundraiser on Friday for the Democratic National Committee that was to be held at the home of "Everybody Loves Raymond" Phil Rosenthal and his wife Monica, sources say.
The first lady was to be the headliner at the event, billed as a first-time-in-California one hour "off the cuff discussion" with a limited number of guests. Tickets for the roundtable started at $10,000, with a lower price point for a reception at $1,250 per person.
The final quarter of the year is typically a slow time for fundraising, as the holiday season can keep members and their donors away from each other. But with the shutdown, it's likely to be slower than ever. Some might argue that's not such a bad thing.
---
---
Related Articles
Just in time for Tax Day, the Board of Equalization issued a study requested by the Senate Committee on Governance
Oct. 12, 2012 Katy Grimes: I couldn't decide if Vice Presidential incumbent Joe Biden was manic during the VP debate
Dec. 26, 2012 By John Seiler Back in 1995, USA Today reported that broadcaster Sam Donaldson received $84,742 in federal