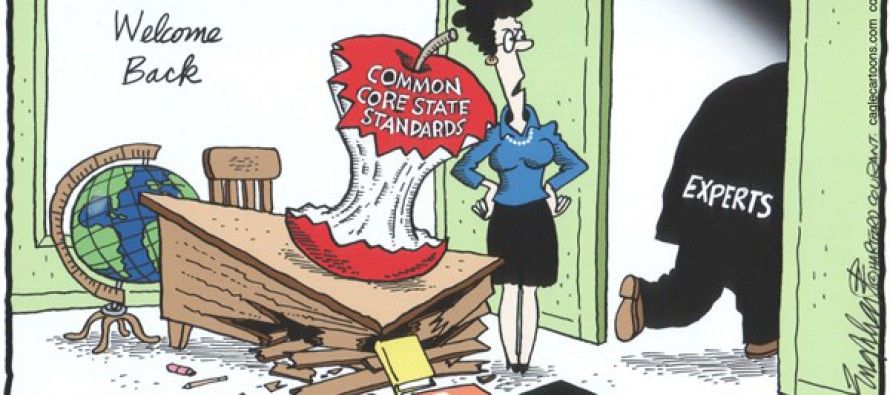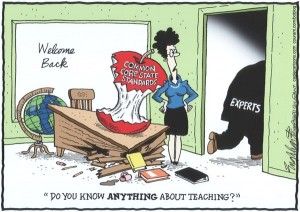 A year ago, Gov. Jerry Brown convinced voters to pass Proposition 30 on the November 2012 ballot. It raised taxes $7 billion, with most of the money promised for K-12 schools. This year, Brown included his school-financing reform package in a trailer bill to the 2013-14 State Budget.
School financing experts are beginning to ask questions about whether Brown's financing reforms will produce any results while holding local school districts accountable for how the money is spent.

Louis Freedberg, executive director of the EdSource school reform group, warned on Oct. 16:
"There are great expectations that the historic – and necessary – reforms of California's outdated and opaque school financing system signed into law by Gov. Jerry Brown this summer will translate into improved student performance.
"However, there are several potential weaknesses in the law that could threaten its ability to produce the results Gov. Brown has in mind. Whether these are addressed at the outset – as the law is being implemented – could determine whether this reform will succeed over the long term in improving the academic outcomes of our lowest-performing students. …
"The most  transformative dimension of the new funding system is that it provides additional funds to districts based on the number of low-income students, English learners and foster children in attendance in a district. However, there is a danger that many school districts will spend funds in a scattershot fashion, rather than targeting the funds on programs and services that are likely to produce the greatest gains in student achievement.
"The law gives little guidance as to how funds should be spent. In fact, that is one of its main purposes:  to give school districts unprecedented control over how to spend state education funds. However, a preponderance of research – in California and elsewhere – shows there is no direct relationship between how much money a district spends and students' academic outcomes."
In the comments section of the article, San Leandro public school teacher Jerry Heverly bluntly described what Brown's spending reform is about: "People smell money in the water." The meaning is of sharks smelling blood in the water.
'Giant categorical' program

The California School Employees Association describes "categorical funding" as, "Categorical aid is earmarked for targeted programs such as federal Title I Program, special education and child nutrition. Categorical programs are largely funded by state and federal sources, which come in the form of grants or conditional funding. For example, the federally funded Title 1 program has resulted in a list of qualifications that teachers as well as paraeducators and other instructional assistants must meet in order for schools to receive that money."
Here is how Heverly describes what the teachers' perception at his school is of Brown's new Local Control Funding Formula for schools :
"Everyone in my district refers to LCFF as a 'giant categorical.' The district administrators want to hold on to every dime, fearful that the county or state will later say we spent the money improperly. … Could a district hire aides for special ed students and claim that was part of the plan to use LCFF money?" 
Heverly brings up the question of how anyone could know if the LCFF money has raised test scores for the targeted children:
"We've been focused on raising CST [California Standards Test] scores. Now there are no such tests, and no API [Academic Performance Index tests], how would we justify this spending?"
These tests have been canceled for this year. Next year, the 2014-15 school year, California will take part in national Common Core tests. It will take several years after that to get a trend line to see if the targeted students' scores actually have improved because of the LCFF.
According to Heverly, teachers in his district got a 3 percent raise the same week that LCFF passed the Legislature.  But that didn't deter teachers from going back to the bargaining table to ask for more. He wrote:
"And predictably, the classified workers [non-teaching employees] who haven't had a raise in a dog's age, are demanding the same 3 percent.  Our (extremely conservative) finance chief is warning of looming deficits despite LCFF (which we can't spend on salaries?)"
LCFF is another "aggregated" spending account

Freedberg said that part of LCFF is to bring about local involvement that won't hold school districts accountable.  Commenter Karen Swett added:
"Connecting school spending to student outcomes is totally possible. But ONLY if one is able to read and understand SACS [Standardized Account Code Structure] expenditure reports.  And this MUST be done at the school site level. Rolling up the expenditures into required 'aggregated' spending accounts will not tell you anything."
Swett ought to know what she is writing about.  The website SaveSacramentoSchools.org reports that, when in 2011 Swett led a community forum to teach the people about school budgets, she had her access to her school district's online budget data cut off in retaliation.
Freedman sees a repeat with what happened when California passed Proposition 98 in 1988 to guarantee public schools 40 percent of the state general fund budget:
"A quarter century later, the SARC have not achieved what Proposition 98 specifically stated they were intended to do — 'guarantee accountability for the dollars spent.' The SARCs are often difficult to find, are lengthy documents that often double as public relations pieces for schools and school districts, and they have been weighted down with information mandated by a slew of new requirements imposed by the legislature in the years since they were first mandated."
Two Browns
Brown dismantled the redevelopment bureaucracy that was taking funding away from public schools. He reorganized many state agencies and reduced the number of organizational fiefdoms to save money.  He is breaking up the monopoly electric utilities, but with high-priced renewable energy projects. He recently signed a pro-fracking bill to create more oil and gas industry jobs with the help of Democrats, which should bring in more revenues.
But when it comes to public education, Brown has opted for the status quo — with a higher price tag.
---
---
Related Articles
  Should government get into the business of judging people on the "efficiency" of their property?  SB 1 would grant
Still reeling from a wild weather season, California chalked up a fourth request for federal disaster aid, as Gov.
A bill reining in abuse of civil asset forfeiture laws by law enforcement agencies was signed by Gov. Jerry Brown