Ouch! That's the cry of someone trying to sign up for the Affordable Care Act, usually called Obamacare.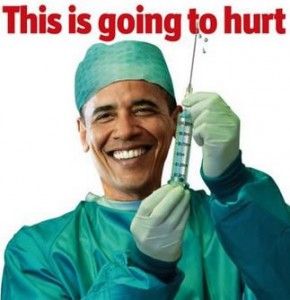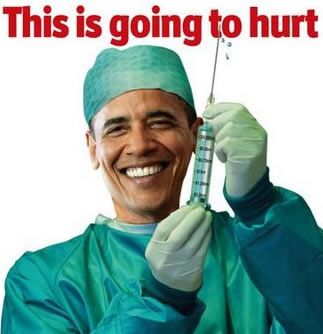 Health insurance cancellation notices have gone out to millions of  Americans. Many cannot get insurance at all. And for many who can, "premium shock" strikes those seeing their health plans canceled and renewed at higher rates.
Insurance industry experts are warning that two-thirds of already insured Americans will see their current insurance dumped into the hospital waste bin.
Obamacare is supposed to take care of people with pre-existing health conditions. But the actual "preexisting health condition" turns out to be already having private insurance. Obamacare means you have to sign up to find out whether that "condition" still exists — or has been canceled.
Another Obamacare bombshell about to drop
Written into the Affordable Care Act is section 105(h), which states every private employer must have 70 percent of its employee population covered on the company-sponsored health plan.
If not, the plan will be deemed discriminatory by the IRS, and the employer will be fined $100 per employee, per day.
But we're not quite there yet. The Obama administration quietly had the IRS and the Department of Health and Human Services suspend this part of the law until they've written the regulations for it. This could happen at any time. The mere fact this explosive rule is sitting in the hands of the IRS and HHS should strike fear into the hearts of businesses and employees across the nation.
Insurance industry experts warn 40 percent of employers will drop health care benefits when the IRS and HHS implement this part of the ACA. Employers have no control over how many employees accept the company health plan. And who knows how drastic or cruel the regulations for this part of the law will be with the IRS and HHS disciplinarians in charge?
Union carve-outs
Sec. 1251(a)(1) of the ACA says that no one can be required to give up a health plan in effect when the law was passed. Those health plans are supposedly "grandfathered."
However, my private health plan was not grandfathered. I received a cancellation notice last week and anticipate a renewed health plan for 2014 with significantly higher premiums.
Here's why: a list of requirements also in the Affordable Care Act made it impossible, if not cost prohibitive, for insurers to keep offering the same plans. And the Obamacare designers knew it.
Insurance companies will not be able to afford to offer two actual platforms of health plans, for two different systems of insurance — government and private sector plans.
"The law also left open the possibility that the president could impose additional requirements on grandfathered plans (except union plans)," according to Obamacare expert Betsey McCaughey. "Two months after Obamacare was passed, the IRS, Department of Labor and Department of Health and Human Services — all reporting to the president — churned out hundreds of additional rules to make it even harder for grandfathered plans to survive."
McCaughey said Obamacare has been a lie from day one, and "consumers have been duped and dropped."
Media fact-checking four years too late. Period.
Adding insult to injury, the Washington Post Fact Checker column just this week decided to investigate President Obama's claims from 2009. The president promised then, "No matter how we reform health care, we will keep this promise … if you like your health care plan, you will be able to keep your health care plan. Period. No one will take it away. No matter what."
Most Americans believed Obama, because 85 percent already had health insurance.
Obama continued to campaign for Obamacare, and as recently as 2012 said, "If [you] already have health insurance, you will keep your health insurance."
And still the media ignored the facts.
Four years later, now that Obamacare implementation has begun, the Washington Post finally looked into the Affordable Care Act particulars, and gave Obama four Pinocchios for not being honest with the American people.
Collapse underway
Because Obamacare was designed as a one-size-fits-all health plan, there was never going to be a way for the 85 percent of insured Americans to keep their plans. Obamacare is based on a structure where young, healthy people will have to pay for the sick, uninsured and old.
The Affordable Care Act is turning out to be unaffordable for responsible, hard working Americans, who have always been insured.
The collapse of the newly created state insurance exchanges under Obamacare is causing panic in many, especially Democrats. Earlier this week, senior Obama administration official Valerie Jarrett tweeted:

"FACT: Nothing in ‪#Obamacare forces people out of their health plans. No change is required unless insurance companies change existing plans."
The young people aren't signing up in droves as expected. So far, the only people keen on Obamacare are those with serious pre-existing conditions, and those who could not afford insurance. This is not exactly the financial model needed to support the new system, which now controls one-sixth of the U.S. economy.
Say goodbye to choice
The Obama administration has arrogantly decided what appropriate health coverage for all Americans is. Choice is being removed.
Obama spokesman Jay Carney and a team of Democratic operatives now are saying Americans who had prior health insurance had lousy insurance. Carney called private insurance "substandard," and claimed it never met the minimum Obamacare standards.
If Obamacare works, it means the U.S. is moving toward health care even more heavily ruled by government. If it crashes, it means we are moving to a single-payer system.
It didn't have to be this way. Which is proof enough that this administration knew what it was doing, and why Congress had to pass the bill to see what's in it.
---
---
Related Articles
MAY 5, 2010 By JOHN SEILER Gun rights activists have stirred up controversy in recent months by carrying, and displaying,
The Trump effect has begun. It's what Republicans fear and Democrats embrace: How the controversial presumptive nomination of Donald Trump as the GOP's
In dramatic fashion, Assemblyman Rocky Chavez announced Monday he was suspending his campaign to replace the retiring Democratic Senator Barbara Boxer