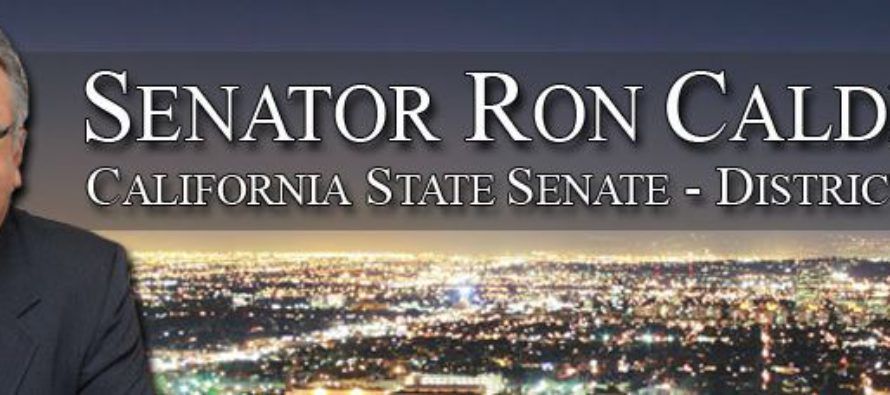 Undercover FBI agents, posing as Hollywood producers in search of a tax credit, allegedly set up a $50,000 "special fund" with Ron Calderon's name on it.
The state Senator, according to an affidavit obtained by Al Jazeera America, allegedly spent those funds on his son's tuition, a Lady Gaga concert, airfare for a spring break trip to Miami, and a sham non-profit organization controlled by his brother. In total, the Montebello Democrat politician allegedly lined his pockets with $60,000 from undercover agents. But, in return, the phony film producers didn't get much.
"He didn't get it done on the film credits," Anthony York, a Los Angeles Times political reporter, pointed out on a recent News 10 Capitol Connection podcast. "The tax credit amendment was never even introduced."
To get results on the alleged bribe, the FBI might have paid more.
Ten special interest groups effectively circumvented state campaign finance limits by transferring more than three-quarters of a million dollars to Diversity PAC, which, in turn, Calderon used to pay for private jets, five-star hotels, elite golf courses and extravagant meals at the country's finest restaurants. These same special interest groups that funneled hundreds of thousands of dollars to a political action committee under Calderon's control benefited from bills introduced by the state senator and repeatedly earned his vote on legislative matters, an analysis of campaign finance and legislative records has found.
$1.2 Million to Diversity PAC
In its six-year history, Diversity PAC, which is referenced in the FBI's affidavit, has collected more than $1.2 million in campaign contributions from the biggest names in the insurance, energy and pharmaceutical industries. If the FBI were added to the list of Diversity PAC contributors, it would barely rank in the Top 10. (See chart below.)
The two biggest contributors to Diversity PAC, United Services Automobile Association and PG&E, transferred $120,000 and $117,500, respectively, to the organization. The PAC has also accepted $85,000 from Philip Morris, $78,500 from Sempra Energy, $78,500 from the Insurance Brokers and Agents Candidate PAC, $75,000 from American Bankers Insurance Company of Florida, $55,000 from AT&T, $55,000 from Walgreens, $50,000 from Eli Lily and Company, and $42,500 from the Pharmaceutical Research and Manufacturers of America.
Special Interest Donations After FBI Raid
Even after the FBI's June 4 raid of Calderon's offices, special interest groups didn't shy away from Diversity PAC. On June 10, just six days after the FBI executed search warrants on Calderon's Capitol offices, Diversity PAC collected $90,000 in contributions from PG&E, 7-Eleven, First American Title Insurance, and Philip Morris USA.
The following months, Diversity PAC collected more checks from the Insurance Brokers and Agents Issues PAC, Professional Engineers in CA Government, and Sempra Energy. In all, the PAC has accepted $128,000, more than double the amount of the FBI's alleged bribes, since June 6.
Pay Raise for Professional Engineers Union
Some special interest groups didn't have to wait long to see a return on their investment. Less than three weeks after Diversity PAC accepted an $8,000 check from the Professional Engineers in CA Government, Calderon voted for the union's new collective bargaining agreement with the state. The union, which has contributed $27,500 in Diversity PAC's six-year history, considered the new contract, Assembly Bill 478, a win for the organization.
In addition to a 3.3 percent salary increase, AB 478, by Assemblyman Jimmy Gomez, D-East Los Angeles, granted the engineers' union "other favorable provisions in the contract, including a limited vacation cash out option, optional enrollment in an enhanced vision plan, clarification of the license application reimbursement, and improvements to alternate work schedules, telecommuting, and hardship transfers, as well as limits on involuntary transfers."
Calderon as Chairman of Senate Insurance Committee
While some organizations delivered checks near key votes, other industries sustained a long-term relationship with Calderon and Diversity PAC. The insurance industry's $331,500 in campaign checks topped the PAC's list of contributors by industry. Insurance groups, such as USAA, American Bankers Insurance Company of Florida and the Insurance Brokers and Agents Candidate PAC, have relied on Calderon to shepherd bills through the Senate Insurance Committee, which he leads as its chairman.
Last week, Senate President Pro Tem Darrell Steinberg, D-Sacramento, asked the Senate Rules Committee to remove Calderon from his committee assignments, including his chairmanship of the Senate Insurance Committee. However, if the Rules Committee acts on Steinberg's request, it won't reverse the bills Calderon carried this session on behalf of insurance interests.

Senate Bill 251, which was signed into law by Governor Jerry Brown, allows insurance companies to transmit some documents electronically instead of by mail. Another Calderon bill that was signed into law, Senate Bill 281, allows policyholders to tap into life insurance policies before death. Both bills were listed on state lobbying disclosure reports for USAA. Calderon highlighted both bills in an October press release on his 2013 legislative achievements.
In addition to carrying legislation for the insurance industry, Calderon introduced a bill this session that benefited First American Title, another top contributor to Diversity PAC. Senate Bill 310, which was passed and signed into law on September 6, exempted title companies from liability in certain circumstances involving notice of default proceedings.
Calderon's Support for Energy and Utility Companies
In 2009, Calderon served as a member of the Senate Committee on Energy, Utilities and Communications, which allowed him and Diversity PAC to cultivate a relationship with energy and telecommunications companies. The following year, when Calderon was replaced, one energy industry group considered it a loss for their interests. "The removal of the more moderate Calderon is disappointing as he typically took supportive positions to most of our business interests," the California Alliance for Competitive Energy Solutions wrote in a January 2010 newsletter.
Overall, the energy sector donated $197,000 to Diversity PAC, making it the second biggest contributor to the political action committee. On June 10, Diversity PAC accepted a $40,000 check from PG&E, followed by a $15,000 check from Sempra Energy in late September.
This session, PG&E and Sempra made a major end of session push to pass Assembly Bill 327, which allowed state regulators to restructure energy rates. Calderon was among the votes in favor of the proposal that would benefit energy companies.
AT&T, which has donated $55,000 to Diversity PAC, has received support from Calderon in the past, including last year's controversial new regulations on voice-over internet protocol services.
| | | |
| --- | --- | --- |
| Rank | Contributor to Diversity PAC | AMOUNT |
| 1 | USAA | $120,000.00 |
| 2 | PACIFIC GAS AND ELECTRIC CO. (PG&E) | $117,500.00 |
| 3 | PHILIP MORRIS USA, INC./ ALTRIA | $85,000.00 |
| 4 | SEMPRA ENERGY | $78,500.00 |
| 4 | INSURANCE BROKERS & AGENTS CANDIDATE PAC (IBA PAC) | $78,500.00 |
| 6 | AMERICAN BANKERS INSURANCE COMPANY OF FLORIDA | $75,000.00 |
| 7 | AT&T INC. AND ITS AFFILIATES | $55,000.00 |
| 7 | WALGREENS CO. | $55,000.00 |
| 9 | ELI LILLY AND COMPANY PAC | $50,000.00 |
| 10 | PHARMACEUTICAL RESEARCH & MANUFACTURERS OF AMERICA | $42,500.00 |
| 11 | BLUE SHIELD OF CALIFORNIA | $40,000.00 |
| 12 | FIRST AMERICAN TITLE INSURANCE CO. | $37,500.00 |
| 13 | ANTHEM BLUE CROSS | $27,500.00 |
| 13 | PROFESSIONAL ENGINEERS IN CA GOVERNMENT PECG-PAC | $27,500.00 |
---
---
Related Articles
Officials at the Covered California insurance exchange, the state's implementation of Obamacare, worry passage of Prop. 45 could damage its
The Trump administration this week took the preliminary steps toward opening around 1.6 million acres of public land in California
A group of state lawmakers wants to single out "The Coke Side of Life" for a mandatory warning label that