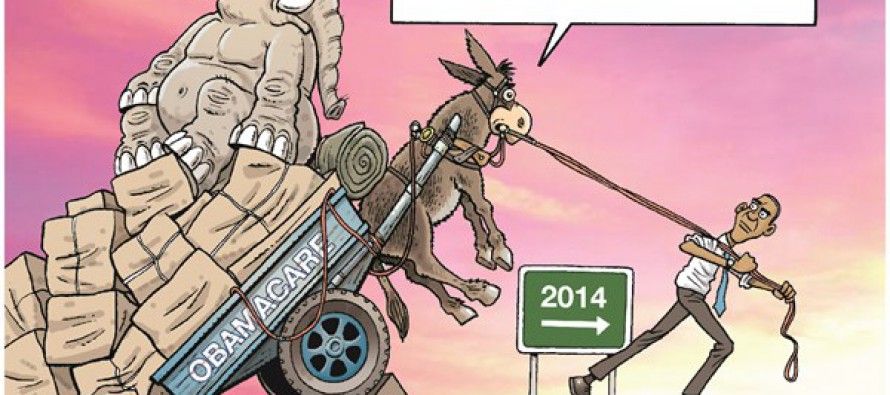 California Republicans might not be the most talented bunch, but now and then they can figure out what to do. This time, it's obvious. They will do three things:
1. Attack Obamacare.
2. Attack Obamacare.
3. Attack Obamacare.
The next year will see millions of Californians griping about either losing their coverage, or putting up with the problems of Obamacare.
Perhaps hundreds of thousands will be forced to declare bankruptcy because either:
a. Their insurance was canceled by Obamacare, and they couldn't pay the medical bills to stay alive, for example with cancer treatments. Or:
b. They got Obamacare, and continued needed expensive treatments, but their premiums went up so high that they could only afford to pay after declaring bankruptcy.
All these people will be griping to their friends and relatives.
52nd District
Democrats are responding. Take the 52nd Congressional District. Incumbent Scott Peters, D-San Diego, barely defeated Republican Brian Bilbray in 2012, 51.2 percent to 48.8 percent. The likely Republican nominee this time is Carl DeMaio.
This is from Peters' Website on Nov. 15:
WASHINGTON, D.C. – Today, Congressman Scott Peters (CA-52) released the following statement after voting for two separate proposals to enable Americans to keep their current health plans. He voted for the Democratic motion offered by Rep. Andrews of New Jersey, which ultimately did not receive majority support. In addition he joined 38 of his Democratic colleagues in supporting the "Keep Your Health Plan Act of 2013" [HR 3350], introduced by Rep. Upton of Michigan, which passed the House 261-157.
 "Allowing people to keep their current health plans was a commitment the President made to the American people and he did the right thing this week in offering an administrative fix to honor his promise. The ACA is a tremendous undertaking and will likely require more fixes as we continue to work through its implementation. I remain open to every idea, from Republicans and Democrats, to make healthcare more affordable for hard-working San Diegans.
Republicans aren't letting him get away with that. A Nov. 19 press release from the National Republican Congressional Committee reads:
Nancy Pelosi's "Meet the Press" Appearance this Weekend Sparks New Round of ObamaCare Questions for House Democrats
WASHINGTON – On this week's "Meet the Press," Nancy Pelosi proudly stated that Democrats are going to continue backing ObamaCare and its failed policies. She proclaimed that "Democrats stand tall in support of the Affordable Care Act," and it's time for California families to know: does Scott Peters 'stand tall' with President Obama and his botched health care law?
Peters has been an ObamaCare supporter through and through, and has repeatedly ensured that the billion dollar health care law remains the law of the land. California families are fed up with their canceled policies, skyrocketing premiums and unaffordable access to health care. It's time for Scott Peters to fess up — is he going to 'stand tall' with the law heading into the 2014 elections?
Similar press releases have been sent out attacking other Democratic incumbents. Obamacare is a target so big even Republicans can hit it.
Since 1948, Democrats have striven to pass comprehensive, national health care. Now that they have done so, they're going to have to live with it — and lose with it at the polls.
---
---
Related Articles
A surge of last-minute callers inundated the state's health insurance exchange for the federal Patient Protection and Affordable Care Act,
A new Field Poll shows strong support for Proposition 45, which will give the state insurance commissioner, Davy Jones, even
The Republican Party may have just seen its second straight feckless presidential campaign. Yet it has what The New York