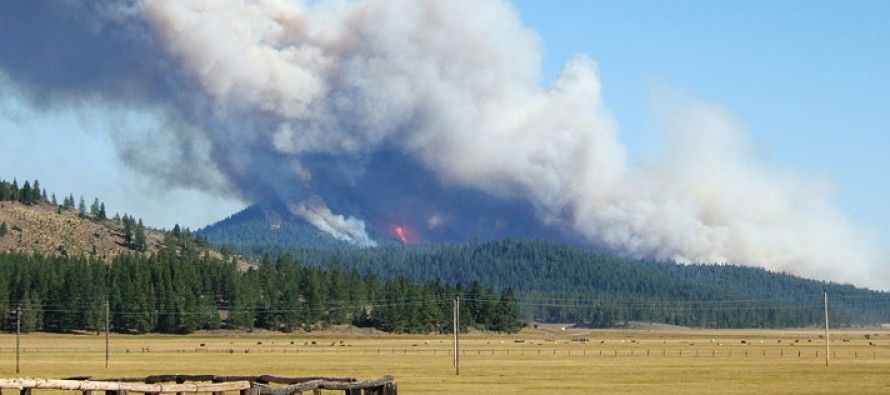 Superior Court Judge Leslie Nichols this month ruled that the California Department of Forestry and Fire Protection repeatedly deceived and withheld evidence in a lawsuit seeking $8.1 million from a company and several landowners for a wildfire that the company did not cause. The judge further found that $400,000 of that money was slated for an illegal Cal Fire slush fund. Cal Fire was represented by Attorney General Kamala Harris' office.
Specifically, Nichols ruled: 
"This Court finds that Cal Fire has engaged in misconduct during the course of the litigation that is deliberate, that is egregious, and that renders any remedy short of dismissal inadequate to preserve the fairness of the trial."
He cited "many acts of evasion, misdirection, and other wrongful acts and omissions," including withholding thousands of pages of evidence. Because of that, Nichols' ruling requires Cal Fire to reimburse the defendants' court costs, plus a punitive 20 percent additional compensation. The award totals $32 million, with $24 million going to Sierra Pacific Industries and the remainder to the landowners and a logging company.
"This is a significant victory for SPI and the other defendants in the case" said SPI spokesman Mark Pawlicki in a statement. "Although the vast majority of Cal Fire employees conduct themselves with professional integrity, the investigators on this fire did not live up to that high standard."
SPI's lead attorney William Warne said, "After four years of litigation, we are relieved and thankful that justice has finally been done."
But Cal Fire remains defiant. Spokeswoman Janet Upton told Law360, "We vigorously dispute many of the factual and legal findings included in this order," adding that there may be an appeal. The attorney general's office did not respond to requests by Law360 or the Sacramento Bee for comment.
Moonlight Fire
The litigation stemmed from the Moonlight Fire, which ignited on Labor Day 2007 in Lassen County, burning 65,000 acres over the next two weeks. Federal and state officials blamed the fire on a bulldozer for an SPI-contracted logging company hitting a rock and causing sparks on a red-flag, high-fire-danger day.
SPI settled the federal case for $47 million and 22,500 acres of land, according to Fordaq, a timber network news site. But the company, which owns nearly 1.9 million acres of timberland in California and Washington state, making it the second largest lumber producer in the country, fought the Cal Fire suit.
Much of the case focused on the investigation of the origin of the fire. Investigators Joshua White and Dave Reynolds located the origin of the fire at two points on or near a trail, placing white flags to mark the spots and taking photos. But that location apparently didn't fit the bulldozer scenario, so Cal Fire sought to cover up the initial investigation.
Under oath, White denied placing white flags at those points and denied taking photos of them, according to the judge's sanctions order. But five photos — not included in the official investigation report — were discovered showing the flags. White then admitted taking the photos, but initially denied that they showed a white flag, instead saying it "looked like a chipped rock."
Reynolds also denied having anything to do with the white flags before eventually acknowledging them. In contrast with that sworn testimony, however, in an earlier meeting with Cal Fire's lead attorney at the U.S. attorney's office, Reynolds said he could see the white flags in the photos. Despite that contradiction, the attorneys allowed Reynolds to falsely testify about it in court, according to the ruling.
Wrote Nichols:
"This Court is deeply troubled by two things on this front: that one of the primary Moonlight investigators would admit one thing to a table of 'friends' and then refuse to admit the same thing once put under oath. The Court is perhaps even more troubled that Cal Fire's lead counsel would be present at the meeting with Reynolds and still sit idly by as Reynolds, a person Cal Fire hired as a consultant, denied in his deposition what he had conceded in Cal Fire's counsel's presence several weeks earlier."
Litigation
That kind of judicial misconduct and obfuscation turned what would have been a simple matter of throwing Cal Fire's unfounded case out of court into a four-year litigation nightmare for the defendants.
Nichols wrote:
"The fact that Defendants' counsel were forced to depose these investigators under conditions where the investigators continually attempted to steamroll the truth by simply denying or expressing ignorance of the obvious greatly increased the expense of this litigation. Had they testified truthfully from the start, as required, Defendants would have likely spent nothing, or very little, as the case most likely could not have advanced.
"Unfortunately, Cal Fire's lead counsel, officers of this Court, who should be 'operating under a heightened standard of neutrality,' greatly exacerbated the problem by failing to intercede and put a stop to what their witnesses were doing under oath. Doing nothing, permitting such testimony to take place, creates a tremendous burden on this Court by allowing a meritless matter to go forward when the lead attorneys in charge of its prosecution should be exercising their responsibility throughout to only advance just actions."
The unethical conduct by Kamala Harris' staff attorneys, Tracy Winsor and Daniel Fuchs, was unprecedented, according to Nichols. He wrote:
"The sense of disappointment and distress conveyed by the Court is so palpable, because it recalls no instance in experience over 47 years as an advocate and as a judge in which the conduct of the Attorney General so thoroughly departed from the high standard it represents and, in every other instance, has exemplified."
No sanction
Consequently, the defendants asked Nichols to sanction Winsor and Fuchs.
But Nichols declined to do so, saying:
"[T]he record does not clearly establish that said attorneys directed or advised the egregious and reprehensible conduct of California Department of Forestry and Fire Protection. Although there is plenty of evidence to support a strong suspicion, the evidence does not preponderate. This determination in no way speaks to issues of legal ethics or compliance with the requirements of the State Bar Act…."
The judge also criticized Cal Fire's withholding of 7,000 pages of evidence (with potentially 40,000 more pages still being withheld) that concerned Cal Fire's Wildland Fire and Investigation Training and Equipment Fund. "Cal Fire persistently attempted to cover up" the "illegal" fund, he ruled. That slush fund was also the focus of a critical state audit last year.
Cal Fire's documentation on the fund was relevant because the agency was demanding that the defendants pay $400,000 into it. The court ordered Cal Fire to produce all of its documents on the fund by April 30, 2013. But after the audit was released in October, Sierra Pacific saw that a critical email referenced in the audit about the fund's formation had been withheld by Cal Fire.
Cal Fire then admitted that it had "inadvertently" failed to produce that document along with more than 5,000 additional pages on the fund. After providing those documents on Oct. 31, 2013, Cal Fire's lawyers assured the judge that that was "everything." But on Nov. 22, Cal Fire produced more than 2,000 additional pages.
A number of those documents "reveal information that is inconsistent with the testimony of Cal Fire's witnesses and with Cal Fire's representations to this Court regarding Cal Fire's own understandings regarding WiFITER and whether it was legal," Nichols wrote. He called Cal Fire's failure to produce the documents in time for them to be used in cross-examination during depositions "inexcusable."
Bias
Some of the belatedly released documents support the defendants' contention that Cal Fire officials had a bias toward affixing the blame for the fire on a company with deep pockets like SPI. They "were fixated on the cash flowing in and out of the illegal WiFITER account," the ruling states. One email revealed that a Cal Fire official, Alan Carlson, "was seeking out 'high % recoveries' to keep WiFITER from 'being in the red.'"
Other officials were worried about calling too much attention to the slush fund, because by law all of the money should have been deposited into the state's General Fund.
Carlson "was rebuffed by his supervisor because Cal Fire's general counsel had informed him that 'the point is to keep a low profile,' and if they take too large 'a cut off the top of a recovery' it might 'look fishy,'" the ruling states, citing Cal Fire emails. The judge concluded, "This is the essence of scienter [knowledge of wrongdoing], and it certainly reveals that Cal Fire knew that its actions were improper, a fact which Cal Fire and its counsel failed to reveal …."
Nichols summed up his assessment of Cal Fire and its lawyers' conduct in the litigation, writing:
"The Court finds that Cal Fire's actions initiating, maintaining, and prosecuting this action, to the present time, is corrupt and tainted. Cal Fire failed to comply with discovery obligations, and its repeated failure was willful. … Cal Fire's conduct reeked of bad faith."
---
---
Related Articles
March 28, 2013 By Chris Reed There's been quite a bit of good reporting done on the bullet-train fiasco. Mike
Beginning in the late 1990s and for about a decade afterward, corporate accounting scandals unfolded one after the other. Bipartisan
Mar. 12, 2010 Sometimes, being a legislator can be a very lonely job. Just ask Assembly member Diane Harkey, R-Dana