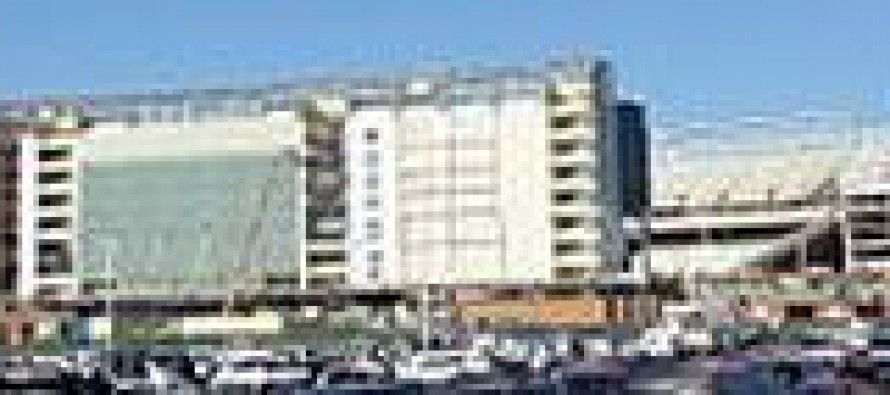 The National Football League remains as agile as ever at intercepting the taxpayers' money. The latest example is the new stadium in Santa Clara, pictured nearby under construction, to host the San Francisco 49ers.
After a slow decade, the Niners are back in contention. They barely lost the Super Bowl in 2013 to the Baltimore Ravens. And they finished a game from the Super Bowl this year.
Last year the team inked the third-largest naming deal in American sports. Levi's secured team naming rights for $220 million over 11 years.
With that kind of cash coming in, no expense is being spared in the stadium's construction. "At the old cost of $1.2 billion, Levi's Stadium was almost tied with Cowboys Stadium as the second most expensive NFL stadium ever, behind the New York Jets' and Giants' $1.6 billion MetLife Stadium," reported the San Jose Mercury News. MetLife hosted the most recent Super Bowl in February.
But like a draw play in football — where a passing play is disguised as a running play — taxpayers were faked out. Reported the Mercury-News:
"After Santa Clara voters approved a $937 million plan in June 2010, the cost increased to $1.02 billion in 2011 and was set at $1.18 billion during the April 2012 groundbreaking. After adding another $96 million on Friday, the price tag is now $1.27 billion, or 36 percent more than the 2010 estimate."
Super Bowl
As bait for taxpayers, the NFL holds out the promise of a new stadium hosting a Super Bowl. So Levi's Stadium will host Super Bowl L (50) in 2017, with a good chance one of the teams will be the Niners.
Boasting its own jail and a hundred police officers, Levi's Stadium will prohibit — and punish — conduct ranging from "boisterous" activity in the stands to noisemaking in the parking lot that's audible from 50 feet.
Dealmakers expect revenues from naming rights, luxury boxes and "personal seat licenses" to speed the Stadium Authority's $850 million loan payoff, according to the Mercury News. The PSLs, one-off fees imposed on season ticket buyers, are now a standard source of NFL cash. As Time detailed, most franchises use some form of PSLs, which will cost 49ers season ticket holders up to $80,000 each.
Los Angeles
Los Angeles is back on the field for a team. In 1995, the city lost the Rams to St. Louis on promises of a taxpayer-subsidized, top-tier stadium lasting two decades.
Now that 20 years is almost up and the Rams want St. Louis to spend $700 million on renovations to the Edward Jones Dome. But team owner Stan Kroenke purchased a stadium-sized lot in Inglewood — the better to pit L.A. and St. Louis against one another in a veritable bidding war for the team.
Also in 1995, the Raiders moved from Los Angeles back to Oakland. Just this week owner Mark Davis, reported the Los Angeles Times, "has acknowledged the possibility of moving the franchise back to Los Angeles if Oakland can't get its act together on a new stadium."
It's an old NFL tactic: Get cities bidding against one another on taxpayer subsidies for stadiums.
Promises are made about the jobs and economic growth new stadiums will create. But as studies by Stanford economist Roger Noll and others have demonstrated, tax-funded stadiums really don't create new wealth. Instead, consumers just shift spending to professional sports from other entertainment activities.
As Noll wrote in a study with Andrew Zimbalist for the Brookings Institution:
"But, in reality, sports has little effect on regional net exports.
"Sports facilities attract neither tourists nor new industry. …
"Sports teams do collect substantial revenues from national licensing and broadcasting, but these must be balanced against funds leaving the area. Most professional athletes do not live where they play, so their income is not spent locally. Moreover, players make inflated salaries for only a few years, so they have high savings, which they invest in national firms. Finally, though a new stadium increases attendance, ticket revenues are shared in both baseball and football, so that part of the revenue gain goes to other cities. On balance, these factors are largely offsetting, leaving little or no net local export gain to a community." 
Non-profit
Despite scoring billions, the NFL actually is a non-profit organization, like a hospital or school. Congress enacted Public Law 89-800 in Nov. 1966, just before the NFL-AFL merger culminated in Super Bowl I on Jan. 16, 1967.
As Greg Easterbrook explained in the Atlantic, the law "saved the NFL uncounted millions in tax obligations, which means that ordinary people must pay higher taxes, public spending must decline, or the national debt must increase to make up for the shortfall."
Finally, Harvard professor Judith Grant Long concluded in 2012 that, for all sports, taxpayers have been tackled for some $10 billion more than planned in stadium and arena funding for professional sports teams.
---
---
Related Articles
Struggling to prove that it has stabilized its business model, Covered California rebuffed criticism from industry leaders burned by their Obamacare experience,
In the past I've written here about the U.S. federal budget not being $17 trillion in the red, but more
Assemblyman Tim Donnelly, R-Twin Peaks, who routinely campaigns on a platform of getting government out of the way, is struggling