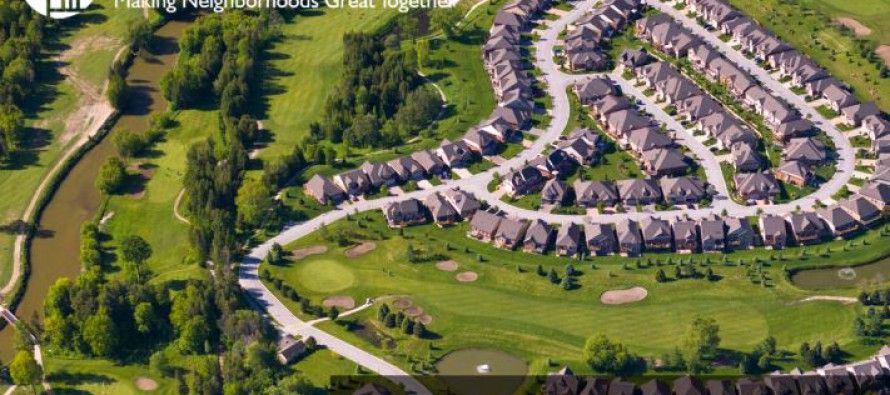 A new national study is making waves for the way it ranks California cities. No matter how pleasant the weather, residents and visitors alike have complained for decades about sprawl. Highways jam with cars. Convenience stores and strip malls occupy block after block. It's hard to walk to see your friends. It's impossible to walk to work. 
Are those judgments in for a change? According to Smart Growth America, California metro areas aren't as afflicted by sprawl as many might think. Their just-issued report, entitled Measuring Sprawl 2014, has urban analysts talking. Not only do the San Francisco, Santa Barbara and Santa Cruz metro areas rank among the report's top 10 "most compact." The Santa Ana/Anaheim/Irvine area, often associated with grueling traffic, rounded out the top 10.
Turns out sprawl isn't just about time spent at a standstill on the freeway. The Smart Growth report uses four criteria to determine city scores. There's an emphasis on so-called "activity centering," which the report uses to measure things such as how far people have to travel to work. Density of development factors in. Cities that mix up their land use get better scores. Finally, the accessibility of streets boosts the final figure. That's why Los Angeles ranked seventh in "densification" among cities with a million or more residents.
Not all parts of the Golden State get such flattering grades. The Riverside/San Bernardino area, informally known as the Inland Empire, wound up among the country's top 10 worst regions for urban sprawl. That's no surprise, considering that lower housing costs matched up in the study with sprawling city features.
Notably, Smart Growth America has a particular mission. The organization's About Us page states it "works with communities to fight sprawl" by mobilizing political support for high-density, mixed-use development that's close to public transportation. The Measuring Sprawl report helps supply evidence for what Smart Growth already wants to be true. Los Angeles, for instance, is increasing its density and its rail networks. Smart Growth champions that kind of urban policy, so it's not surprising to see its report reward LA for the effort.
Plentiful housing
Likewise, the report penalizes metro areas where housing is plentiful and affordable, but associated with sprawl. Median housing prices in Riverside or San Bernardino Counties are hundreds of thousands of dollars lower than those in Los Angeles and San Diego counties, but local amenities such as Riverside's California Citrus State Historical Park don't fit Smart Growth criteria.
Still, the rankings set forth in Measuring Sprawl could shake up the political debate over urban policy. The kind of cities Smart Growth favors typically are shaped by central planners. Smart-growth advocates commonly believe the "unplanned" growth of car-dependent suburbs imposes costs on the environment and on lower-income residents.
But the Measuring Sprawl report suggests the picture is not so clear-cut. Cities such as San Francisco feature extreme development density and offer extensive public transportation, but housing and rental costs are increasingly prohibitive. Such cities as Los Angeles, meanwhile, encompass a variety of neighborhoods, some more walkable or bikeable than others.
On the one hand, the Smart Growth report associates density with some very positive characteristics, such as economic mobility and life expectancy. On the other hand, its relatively generous rankings for cities with expensive real estate and thriving car cultures suggest that California politics will include a diversity of urban policies for many years to come.
---
---
Related Articles
Gov. Jerry Brown came to an agreement with SEIU 1000, resolving a crisis over negotiations with the public employee union,
For decades, economists have complained about the stupidity of the Census Bureau's annual report on poverty in the U.S. because
Many California military veterans are hurting. blackberry spy software In its recently released report, "An Agenda for Veterans: The State's