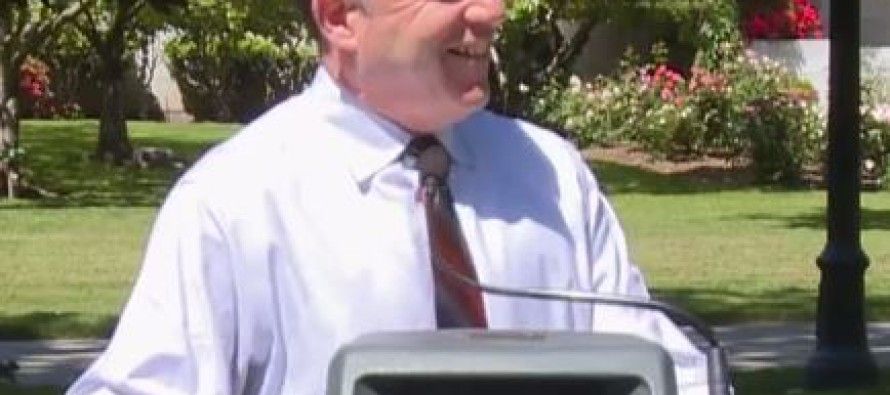 State Senate President Pro Tem Darrell Steinberg, D-Sacramento, has given up on his plan to replace California's cap-and-trade law with a carbon tax on vehicles.
At first, Steinberg wanted to simplify the way California regulated emissions. To do so, he suggested that revenue from a gas tax could be spent in part on lowering family taxes, as consumers got hit by higher rates at the pump; and on funding mass transit.
His proposal would have replaced a change next year in which the California Air Resources Board is expanding its cap-and-trade quarterly system of auctioning carbon credits to include "nonstationary fuels," such as gasoline and diesel fuel. CARB is operating under authority grated to it by AB32, the Global Warming Solutions Act of 2006.
But after his proposal went nowhere in the Legislature, Steinberg shelved it. Calling himself a "provocateur" ready to "stand together" with city, labor and environmental organizations, he now has unveiled a new scheme. Its objective is simple: to decide once and for all how cap-and-trade money is spent by Sacramento.
Opposition
Steinberg was caught off guard by the opposition he stirred up with his original tax plan. Seeking to make nice with his fellow Democrats and various interest groups he offended, his new plan fully embraces cap and trade. Its main feature prevents legislators from changing the appropriation of cap-and-trade funds. Steinberg estimates that revenue to reach $5 billion annually.
As the Sacramento Bee reported, so-called affordable housing would receive 40 percent of revenues. Meanwhile, public transit would net 30 percent. Basic improvements to roads and transportation would gain 10 percent, and investments in electric vehicle infrastructure a portion of the remainder.
Under Steinberg's plan, California's embattled high-speed rail project would receive 20 percent of cap-and-trade revenues alone, even though Gov. Jerry Brown already vowed to direct $250 million toward the program. In Brown's spending plan, fully 70 percent of carbon credit revenues would be allocated to transportation initiatives.
Interest groups are lining up to voice their support for the influx of cash. In a statement, the League of California Cities announced its intention to remain involved in developing the legislation.
In a statement, Steinberg's office praised the support of advocacy and lobbying organizations such as the California Housing Consortium, the California Transit Association, and the California Alliance for Jobs.
The statement also identified the representatives of each interest group attending the press conference where Steinberg announced his plan, including the State Building and Construction Trades Council of California, the Natural Resources Defense Council, the California Association of Councils of Governments, the Safe Routes to School National Partnership, and Bay Area Rapid Transit.
This "formidable coalition," as the statement calls it, consolidates Democrats' important ties with labor, environmental and governmental interests. Term limited this year, Steinberg has handed Democrats a substantial gift on his way out of office.
An abandoned agenda
All told, the move marks a dramatic reversal for Steinberg. For a few months, he became the most interesting, and infuriating, lawmaker in the state. His original plan to tax gasoline and credit consumers upset conservatives, but dismayed the party faithful on the left as well.
Republicans complained that the scheme passed even more costs onto consumers and businesses than current law. But for fellow Democrats, his retreat from cap-and-trade was an ideological heresy. State senators from both parties didn't hesitate to go on record against him.
Although some praised Steinberg for his honesty about cap-and-trade's limitations, he won few allies.
The Wall Street Journal, for instance, described his tax plan as an "awakening." The Journal praised Steinberg's realization that out-of-state businesses were trading California carbon credits. That pulled money out of state just as the new nonstationary fuel rules were about to spike energy rates.
But his complaints meant "nothing," the Journal concluded, "unless Mr. Steinberg is willing to push for repeal."
Bowing to political reality, he has decided to do the opposite instead.
---
---
Related Articles
Knowing that a major climate-change measure was in trouble, Senate President Pro Tempore Kevin de Leon sought help from the
Democrat Assemblymen Kevin McCarty and Phil Ting recently introduced Assembly Constitutional Amendment 22, a piece of legislation that calls for
Will Gov. Jerry Brown's Twin Tunnels project for the California Delta still make it into the $11 billion water bond projected