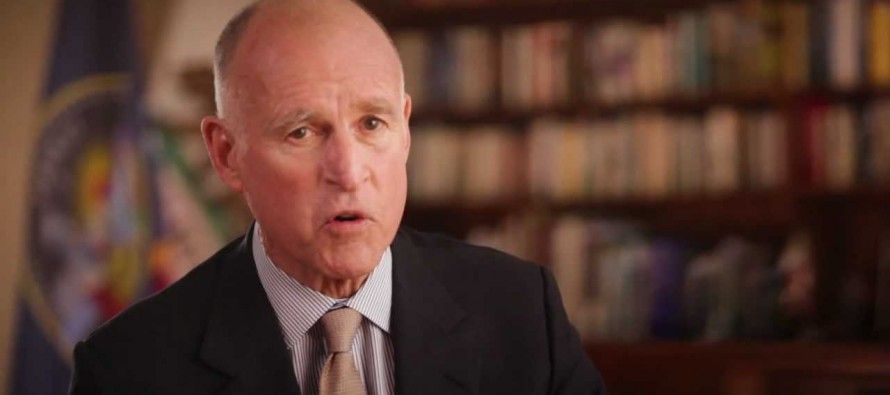 State lawmakers reached a tentative agreement on the state budget Thursday, after Gov. Jerry Brown caved to Democratic lawmakers' demands over more funding for in-home support services for elderly and disabled Californians.
"We are at this point prepared to bring the full budget to the floors of both houses," said Assemblywoman Nancy Skinner, D-Berkeley, who has been overseeing budget negotiations in the conference committee, according to the Sacramento Bee.
Republican legislators, whose votes aren't needed to pass the state's spending plan for the next fiscal year, were left out of the budget negotiations. Consequently, Brown acted as the lone voice for fiscal restraint as Democratic lawmakers looked to help their core constituencies with billions of dollars in additional spending.
The tentative agreement would provide additional funding to social service programs — as long as certain revenue triggers are met during the next year.
Legislators win overtime for in-home services
Among the budget agreement's key points: additional money for California's In-Home Supportive Services program, which provides assistance to elderly and disabled Californians. Considered an alternative to nursing homes and board and care facilities, the program was dealt a blow with new federal regulations set to take effect next year that changed overtime rules for workers.
The governor's original budget proposal eliminated overtime, which, in turn, avoided as much as $600 million in additional spending by 2015. The proposed deal, according to the Sacramento Bee, relies on unspecified ways to curb abuse of overtime and is expected to cost "$180 million in 2014-15 and $350 million in future years." Although the governor rolled over to legislators' demands on overtime rules, he secured a 7 percent reduction in service hours for the 2014-15 budget year.
"I'm glad that the administration is with us on this," Sen. Mark Leno, D-San Francisco, told the San Jose Mercury News. "The idea that we would cap the amount of hours to get around the federal requirement that we pay overtime was a non-starter. It didn't work in the real world."
Deal on funding Brown's high-speed train
But Brown's frugality on social service spending was balanced by an equally spendthrift tone in funding the state's much-aligned high-speed rail program. As part of the tentative budget agreement, Brown secured up to $250 million in funding for the California High-Speed Rail Authority. But as the Sacramento Business Journal points out, that's still "far less than the agency expects it will need to cover construction costs at that time, which is roughly $4 billion a year."
As reported by CalWatchdog.com's Chris Reed, the state's high-speed rail program has been plagued by a pattern of problems and follies. Most recently, a report released in May found that an independent consultant had been pressured to hide a $1 billion increase in project costs.
Despite serious questions surrounding the legality and viability of the state's high-speed rail plan, Brown went to great lengths to save his pet project, urging lawmakers to raid funds from the state's cap-and-trade program. Those funds are legally earmarked to pay for offsets to carbon emissions. Some Democratic lawmakers questioned the governor's plan to raid cap-and-trade funds.
"I think it's a bad idea," Sen. Mark DeSaulnier, D-Concord, said of the governor's high-speed rail funding proposal. "I don't support what we're doing on high-speed rail. I don't support the authority using the cap-and-trade funds."
That could provide an opening for GOP gubernatorial candidate Neel Kashkari, who has lambasted Brown for spending money on "a crazy train."
More $ for Democratic lawmakers projects
But, the biggest winner in the state budget deal may be Senate President Pro Tem Darrell Steinberg. The Democrat, who has represented Sacramento in the legislature since 1998, secured $264 million in funding for preschools and $250 million in funding for the Career Pathways Trust program.
"The Career Pathways Trust now doubles our investment in the workforce that will lift our rising economy," Steinberg said in a statement. "It provides critical support for school and college partnerships with businesses that provide work-based learning opportunities to young people. It brings tangible meaning to education, investing students in their own futures."
Other items contained in the tentative budget deal are:
$40 million in a one-time budget allocation for court construction
$2.5 million to renovate the governor's mansion in Sacramento
$50 million each for the University of California and California State University systems
$100 million for state-deferred maintenance projects
$20 million for homeless programs operated at the county-level
$3 million in funding for health care for unionized farm workers
Republican lawmakers generally praised Brown for holding the line on spending, while criticizing his high-speed rail budget.
"I think Republicans would focus more on public education, public safety and infrastructure," Assembly Budget Vice-Chair Jeff Gorell, R-Camarillo, told Capitol Public Radio. "And we wouldn't have invested as much in some of the social programmatic spending, and we wouldn't have spent money on the high-speed rail."
---
---
Related Articles
March 12, 2010 By ELISE VIEBECK A report released last week showed that 21 percent of California small businesses believe
Women make up more than half of California's population, but only about one-fourth of the Legislature.  And in November, that's
Feb. 20, 2013 By Dave Roberts When tens of thousands of state employees signed up for the California Public Employees