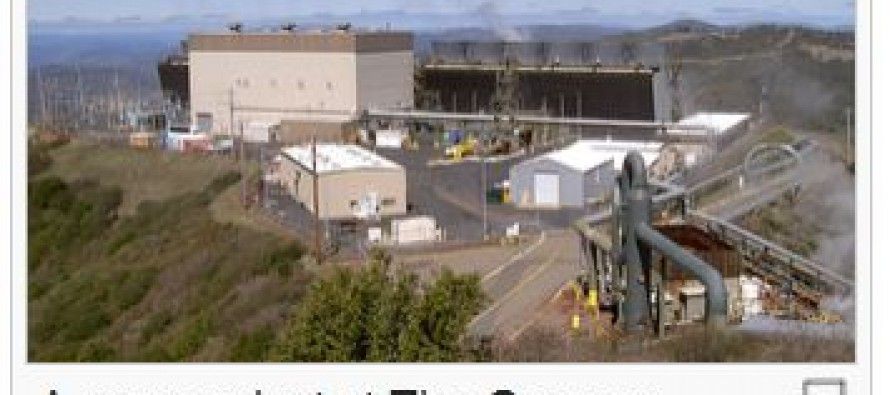 California residents and businesses could be paying an extra $400 million annually for electricity if a geothermal energy mandate bill making its way through the Legislature becomes law.
Senate Bill 1139, by Sen. Ben Hueso, D-San Diego, would require non-publicly-owned utilities to purchase 500 megawatts of new geothermal energy by 2024, with at least half of that purchased by 2019.
The bill is backed by the state's building trade unions, eager for the geothermal plant construction jobs. Hueso anticipates that most of the plants would be built in his district's Imperial Valley, which is east of San Diego near the Mexican border.
The bill's opponents argue that it will drive up costs for energy that is not needed. They also believe it will force utilities to cut back on wind, solar, biomass and existing geothermal energy sources in order to meet the new geothermal mandate.
SB1139 passed the Senate along party lines, 22-11, on May 28, and has received similar partisan approval in two Assembly committees.
Hueso: SB1139 good for jobs, environment, world peace
Hueso made his case for the bill to the Assembly Natural Resources Committee on June 26, arguing that the geothermal mandate will help provide jobs, a better environment and even world peace.
"What are the goals that we so often talk about to our constituents and our communities?" he asked. "We talk about creating jobs. We talk about supporting efforts to restore environments that have been impaired.
"We talk about achieving California's energy independence as a way to not only help our economy thrive but to accomplish world peace. So many of the struggles around the world are around resources like water and energy and food.
"This bill gets to everything. It protects our food supply in California. It helps create a renewable source of energy that reduces our dependence on foreign fuels. It helps clean air, which we all want. I feel very confident that we are getting to a place that achieves the intent of the bill: Not to hurt current geothermal resources – to help in the production of more geothermal resources."
Scott Wetch, representing a variety of construction trade unions, argued that more renewable baseload power is needed, particularly in the Los Angeles area after the San Onofre nuclear power plant shut down last year.
"PUC [the California Public Utilities Commission] will come up here and say we have more than enough power, we don't need this power," said Wetch. "That's all natural gas power. That is spewing pollution into the air. These peaker plants, that were intended to burn 15 percent of the time during peak load demand, have been running 24/7. And that's not good for anybody.
"Secondly, this is a job creator. It will create over 6,000 union building trades jobs in very short order. If you are a plumber, a pipefitter, an insulator or a boilermaker, you have virtually got no jobs out of this entire renewable energy revolution. And we still have 30 percent unemployment in those crafts. While all crafts will benefit from this, those particular crafts are the ones that are so desperate for those jobs."
Wetch portrayed as a false argument the concern that mandating 500 MW of new geothermal generation would put existing geothermal plants out of business when their current contracts expire.
Union rep: mandate won't hurt existing geothermal
"It's not in our interest to see any of the existing geothermal resources … go by the wayside," he said. "We are invested in those facilities. We do the maintenance work on those facilities. So what we've done … is try to craft an amendment that will put the existing contracts on a better footing than they are today.
"If this bill fails, then those existing contracts, when they come up, will have to compete with whatever type of renewable power is available in the market. It's not a geothermal-on-geothermal discussion. Those contracts will have to compete with whatever solar, wind, biomass, whatever else is on the market."
Wetch downplayed concerns about the mandate's impact, calling 500 MW of power "a drop in the bucket. That is less than 1 percent of the state's entire portfolio. By the time we get to the end of the 10 years it's going to be closer to half of 1 percent."
Could help Salton Sea restoration
If SB1139 becomes law, a prime beneficiary, in addition to the unions, could be the Imperial Irrigation District, which provides electricity in addition to irrigation water to the Imperial Valley.
"We are in the process of drilling out in the Salton Sea a known geothermal resources area with our public power brethren in Southern California, including Los Angeles Department of Water and Power," said IID General Manager Kevin Kelley. "A geothermal facility that, when it's completed, will comprise about 8 percent of our total generation.
"So we believe in geothermal. All of our resources in the RPS [Renewable Portfolio Standard] come from our own backyard, and geothermal is a big part of that. Just as the status quo is the enemy of the Salton Sea, it's also the enemy of the entire geothermal industry. So what's needed is a refreshed procurement process and for the Legislature to lead."
Hueso and Gary Wyatt, representing the Imperial County Board of Supervisors, touted the geothermal mandate as a way to help fund the restoration of the Salton Sea.
PUC: mandate would 'needlessly raise rates'
Some of the strongest opposition to the bill came from the California Public Utilities Commission.
"The PUC opposes the bill for multiple reasons," said Nick Zangiani, PUC senior legislative liaison. "But most notably because it would mandate procurement of unusable power that will needlessly raise rates at a time when Californians can least afford higher electric bills."
Zangiani noted that the PUC recently updated its Long-Term Procurement Plan, which oversees the state's utility energy purchases.
"Our current LTPP requires no additional procurement arrangements until after 2022," he said. "Because procurement arrangements are already in place through 2022, passing SB1139 would result in a massive 500 megawatts of new geothermal generation with literally no use.
"It would be nothing more than grid congestion that the ISO [California Independent System Operator Corporation] would have to curtail. Five hundred megawatts represents hundreds of millions of dollars in new power plant costs and billions more in new transmission upgrade costs. Again, all for no reason."
Geothermal is more expensive
Contributing to the costs is the fact that geothermal energy is not as efficient or reliable as other renewable energy sources.
"Geothermal bids, by way of comparison, were more than twice as expensive last year than solar," said Zangiani. "And of the bids that were accepted, more than three-quarters of those projects failed. So there's a problem with geothermal beyond simply a mandate and a need for procurement."
PUC: mandate will cost jobs
He acknowledged that the bill would create construction jobs in the Imperial Valley, but added that it would cost jobs elsewhere.
"There are major rate hikes at stake here," said Zangiani. "When an industrial facility sees its electric bill increase, that talk about shipping operations to Texas becomes all the more real. That is a job loss right there. When small businesses have to cut payroll because higher electric bills are eating into their operations expenses, those are lost jobs.
"And when a 500-megawatt procurement mandate for new geothermal that's primarily Salton Sea is implemented, that means that expiring geothermal contracts in areas like The Geysers are going to be crowded out and potentially ineligible to get renewals. That's job loss right there."
PG&E: will cause rate hikes
His warnings were echoed by Pacific Gas & Electric representative Valerie Turella Vlahos.
"There's no real cost-containment in this bill," she said. "Constituents will see a rate increase in Fresno, in Mendocino, in Monterey, in Santa Barbara, in Bell Gardens, in Oakland, in your districts where IOUs [investor-owned utilities] provide service.
"These rate increases do impact business decisions. And [Texas Gov.] Rick Perry might be drafting a support letter right now for this bill. And we might be shipping all that lithium to Texas. This is not a way for us to attract our businesses."
Vlahos affirmed that current energy sources will be hurt if new geothermal energy is mandated.
"We have over 400 megawatts of geothermal and roughly 300 megawatts of biomass in our portfolio right now," she said. "We will one-for-one reduce what we're buying from contracts that are falling off, whether renewable or not, to meet this mandate."
Geothermal three times more expensive
Mandating geothermal energy could triple the cost of energy purchases, according to PG&E in a July 2 letter to the Assembly Appropriations Committee, citing CPUC data. Market purchases have averaged about $50 per megawatt-hour.  But the average bid for new geothermal in 2013 was $155.96 per megawatt-hour, not including the cost of transmission upgrades.
"Why should any electric customer be forced to purchase power that potentially could be $100/MWh above market prices?" the PG&E letter asks. "That is a 200 percent cost premium. PG&E does not make money on these mandated purchases, and all costs are passed through directly to our customers in the form of higher rates.
"It is hard to fathom how Californians are best served when local, uneconomic job creation from such an excessive cost burden is placed exclusively on the backs of utility customers, including schools, hospitals, small business and local governments. The end result of SB1139 is the requirement to buy more of something we do not need at a price we cannot afford."
PG&E and other non-public utilities are also miffed that the bill does not place the same geothermal purchase mandate on public utilities. That lets off the hook the state's third largest utility, the Los Angeles Department of Water and Power, and the fifth largest, the Imperial Irrigation District, according to the committee's legislative analysis of the bill. Hardest hit will be PG&E, Southern California Edison and San Diego Gas & Electric.
$8 billion ratepayer cost over 20 years
The energy cost increase from SB1139 could total $8 billion over the 20-year life of the mandate, warned SCE Director of Legislative Affairs Kelly Boyd.
"[If SB1139 passes] we're buying a resource in a remote area that we don't need," she said. "Which means we'll have to either sell it or it's just lost power. That's an additional $8 billion spent on electricity going into our ratepayers' bills and not serving the purpose that we are trying to serve here. Forty-three percent of our [renewable energy] portfolio is geothermal. This won't solve the problem. It will create a bigger problem.
"While I think we would like to benefit the Salton Sea, one of the biggest beneficiaries of a bill like this might be a state like Texas with our energy costs going up this high again."
She was echoed by Heidi Barsuglia, SDG&E's senior manager for state governmental affairs.
"This is asking SDG&E ratepayers to buy power that we do not need at significantly higher expense," said Barsuglia. "And power that we cannot actually get to the power grid because we do not have the transmission capacity. So we're asking San Diego Gas and Electric ratepayers to pay significantly higher costs for a benefit that they will never see."
The Assembly Natural Resources Committee approved SB1139 on a 6-2 vote. It will next be considered by the Assembly Appropriations Committee after the Legislature returns from summer recess on Aug. 4.
---
---
Related Articles
David Roberts — a Grist.org journalist who has an easy command of energy issues that makes his NRDC-style environmentalism easier
June 27, 2012 By Josephine Djuhana Gov. Jerry Brown, alongside a number of lawmakers, continues the push to build the
Oct. 15, 2012 By Wayne Lusvardi The San Joaquin River wasn't named after Joaquin Murrieta, the infamous bandit of the