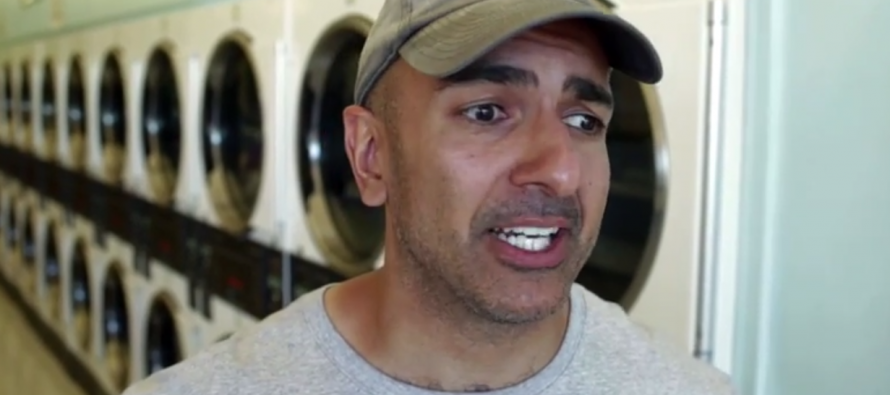 By spending a week down and out in Fresno, Neel Kashkari has made the state's sky-high poverty rate a central issue in the governor's race, and in the process, debunked Gov. Jerry Brown's myth of a "California Comeback."
Last week, the Republican gubernatorial nominee hopped on a Greyhound bus headed for Fresno with just $40 in his pocket and the goal of drawing attention to the other California, where nearly 9 million people live in poverty.
"I wanted to see firsthand what that comeback looks like for many Californians," Kashkari writes in a powerful opinion piece featured in Thursday's Wall Street Journal. "With only $40 in my pocket (and no credit cards), a backpack, a change of clothes and a toothbrush, I planned to find a job and earn enough money to get by."
"I am an able-bodied 41-year-old," the former Treasury official wrote. "Surely I could find some work."
But Kashkari, who has an MBA from the Wharton School at the University of Pennsylvania, was unable to find work and, after five days, turned to a local homeless shelter for food.
"I offered to do anything: wash dishes, sweep floors, pack boxes, cook meals, anything," Kashkari said of his experience. "In seven days, I didn't see a single 'Help Wanted' sign, but I did see plenty of signs that fast-food outlets now accept food stamps."
Jerry Brown's myth of the California Comeback
The unconventional campaign move, which was documented by two videographers, debunks the central theme of Brown's re-election campaign: that he's led a remarkable comeback of the eighth largest economy in the world.
"'California Comeback!' is the favorite slogan of Gov. Jerry Brown and other Sacramento politicians cheering a temporary budget surplus provided by a roaring stock market," Kashkari said. "But California also has the highest poverty rate in America at 24 percent and I wanted to see first-hand what life is really like for many of our friends and neighbors."
In March 2013, New York Times columnist Paul Krugman admonished the rest of the country to follow Brown's "Lessons From a Comeback," which included a round of tax increases approved by voters in 2012. Brown formally picked up that theme in this year's State of the State address, in which he officially declared the state's "comeback" — a message quickly repeated by the state's mainstream media.
"Jerry Brown, California's comeback king," the Los Angeles Times proclaimed, following the governor's speech. "California is back. And like it or not, that's in no small measure because of Jerry Brown."
24 percent poverty rate – worst in nation
The Republican candidate's homeless challenge mirrors similar efforts by Democratic politicians to highlight the problems facing working families. United States Senator Cory Booker, D-New Jersey, kicked off his political career by living in "some of Newark's roughest neighborhoods."  Earlier this month, Ted Strickland, the former Democratic Governor of Ohio, spent a week living on minimum wage.
"I know I'll never be able to truly walk in the shoes of a minimum wage worker," the Democrat wrote in Politico Magazine, "but experiencing just some of the decisions this income requires on a daily basis is enough to understand that we need to do better for these hardworking families.
With a 20-point lead in the latest opinion polls, Brown has largely ignored Kashkari — most recently telling reporters that he might not bother to debate his opponent.
"I haven't made up my mind," Brown told reporters accompanying him on his trip to Mexico.
By borrowing a page from Democrats' playbook, Kashkari elevates the issue of poverty to a major topic in the gubernatorial campaign.
"Jerry Brown is ducking," Kashkari said on MSNBC's "Morning Joe," saying that the most recent campaign move was intended to "force a conversation" about the state's 24 percent poverty rate — the worst in the nation.
Not first time Kashkari has raised issue of poverty
This isn't the first time that Kashkari has pressed Brown on poverty. During the exploratory phase of his campaign, Kashkari spent a night in a homeless shelter and worked the fields picking produce. In January, Kashkari attempted to raise the issue, but struggled to capture the media's attention.
"Gov. Brown may claim a California comeback, but the truth is that he has forgotten the millions of California families who are struggling," Kashkari said in response to the governor's State of the State address. "Twenty-four percent of our fellow Californians live in poverty. Yet how many times did the governor mention poverty in his 17-minute address? Not once. That is outrageous."
But don't expect the Capitol establishment to recognize Kashkari's repeated attempts to change the image of the California Republican Party.
"Kashkari has not for one minute shown an interest in re-branding his party," CalBuzz bloggers Phil Trounstine and Jerry Roberts wrote on Monday.
---
---
Related Articles
Dec. 4, 2012 By Chris Reed Legislative Analyst Mac Taylor's unhinged decision to project budget surpluses in coming years in
JAN. 31, 2011 By STEVEN GREENHUT Gov. Jerry Brown's State of the State speech Monday night was pretty much what
Rent control is on the march in California, addressing years of leases that have increased to as much as 43