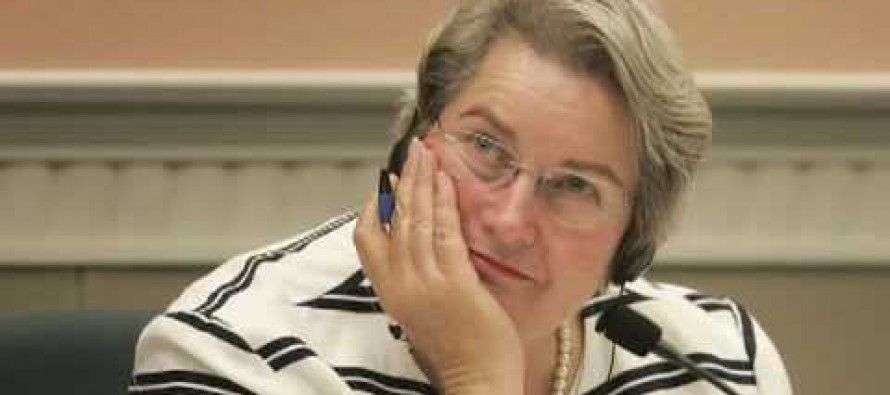 What a sad and awkward day it is when newspapers call for the resignation of a Senator, and it's not even surrounding a sex scandal or serious political mishap.
Two newspapers in Senator Patricia Wiggins' district have called for her resignation in the Democratic district.
Senator Wiggins, D-Santa Rosa, has been witnessed making public outbursts since as far back as 2007, at events in her district and more recently, in Senate hearings. Both The Napa Valley Register and the Santa Rosa Press Democrat, called for Wiggins to resign last week.
It is disheartening is that it's come to this for the Senator.
Wiggins is said to be suffering from a disease of the brain which causes memory loss, and the outbursts, amongst other symptoms uncharacteristic to the Senator. The problem is that no one will discuss what is occurring with the Senator or acknowledge it on-the-record, leaving many constituents in her district miffed.
According to Senate staffers, Wiggins has been observed using note cards to make even simple conversation. The most recent incident has Wiggins' screaming about an empty water canister at a Joint Legislative Audit Committee hearing on February 17, 2010.
While both newspapers have called for Wiggins' resignation, the requests appear focused less on Wiggins' personal issues and more about the representation for the district. The Napa Valley Register Editorial Board wrote, "Our concern is that her seat is effectively vacant today. It certainly is in the interest of Wiggins' constituents and all Californians that the state's Second District be represented by someone who is up to the job and who has been elected by the people — as opposed to a crew of staffers, no matter how capable."
Assembly woman Noreen Evans, D-Santa Rosa, announced her candidacy for Wiggins' senate seat within hours of Wiggins' announcement last summer that she would not run, according to Derek Moore of the Santa Rosa Press Democrat. I spoke to Moore in December about his many stories of Wiggins changing behavior, first witnessed in district, then at the state Capitol. Moore said he was camped out in Sacramento during the budget crisis last summer and was able to follow Wiggins closely for the Santa Rosa paper. Of the many stories Moore has written, and witnesses he interviewed about Wiggins' uncharacteristic behavior, no one at the Capitol will speak on-the-record.
Wiggins' husband Guy Conner, a prominent Democratic party consultant, also represents his wife according to Moore. Conner has avoided most media calls and public comment, but has claimed several times that Wiggins' outbursts are due to her well-known hearing condition. There have been some musings and speculations from Capitol staffers that Conner is calling the shots behind the scenes, together with Wiggins' staff.
Wiggins has given up six committee posts this year and stepped down as chairwoman of the Local Government committee.
Moore posted audio of Senator Wiggins last outburst (YouTube – Sen. Pat Wiggins' outburst) at the Press Democrat website.
This is indeed a sad situation.
-Katy Grimes
---
Related Articles
@chrisreed99: Many #Fracking practices are secret including but not limited to chemicals. Covered-UP extensively starting in 70s. @TXsharon — Andrea
In 2012, California voters approved Proposition 30, which temporarily raised sales taxes on everyone and income taxes on the wealthy.
The voters of Santa Clara County have spoken, and the judge who in 2016 gave a light sentence of six