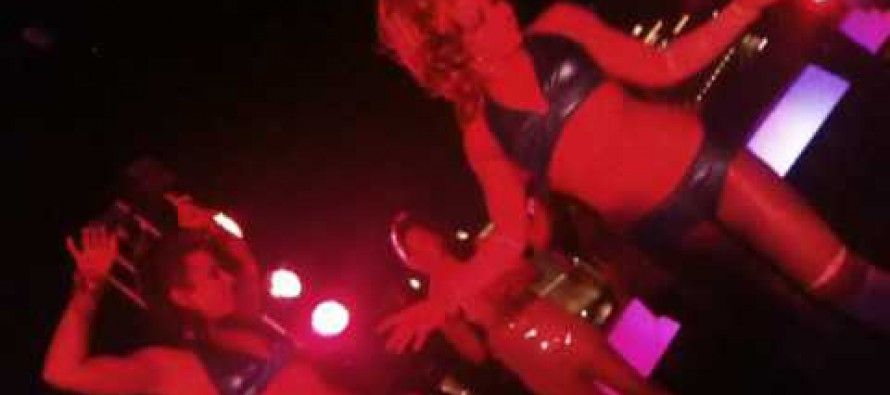 John Seiler:
I know California's economy is in tough shape. But I'm happy that the state's prison guards are meeting in Las Vegas, where Gov.-elect Jerry Brown just addressed them. Their union leaders have tough jobs making sure every last taxpayer penny is spent wisely, for the benefit of all Californians. They need a place to "let it all hang out" before returning to California with all its problems. And what better place to do it than in Elvisland?
Reported the L.A. Times:
On Monday he could be found at a major resort in Las Vegas, addressing the prison guards' union, which spent more than $1.8 million on Brown's behalf during the campaign. Just don't ask us what he said. The Times was barred from covering the brief speech.
A reporter who traveled to the Rio All Suites to catch the Brown address was initially told that the governor's staff had vetoed her presence there.
However, union officials later said it was their policy to keep the media out of the event. Even spouses of convention delegates were blocked from listening to Brown's remarks, they said, for which the ballroom's doors were closed.
Brown, who spoke of transparency often on the campaign trail, has held few public events and had little engagement with the media since defeating Republican nominee Meg Whitman on Nov 2. Attendees described his less than 10-minute speech as a thank you to the group.
The union is the largest public union still without a contract.
I checked out the Rio All Suites hotel where Jerry and the prison gang had their party. Gov. Brown's reputation for frugality is lived up to. Here's how the hotel describes its rooms:
Every room is a suite at the Rio! The Rio hosts more than 2,500 suites, providing spectacular views of Las Vegas. Every suite offers more than 600 square feet of spacious luxury, including a separate dressing area, couch, 32-inch TV, table with chairs, hairdryer, in-suite refrigerator, iron, ironing board and complimentary in-suite safe.
What do our abstemious public servants need an "in-suite safe" for? Oh, I know. That's where they can keep safe and secure all the wonderful things they do for us.
After a hard day of working out a contract with Gov.-elect Brown that's a good deal for the taxpayers of California, no doubt Our Guardian Servants retire to their Suites to read their Gideon Bibles. They would never do this at Rio Las Vegas' Bikini Beach:
Every Thursday through Sunday, part of VooDoo Beach is transformed into "Bikini Beach", a European-style pool at Rio All-Suite Hotel and Casino.  Designed specifically for adults over 21, this pool allows guests to bask in the sunshine while listening to the music of a live DJ and watching go-go dancers on the pool deck.  Rent a daybed and receive chilled towels, complimentary water, and a five-minute massage.  For added exclusivity, guests can reserve one of five luxurious cabanas, which includes bottle service, freshly cut fruit, and your own personal bikini server.
After a relaxing day at the pool, it's time to party!  Your admission into Bikini Beach gets you free admission into VooDoo Lounge the same night.  In addition, each guest will receive a coupon, redeemable at any time, for free admission into Crown Theater & Nightclub, VooDoo Lounge, and 2 for 1 cocktails at Carnaval Court at Harrah's.
No one under 21 permitted in Bikini Beach; valid ID required for entry.
And I'm sure the ASPCA is wagging its tail at how the guards are treating their pets. Mistreating animals can get you thrown in prison, you know. Here's how Rio Las Vegas describes its PetStay Las Vegas amenity:
Rio All Suites Hotel & Casino is rolling out the red carpet for traveling dogs, with the launch of "PetStay," the resort's new pet-friendly hotel program.
Guests participating in the PetStay program are greeted by several canine-friendly in-room amenities including a mat, food and water dishes, disposable waste bags and dog treats.
Rio All Suites Hotel & Casino features a designated PetStay area within the hotel, equipped with welcome packets that direct guests to outdoor relief areas and dog walking routes as well as specialty room service menus. Additional information about dog-friendly items for purchase and nearby dog services (such as grooming, walking and veterinary care) is available upon check-in at each of the participating resorts.
And here's an actual YouTube taken at the VooDoo Lounge on the rooftop of the Rio Las Vegas. I don't think I can see any actual California prison guards are in this YouTube, proving how they behaved themselves while in Vegas.
Suitably relaxed, I'm sure the guards will return to their prisons and treat the inmates in their charge with extra-special care, and pinch every taxpayer penny.
Dec. 6, 2010
---
---
Related Articles
Feb. 8, 2013 By Chris Reed Despite some pension reforms and program cuts, the city of Los Angeles remains in
  Is the state headed for budget trouble? Caltrans unclear on spending needs Some water restrictions made permanent Bathrooms for all
Steve Poizner is again running for the position of state insurance commissioner, but this time he's leaving behind the Republican