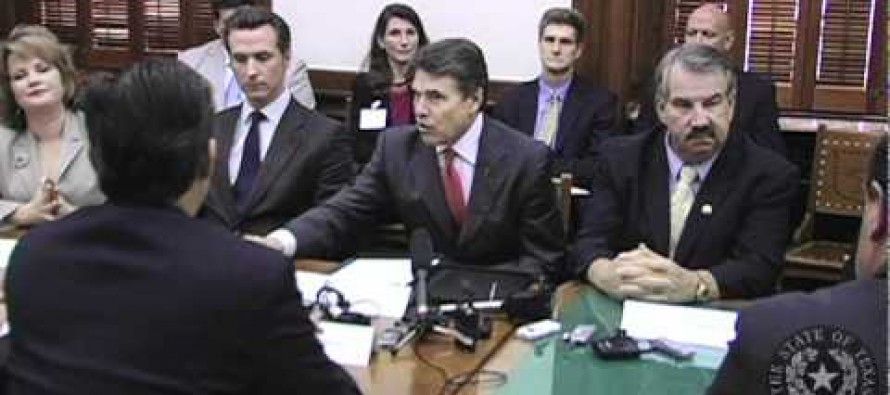 Katy Grimes: Thanks to Gov. Jerry Brown signing into law this week the global warming inspired 33 percent renewable requirement for utilities, we can expect more California jobs to head to Texas.
The law requires investor-owned and public utilities to obtain one-third of their electricity from renewable sources – in the state or from outside sources.
California utilities already pay 50% more for electricity than other states, which will lead to exorbitant cost increases for rate payers. Some experts say that parts of California will experience only a 19 percent increase, while  Los Angeles will see a 74 percent increase.
As I wrote in Green Energy Bill Headed to Gov., in the entire history of energy in California, the state has never been able to create enough electricity to keep up with our own usage. This means that California buys 20 to 30 percent of its energy on the energy market from out-of-state energy sources, which leads to criticism of the stringent renewable energy standards. Many in the state say that increasing renewable energy standards will kill private business, as well as investor owned utilities.
"The other catch is that California legislators have imposed regulations on how much of the renewable energy is purchased outside the state, leaving many in the energy business to say that it can't be done given how much energy we already purchase from other out-of-state sources, and because wind and solar power are not reliable," explained an energy expert who asked to remain unnamed.
The California delegation visiting Texas legislators and Gov. Rick Perry are meeting with former California businesses now located in Texas. In a meeting with the Governor, California Assemblyman Dan Logue (R-Linda), organizer of the trip, said that businesses risked uprooting families along with the business, to move to Texas where they can compete nationally and globally, at a lower cost. "Last year California lost 1.2 million jobs while Texas created 163,000 new jobs," said Logue.
"There's a saying amongst business people," said Logue, "ABC – anywhere but California." And the reason for the trip said Logue, "is that in order to fix our budget and economy, California must address how to create jobs."
I've written about Joe Vranich, The Business Relocation Coach, who helps businesses relocate. And unfortunately, too many of those businesses are exiting California. Vranich keeps track of the departures and writes, "Texas remains the top destination for departing California companies, as it has for several years. Experts at Site Selection magazine have awarded Texas the 2010 Governor's Cup for most new and expanded corporate facilities announced over the year. Texas had the nation's top ranking with 424 projects while California ranked 15th with 127 projects."
Vranich lists the 69 companies that have left California so far just this year, and notes that the list doesn't include businesses that remain in the state but choose to expand or open additional locations in other states.
According to Vranich, some of the reasons businesses leave California:
10. Energy costs
9. High and unfair tax treatment
8. Regulatory burden
7. Unfriendly legal environment for business
6. Most expensive place to do business
5. Provable savings elsewhere
4. Public policies and taxes create unfriendly business climate
3. Uncontrollable public spending
2. More adversarial toward business than any other state
1. Poor rankings for California on lists ranging from taxes to crime rates to school dropout rates.
Let's hope the Texas delegation is able to get the attention of the other members of the Legislature. Because if this week is any indication of whether they can be shaken into reality, it's not going to happen. Before breaking for their Spring Recess, legislators spent the last couple of weeks passing some really bad legislation through committees.
I'll collect the bills and highlight some of the worst. This is where the shrinking Republican legislative  membership is wreaking havoc on the future of the state – Republicans just are not able to stop bad bills in committees because there aren't enough of them. And Gov. Jerry Brown has already demonstrated his willingness to sign legislation that will only further the devastate the state's economy.
Gov. Perry's website has video of the meetings.
The California delegation includes:
·    Assemblyman Dan Logue
·    Lt. Governor Gavin Newsom
·    Assembly Republican Leader Connie Conway
·    Assemblywoman Diane Harkey
·    Assemblywoman Cathleen Galgiani
·    Assemblyman Martin Garrick
·    Assemblywoman Shannon Grove
·    Assemblyman Brian Jones
·    Assemblyman Steve Knight
·    Assemblyman Mike Morrell
·    Assemblyman Donald Wagner
·    Donna Arduin – former California Finance Director, Arduin, Laffer & Moore Econometrics
·    Julie Blunden – Executive VP of Public Policy/Corporate, SunPower Corporation
·    Jeffrey Clark – State Government Affairs Southern Regional Policy Director, TechAmerica
·    Carl Guardino – President, and CEO Silicon Valley Leadership Group
·    Cynthia Guerrero – CG Consulting
·    Jack M. Stewart – President, California Manufacturers & Technology Association
·    Bryan Tucker – Senior Director, NA Operations/PMO Aviat Network
·    Rock Zierman – President, California Independent Petroleum Association
---
Related Articles
On April 10, 2012, I wrote an op-ed for the L.A. Daily News with an unusual take on what ultimately
Lloyd Billingsley: California's 2003 Electronic Waste Recycling Act (EWRA) is taking another hit, this time from the Silicon Valley Toxics
License suspensions under pressure, Pot smokers rejoice, Trump's winning, guns are losing and CA can't breath  Good morning! The ACLU