The coverage of Assemblywoman Diane Harkey, R-Dana Point, and her $10 million lawsuit against Sen. Mark Wyland, R-Solana Beach, over his allegedly defamatory comments about Harkey's family's legal problems focused on the political subtext of the dispute.
Harkey and Wyland are both running for the Orange County/San Diego County/Inland Empire Board of Equalization seat now held by Michelle Steel that is a good bet to remain in GOP hands. It has a slight Republican registration edge. Also expected to run are three Orange County pols: Democratic state Sen. Lou Correa and former GOP state lawmakers Tom Harman and Van Tran.
But the key to understanding Harkey's suit isn't her pending political fight with Wyland. It's her thin-skinnedness, if that's a word. Let's look at some of her dealings with the media that reflect her perception of a world in which she is an unjustly put-upon heroine:
'Totally unfair and extremely biased'
This is from O.C. Register political reporter Martin Wisckol's blog of Oct. 19, 2007:…
"Diane Harkey left me a phone message today (that was Oct. 17), saying the blog was singling her out and posting unflattering photos. You can see the two photos I've used of her here.
"I'm not that unphotogenic," she said. "I think it's totally unfair and extremely biased."
Then came Martin's story of March 17, 2009, which showed Harkey had been misleading and inconsistent in describing her involvement with her husband's troubled financial firm.
Victim of 'slander'? Or trapped in denial?

At that time, I interviewed Harkey, who at that point represented a big chunk of northwest San Diego County, for a Union-Tribune editorial that was published March 22, 2009. Here's part of the editorial; the image is from an extensive website on the Harkey scandal:
 "… Her husband, Dan Harkey, runs Point Center Financial, an Aliso Viejo company that lends investors' money to land developers. It is the target of a Securities and Exchange Commission probe. It is also facing a lawsuit from 53 investors who say Dan Harkey used their money for dubious loans – and to fund his wife's rapid rise in Orange County politics. Campaign disclosure firms show Diane Harkey has spent $2.1 million in personal funds since 2004.
"However, the suit presents no evidence for the alleged diversion of money. An aide to Diane Harkey told The Orange County Register last month that the campaign funds came entirely from the wealth she had accumulated in a 30-year banking career. Both Harkeys said she had never worked for Point Center. …
"But a follow-up Register report said Diane Harkey had been listed as a Point Center official in state documents and in campaign disclosure forms for two political donations to other GOP candidates. Harkey's own 'statement of economic interests' said she received more than $100,000 in annual income from a rental property that happens to be Point Center's headquarters. She also appears to be backing away from her claim that she didn't use her husband's money for political purposes.
"Plainly, this matter deserves coverage. Yet in a phone interview, Harkey told us our questions amounted to 'slander'; that news accounts of the mess were all 'libel' written by journalists determined to 'massacre' her family; and that she was the victim of a sexist double-standard.
"Given the holes in her initial story, this is a startling approach for Harkey to take. … If she wants to clear her name, step one is to get out of the denial stage of her grief."
Routine budget questions an 'unbelievable grilling'
I wrote more about Harkey in a March 23, 2009, blog item for the Union-Tribune:
"How is it possible Harkey managed to get elected to any job, much less the Assembly? She has no conception of her role; of the proper role of the media; or of her responsibilities to the media. I have another example to offer.
"Last fall, the U-T editorial board met with nearly two dozen candidates for state Assembly and Senate seats. I asked every last one how they would balance the state budget and was ready with follow-up questions seeking specifics if they offered vague answers or it's-that-simple Ross Perot-style sophistry. Guess who thought that amounted to unfair treatment? You got it.
"Last week, after I had an unproductive phone interview with her, I wrote Harkey to say I needed to get fuller answers so I could understand her position. Part of her response was to harken back to the candidate interviews: '… you have a personal bias in my case. I recall the unbelievable grilling you gave me when I interviewed with your editorial board.'
"I asked the same questions of everyone, with the same follow-ups to all the evaders. To Diane Harkey, it was an 'unbelievable grilling.'
"Here's the kicker: The U-T ended up endorsing her, and I wrote the editorial! Despite my 'bias'!
"South O.C. and Oceanside, you have my condolences. There doesn't seem to be much of a learning curve on display with your Assembly rep."
Incumbent Steel probably regrets Harkey endorsement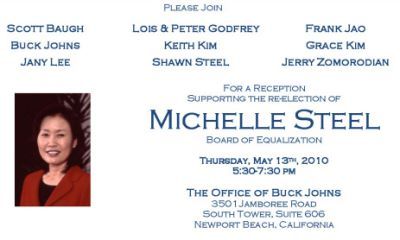 Four years later, that still seems true. It's just strange for Harkey to think her scandal isn't fair game for her political rivals; that the amazingly personal details in her lawsuit against Wyland will play well; and not to realize that her lawsuit has put a vast spotlight on Wyland's remarks that might otherwise have been largely ignored.
Michelle Steel, the incumbent, also may be regretting endorsing Harkey on Sept. 5.
---
---
Related Articles
Katy Grimes: During the Senate floor session today, Senator George Runner, R-Lancaster, experienced a series of frustrating interruptions while asking
New polling and a surprise endorsement light up the path to victory for Loretta Sanchez's quest for the U.S. Senate
It's not even 2016 yet, but the first debate over a probable initiative on the November 2016 ballot took