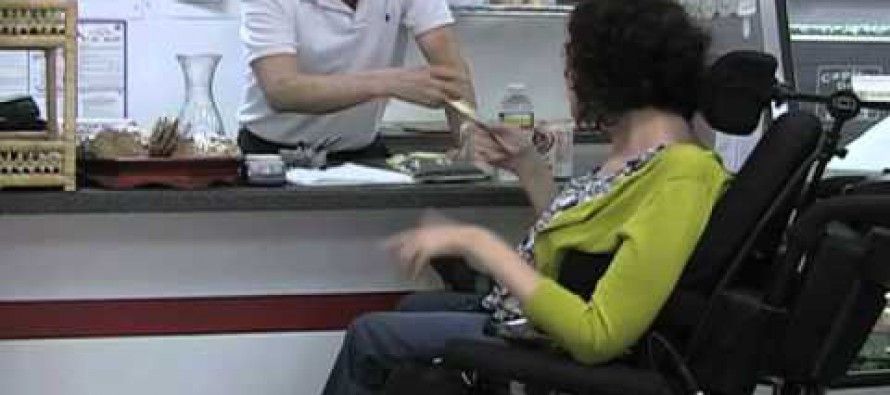 April 6, 2012
By Joseph Perkins
The Consumer Attorneys of California caled themselves the Trial Lawyers Association before a name change in 1995. The trial lawyers just posted a video on YouTube, "Disability Access: Tips for the small business."
It's supposed to help mom-and-pop grocery stores, dry cleaners, nail salons and other small businesses comply with the federal Americans With Disabilities Act and, thereby, avoid shakedown lawsuits by the Golden State's vexatious litigants.
It's doubtful CA CA's video will curb ADA lawsuits, not the least because it's elicited only 950 views since it was uploaded back in January.
But also because ADA litigation is a lucrative racket for shysters who target small businesses — particularly those owned by immigrants for whom English is a second language — claiming violations of the federal law.
The shysters have no intention of actually taking small business owners to court. They just want those owners to pay them off — usually something in the neighborhood of $4,000 — to drop their ADA lawsuits.
When you have serial litigants, filing a half-dozen, a dozen or more lawsuits each year, it can add up to a tidy sum.
Enter U.S. Sen. Dianne Feinstein, the California Democrat. She recently sent a letter to California Senate President Pro Tem Darrell Steinberg, D-Sacramento, urging lawmakers in the state capitol to enact legislation to stop the legalized extortion of the state's small businesses.
"It appears," Feinstein wrote, "these suits and demand letters are driven by a unique California law that, unlike the federal ADA, permits recovery of damages for noncompliance" with the law. That encourages lawsuits she aptly describes as "predatory."
Indeed, the state law to which she referred makes businesses deemed noncompliant with ADA regulations liable for penalties of $4,000 per violation — no matter how small — for every day unaddressed.
That's why so many small business owners throughout the state have acceded to a single $4,000 payoff in response to a demand letter. It's a cheaper proposition than $4,000 per alleged violation per day.
Support for GOP Bill
Feinstein actually expressed support for a bill, SB 1186, authored by state Sen. Bob Dutton, R-Rancho Cucamonga, which would give business owners 90 days to fix minor ADA infractions before a lawsuit can be filed.
Steinberg responded that he and fellow Democrats in the state Senate were inalterably opposed to Dutton's proposed "right-to-cure" measure. Such legislation, he said, would "remove the incentive to encourage businesses to attain ADA compliance."
The compliance to which Steinberg referred is a state-certified ADA inspection, after which a small business would fix whatever violations turned up. But why should small businesses in California have to submit to such an inspection to stave off ADA shakedown suits?
The state's small businesses are not the problem. It's the vexatious litigants filing predatory lawsuits not because they are so mightily concerned about disability access, but because they want money for nothing.
Sen. Feinstein warned state Senate President Pro-Tem Steinberg that, if he and his colleagues in the Legislature don't get off the dime and protect the state's small businesses from ADA shakedown suits, "I will consider introducing legislation in the U.S. Senate."
Her threat has not endeared her to Democratic lawmakers in Sacramento, nor the state's so-called consumer attorneys, who rank among the state Democratic Party's biggest contributors. But it is no doubt appreciated by California's 3.2 million small businesses.
---
---
Related Articles
April 18, 2013 By Chris Reed The recent flap over an MSNBC promo in which commentator Melissa Harris-Perry declared that 
Bending to legislative prodding from Sacramento, California's transportation bureaucracy has moved ahead with statewide plans to standardize and expand the Golden