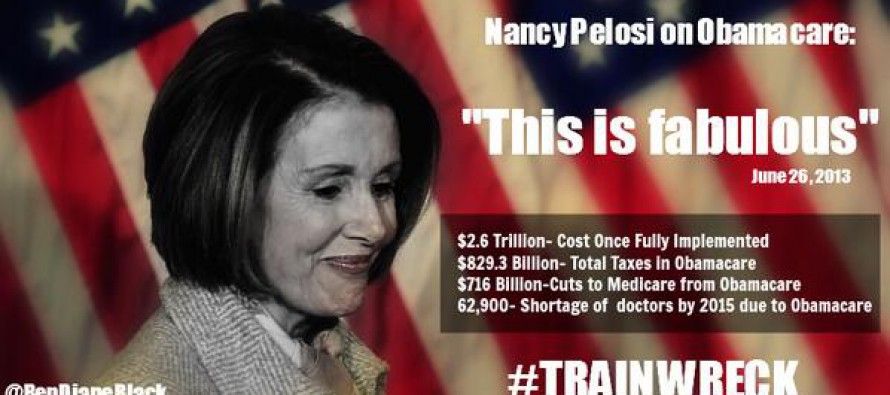 A long list of California politicians like Nancy Pelosi, Barbara Boxer and John Perez have rushed to declare Obamacare a sweeping success. While Senate Majority Leader Harry Reid, D-Nev.,  acknowledges that it could work out so poorly that we should give up on it and switch to single-payer government health care, California's leading Democrats won't go there. They insist it's just wonderful.
Pelosi told Charlie Rose of PBS last year that the law was the greatest thing since air conditioning, proving a lifesaver for "individual families, small businesses, corporate America, our economy, our federal budgets and local budgets." She's repeated the claims that it's a money-saver for everyone in recent days.
And Pelosi has set the template for how CA Dems defend Obamacare. For three years, I've written critically about the dumb incentives in the Affordable Care Act, and for three years I've gotten nasty emails and phone calls that amount to, "You lost, get over it!" — emails that never even address the points that I made.
ACA has financial incentives for divorce and against marriage
Now the Obamacare rollout has arrived, and sticker shock has set in, and we're still seeing fresh surprises about the awful incentives in the 2010 law. This is from The Fiscal Times:
"Someone in the White House thinks marriage is a bad idea.
"Earlier this year, TFT showed that a high-earning couple, each with incomes of $400,000, would save about $27,000 annually if they divorced and filed their taxes separately.  Now we learn that the Affordable Care Act, a.k.a. Obamacare, is dangling a similar fate in front of middle income earners.
"A typical 40-year old couple with two kids could save $7,230 a year by divorcing if one partner earns, say, $70,000 and the other $23,000. Sixty year-olds earning $62,041 each a year would save $11,028 annually if they broke up."
Econ 1: Incentives drive behavior
It's not Economics 101 to say that financial incentives have a strong effect on human behavior. It's more like Econ 1. It's like the dumb AT&T cellphone commercials that point out more is better than less.
Yes, of course marriage has such deep meaning to a lot of people that they wouldn't divorce to save money. But if you're 60 years old, and need to save money for retirement, and a divorce saves you $11,000 a year — and you don't even have to tell anybody you're divorced or take steps to unwind your commitment to your spouse or your shared assets — then heck yes a lot of people will follow through. Duh.
But Obamacare isn't just an incentive to divorce. It's a disincentive to marriage. Get hitched, lose $600 a month in your disposable income? That will matter.
At some point, Democrats will be forced to admit Obamacare's problems as they become so utterly impossible to ignore. Or will they? With pols like Pelosi, Obamacare seems to be more akin to a divinely inspired religion than a government program.
The House Democratic leader, remember, actually believes that "individual families, small businesses, corporate America, our economy, our federal budgets and local budgets" will be helped by the law.
That's not Econ 1. That's a Ph.D. in Denial.
---
---
Related Articles
A new bill would mandate double-time pay for some holidays. The Bee reported: Californians working through the holidays could get heftier
About 1,200 California Republicans are held their annual spring convention at the Sacramento Hyatt Regency this weekend and the star
Anthony Pignataro: Ever get the idea government officials will do something, anything, except their jobs? I couldn't help but feel