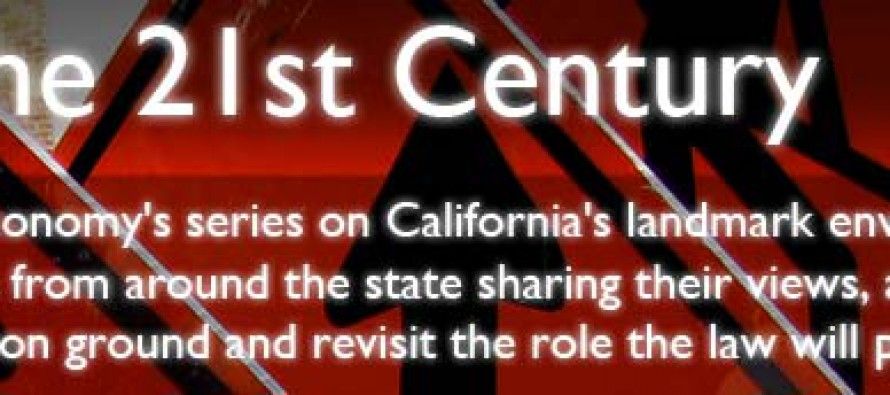 Like the 1930's state water plan, California is stymied in its plan to re-engineer the Sacramento Delta for a massive water project.  The plan includes building a water superhighway interchange that would allow fresh water to run into the Delta to restore fish habitat, while water also would be conveyed underneath the Delta to Central Valley farms and Southern California cities.
But how will the plan be able to surmount the state's "project killer" environmental law: the California Environmental Quality Act?  Is the only solution to have the project's Environmental Impact Report conducted under federal rather than state law?  That is the path California's High-Speed Rail Project and recent fracking regulations have been taking. And it may signal the path the Delta Tunnels and Bay Delta Conservation Plan will have to take.
History is not exactly repeating itself in the Delta, but as Mark Twain once remarked, history sometimes "rhymes."  What is happening today sounds much like what happened in the 1930's in California with the Central Valley Water Project.
Central Valley Project as forerunner
California first came up with a Comprehensive Water Plan in 1921, but the Legislature didn't authorize the Central Valley Project until 1933.  However, California couldn't finance the bonds for the project in the midst of the Great Depression of the 1930s.  The federal government stepped in to take over the project in 1934.  Construction didn't begin until about 1939, 18 years after the state water plan was devised.  Today, California has been trying to implement its new water plan for 31 years since the proposed Peripheral Canal Project was defeated at the ballot box in 1982.
The federal Central Valley Project is not the same as the State Water Project, which was built beginning in the 1960s with state bonds.  To give an idea of the magnitude of the CVP, it delivers about 7 million acre-feet of water to farm, cities and wildlife.  About 6 million acre-feet of water go to farms.  An acre-foot of water is enough for two urban households for a year or one third of an acre of farmland for a year.
By comparison, the State Water Project supplies about 1 million acre-feet of water to farmers and about 3 million acre-feet of water to Northern and Southern California cities during wet years, when not blocked by environmental lawsuits.
Not only did federal takeover of the CVP in the 1930s solve its financing problem, it solved the political conflict between farmers and cities.  The CVP became a water superhighway that mainly served Central Valley farms. By contrast, the State Water Project was a high-speed water conduit mainly serving Northern and Southern cities.

Today, the solution to the state's water issues is to build a water interchange in the Delta with a separate conveyance system for the environment and another for farmers and cities.  Mixing farm and city water with environmental water is like mixing semi-trailer trucks, bike lanes and endangered turtle crossings on the same freeway. It leads to endless conflicts and court ordered water shutdowns.  It is better to put water into separate ditches for each.
In California, water is a socialized system, not a market. But the second-best thing to a market might be separate water systems for cities, farmers and the environment, wherever possible. The proposed Bay Delta Conservation Plan accomplishes some of this.  Good fences create good neighbors and separate ditches minimize water wars. The Delta Tunnels concept of a super water interchange partly puts water into separate ditches and pipes.
Is Twin Tunnels Project on same track as High-Speed Rail?
The harbinger of what may happen with the proposed Delta Twin Tunnels Project is California's High-Speed Rail Project.  Recently, both Democrats and Republicans have colluded to switch the environmental clearance of HSR from California's tough green law to the more lenient federal law.
In February, Rep. Jeff Denham, R-Calif., asked the U.S. Surface Transportation Board to determine if it had paramount jurisdiction over the environmental clearance for the HSR Project.  He is chairman of the Subcommittee on Railroads, Pipelines and Hazardous Materials. The STB, chaired by Obama-appointee Daniel R. Elliott III, ruled it had superior jurisdiction over the environmental clearance process.
This means California's HSR project will be subject to more lenient federal environmental law.  Both Democratic Gov. Jerry Brown and State Attorney General Kamela Harris had been angling for some time to find a way to run around CEQA for HSR.  This now poses the question of whether the only way to get California's Twin Tunnels and Delta Restoration Plan approved is to find a similar way around CEQA.
California recently passed a pro-fracking bill, SB4, which establishes a threshold criterion for environment review of oil and natural gas fracking projects. If a fracking project stays within the threshold, then CEQA is not triggered.
California's water projects may "rhyme" but have no reason. Like California's HSR Project and new pro-fracking bill, a detour may have to be created around California's "project killer" environmental law for its Twin Tunnels and Water Bond.  Like the 1930s, federal involvement may be the only way to get a water project done in California.
---
---
Related Articles
California's entangled clean energy policy just added another program to an already convoluted, growing bureaucracy. The new program, signed into
JUNE 2, 2010 By DAVE ROBERTS César Chavez can rest safe in the knowledge that his place among the pantheon
Nestle, which has spent months weathering attacks on its water bottling practices in California, has been targeted by the federal government for investigation.