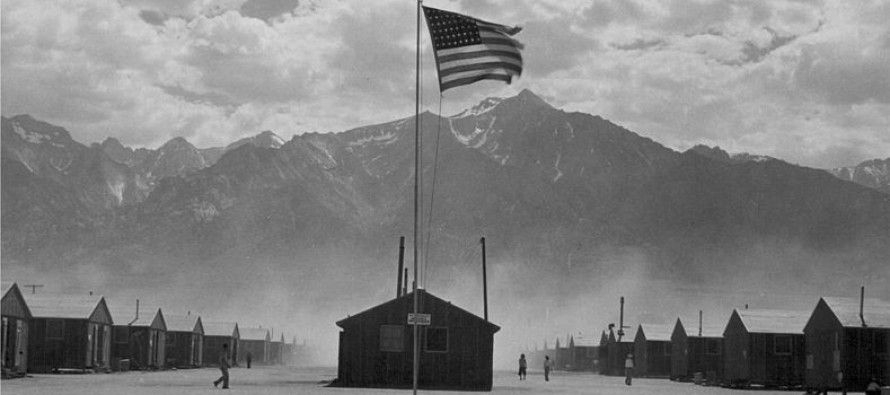 Columnist George Skelton, who now and then enjoys an intimate interview with Gov. Jerry Brown, proclaims:
"Jerry Brown is now the longest-serving governor in California history. That doesn't put him up there with the greats. But it's starting to look like he could get close."
Well, Brown still has a long way to go in office, especially if he's re-elected next year. If that happens, he almost certainly will preside over the state during another recession, one that could make the current budget fun but a nostalgic memory.
But Skelton also makes this curious statement:
"California has had three greats [as governor]: Hiram Johnson, [Earl] Warren and Pat Brown….
"Republican Warren (1943-1953) was larger than life, so immensely popular he once won both the GOP and Democratic nominations. He was an upbeat visionary who shaped California for generations, resigning when President Eisenhower chose him as U.S. Supreme Court chief justice."
But Skelton doesn't mention that the "great" Warren, first as state attorney general, then as governor, was obsessed with putting innocent Japanese-Americans into concentration camps during World War II.
None other than FBI Director J. Edgar Hoover, no softie on civil rights, said the Japanese-Americans were innocent. According to the Asian-American Studies Institute:
"FBI Director J. Edgar Hoover sent a secret six-page memo to Attorney General Francis Biddle in which he ridiculed General DeWitt's conclusions. Hoover said, 'Every complaint in this regard has been investigated, but in no case has any information been obtained which would substantiate the allegation.'"
Warren vs. Japanese-Americans
According to SanDiegoHistory.org:
"On February 21, 1942, the Tolan Committee of the United States House of Representatives began hearings to determine the 'need' for mass evacuation. The committee met in California and heard testimony from public officials, private groups and citizens. Earl Warren, Attorney General of California, reported to the Tolan Committee, or Select Committee Investigating National Defense Migration, that farms operated by Japanese were located in strategic areas near military camps, airfields, telephone and power lines and oil fields. He suggested that this was more than coincidence. An editorial of March 6, 1942, in the San Diego Union argued along similar lines. The Tolan Committee report pointed out, however, that, 'the main geographic pattern of Japanese population in California was pretty well fixed by 1910.'18 In other words, the Japanese farms existed prior to the location of military camps, oil wells and other strategic elements, but the Committee's task was to justify the need for the evacuation already under way.
"Attorney General Warren, whose thinking in this instance paralleled General DeWitt's, also testified that sabotage by resident Japanese must be imminent because none had yet occurred. He also agreed with Governor Olson that the Japanese would not report the subversive activities of other Japanese because none had been reported thus far.19 He evidently did not consider the fact that none had taken place.
"The Tolan Committee cited the example of Hawaii and alleged sabotage there as one of the reasons for evacuation, apparently ignoring all evidence in the process. For example, Representative Sam King, W. A. Gabrielson (Chief of Police in Honolulu), prominent citizens of Honolulu, the Citizens Council of Honolulu, Secretary of War Henry L. Stimson, Secretary of Navy Frank Knox and J. Edgar Hoover all stated that there was no sabotage at Pearl Harbor before, during or after the Japanese attack.20″
Manzanar
Pictured above, the Manzanar Relocation Center out just off U.S. Highway 395, east of the Sierras near Lone Pine, now is a National Historic Site (currently closed because of the budget impasse). "Relocation Center" was the euphemism of the day for concentration camp.
Many Japanese also had their property confiscated. After the war, they had a hard time getting it back, or lost it completely.
A couple of years back Steven Greenhut wrote an article on Manaznar for the Orange County Register. He pointed out how R.C. Hoiles, who then owned the Register, was one of the few newspaper publishers to oppose the "relocation" of the Japanese; and after the war, Hoiles helped Orange County Japanese recover some of the property Warren helped steal from them.
Greenhut wrote:
"The Manzanar exhibit leaves visitors pondering this question: What would we think if the government took us from our homes and, without any evidence of wrongdoing or due process, bused us to prison camps in the desert? It serves not only as a memorial to a sad chapter in American history, but as a reminder to everyone about the evil deeds that governments are capable of doing, especially with a compliant populace."
As to Warren, Republicans nominated him for vice president in 1948. President Eisenhower made him chief justice of the U.S. Supreme Court in 1953. U.C. Berkeley's School of Law established a Chief Justice Earl Warren Institute on Law and Social Policy. And he's now considered a "great" governor.
---
---
Related Articles
Steven Greenhut: Here is a letter Gov. Jerry Brown sent to Herbert Carter, Chairman of the Board of Trustees of
The federal 9th Circuit Court is known for its tyrannical ways. Now it has upheld California's tyrannical ban on
Silicon Valley and other areas of coastal California are doing well — assuming you can afford to live there. But