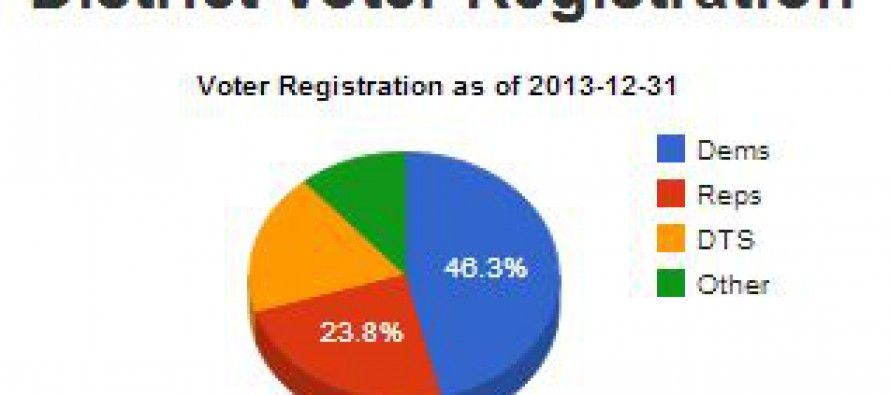 Political analysts say it's too soon to evaluate the impacts of California's top-two election system. But this year a coastal Los Angeles state Senate seat will provide a vital case study on the effects of the new system.
In the 26th Senate district, seven Democrats and one non-partisan candidate are running to replace Democrat State Sen. Ted Lieu. The Torrance moderate is running for the congressional seat of retiring Rep. Henry Waxman, D-Beverly Hills. The district is considered a safe Democratic seat, according to the ATC Partisan Index, which ranks districts based on their competitiveness in the 2014 election.
However, with so many Democrats and no Republicans in the race, law professor Seth Stodder, the lone non-partisan candidate, is almost guaranteed to be the top vote-getter in the first round in June.
Non-partisan Seth Stodder: End one-party rule in California
"In my home state of California, dysfunction has taken the form of one-party rule," Stodder wrote in recent column at the Huffington Post. "The Republican Party has all but collapsed because extremists have pushed it away from the mainstream. As a result, the Democratic Party and its entrenched interest groups have gained total control."
He's already received an endorsement from former Los Angeles Mayor Richard Riordan, a moderate Republican. Stodder, who cites California's high tax rates as part of his campaign pitch, won't be the only candidate courting the district's independent and Republican voters, who represent a combined 52 percent of registered voters in the district.
Much like GOP gubernatorial candidate Neel Kashkari, former Writers Guild of America West president Patric M. Verrone has emphasized a message focused on jobs and education. "This region scripted the California Dream," he told Variety. "From aircraft factories to movie studios, we produced middle-class jobs that bought homes, sent kids to college, and provided families with a secure retirement. Now, we must preserve those jobs and attract new ones to keep the dream alive."
Dr. Vito Imbasciani's personal story
Another candidate with cross-over appeal is Dr. Vito Imbasciani, a U.S. Army surgeon who served three tours in Iraq and Afghanistan.
Although the district lines have changed with the 2011 redistricting, Lieu's own military service played well in this district, where he won an outright victory in a special election.
Imbasciani's appeal to independents and Republicans also comes without ceding ground to liberal Democrats. In 2012, President Obama highlighted Imbasciani's personal story as part of his change to the military's "Don't Ask, Don't Tell" policy, which prohibited gay and lesbian service members from serving openly.
He's also got another ace in the bag. A long-time member of the California Medical Association, Imbasciani could benefit from outside support from one of the state's most active political groups. According to a March 2010 report by the Fair Political Practices Commission, the California Medical Association ranked 23rd on the list of top political spenders from 2000-2010. Unlike other political associations on the list, the CMA gets involved in legislative races. In 2010, the organization spent heavily in support of Dr. Richard Pan's campaign for the State Assembly.
Amy Howorth: Local leadership, fundraising lead
Not relying on outside fundraising help, Manhattan Beach mayor Amy Howorth holds a commanding early fundraising lead in the race. The former Manhattan Beach school board member has raised at least $290,660, including $200,000 in personal funds. According to state law, candidates can loan a maximum of $100,000, which means that her second six-figure contribution is committed to the campaign.
But don't think her fundraising lead will stop her from running an effective grassroots campaign.
"I am really excited," Howorth told the Daily Breeze, the district's main newspaper. "To me, there is no greater privilege than getting to go door-to-door and meet new people and see what their concerns are, hearing them and coming up with pragmatic solutions."
Howorth's years of involvement in local politics will be buoyed by a great ballot title, "Mayor/Education Advocate." That will help Howorth compete with Santa Monica school board member Ben Allen for the education vote.
Allen, a two-term member of the Santa Monica-Malibu Unified School District, has the backing of big-name Democrats, including Supervisor Zev Yaroslavsky and state Sen. Fran Pavley. Allen's campaign, which will reportedly show $225,000 cash on hand in its next campaign finance report, appears concentrated on education.
"Of course, remember, that half of the state's budget is in education," Allen told the Santa Monica Daily Press. "It's an enormously important part of the state's work so all of my education work, both on the school board and teaching, is very relevant to working at the state level."
Butler, Fluke round out field of Democrats
Rounding out the list of top contenders is former Assemblywoman Betsy Butler, whom many consider a front-runner in the race. Butler represented a partially overlapping Assembly district from 2010 to 2012. After redistricting, in 2012 she lost a bitter intra-party fight to Assemblyman Richard Bloom. In that race, Butler spent more than $2 million, and she'll have a similar warchest this time around. Her campaign claims to have raised $255,000 so far.
With 46 percent of the district registered Democrat, Butler will face steep competition from fellow Democrat Sandra Fluke. She is best known for her high-profile battle over Obamacare with conservative talk show host Rush Limbaugh. With few direct ties to the community, she is making her "progressive" ideology a central focus of her candidacy.
"I've worked on a myriad of progressive issues," Fluke lists as her first qualification in a recent Huffington Post blog post. So voters don't forget her progressive message, she lists as the fourth reason, "Sacramento is where I can most effectively create progressive change."
With so many candidates in the race, even a lesser-known Democrat, such as attorney Barbi Appelquist, stands a chance. The  two-time cancer survivor says her top priority will be "to make early child education more accessible and affordable for families."
The 26th Senate district is exclusively in Los Angeles County and spans coastal communities from Santa Monica to the South Bay Peninsula. Democrats hold a commanding edge in voter registration, with independents outnumbering Republicans, according to voter registration information from Political Data, California's largest provider of voter information. In the 2010 gubernatorial election, Brown carried the region by 22 percentage points.
Fundraising Totals from AroundtheCapitol.com
Reported Fundraising
(July 1-December 31, 2013 filing period)

Committee

Contributions

Expenditures

Cash on Hand

Contributions Since*

Allen For Senate 2014, Ben [SOS]

 

 

unavailable at this time

$154,800

Barbi Appelquist

The FPPC does not have a report for this candidate

Butler For Senate 2014, Betsy [SOS]

 

 

unavailable at this time

$78,063

Fluke For State Senate 2014, Stand With Sandra [SOS]

 

 

unavailable at this time

$57,200

Howorth For State Senate 2014, Amy [SOS]

 

 

unavailable at this time

$290,660

Imbasciani Democrat For Senate 2014, Dr. Vito [SOS]

 

 

unavailable at this time

$159,400

Stodder For Assembly 2014 [SOS]

$69,324

$86,597

$4,508

$1,000

Patric Verrone

The FPPC does not have a report for this candidate


* = Contributions of $1,000 or more
Source: California Secretary of State
---
---
Related Articles
Attorney General Kamala Harris still leads a crowded field in the race to replace Democratic Sen. Barbara Boxer in Washington,
Just hours after U.S. Sen. Dianne Feinstein, D-Calif., announced she was running for re-election, progressives in the state called for
Jan. 26, 2013 By Katy Grimes While Gov. Jerry Brown announced a balanced budget and the magical economic recovery of