To say that California's race for controller is too close to call is an understatement.
As of Monday morning, two Democratic candidates were locked in a statistical tie for the second spot in the November run-off, with another candidate very close behind. Board of Equalization member Betty Yee was 351 votes ahead of  Assemblyman John A. Perez – 751,691 to 751,340. That's a lead of 0.0001 percent.
Both have 21.7 percent of the 3.5 million votes counted for far. Each hold a slim lead over longshot GOP candidate David Evans. He has 740,576 votes, or 21.3 percent.
Republican Fresno Mayor Ashley Swearengin is comfortably atop the field after running up the score in her hometown. Under California's top two primary system, two Republicans could make it to the November runoff, leaving the state's 7.7 million Democrats without a candidate.
Too close to call: 926,000 ballots yet to be counted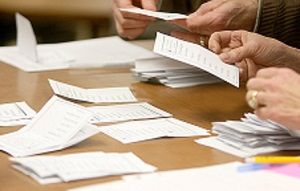 But before Republicans pop the champagne, election officials must review 926,069 unprocessed ballots, including nearly three-quarters of a million late absentee ballots. With so many ballots left to count, it's anyone's race to win. After all those late absentee and provisional ballots are counted, more likely than not, the race will remain as close as it is today.
That's because the counties with the most unprocessed ballots are almost evenly split among the three candidates. And those top six counties account for roughly 54 percent of all unprocessed ballots statewide. In Perez's favor, Los Angeles County continues to hold the largest cache of unprocessed ballots, where he bested Yee by 5 percent. Yee did better in Bay Area counties, which are a combined equivalent to Los Angeles.
California recounts: A short history
In 2011, California Watch's Lance Williams scoured the archives, maintained by Dave Leip's online atlas, and compiled the state's definitive history of close elections.
The closest statewide candidate race occurred in 1990, when former Republican Rep. Dan Lungren defeated San Francisco District Attorney Arlo Smith, a Democrat, by 28,906 votes to become attorney general. According to Williams, Smith considered a recount of the 0.39 percent margin of victory.
Lungren's "landslide" win wasn't the closest election in the modern era. According to Williams, a 1988 transportation bond measure, which was supported by Gov. George Deukmejian, lost by 355 votes — out of more than 5.2 million cast. That's a 0.006 percent margin of victory.
In both of those close contests, the losing side did not request a recount, and according to California Watch's 2011 research, there had never been a statewide recount in California's history up to that point.
The following year, California experienced two recounts in statewide propositions. In July 2012, a Bay Area surgeon requested a recount for Proposition 29, a $1-per-pack cigarette tax increase that was defeated by voters. In December of that year, a recount was requested for Proposition 37, a food labeling initiative that was also defeated.  Neither outcome changed with the recounts.
Could the current race for controller, which might be decided by a fraction of a percent, be the very first recount in a statewide candidate race?
Get ready for a recount
Odds are there will be at least a partial recount. Under California's Election Code, Section 15620:
"If an election is conducted in more than one county, the request for the recount may be filed by any voter within five days, beginning on the 29th day after the election, with the elections official of, and the recount may be conducted within, any or all of the affected counties."
The key wording: "The recount may be conducted within, any or all of the affected counties." That means that if the current margin holds, it'd be in the best interest of both losers to request targeted recounts in a select group of counties.
Democrats hold recount advantage
The biggest obstacle to a possible recount is financial — the requester foots the bill. Consequently, Perez, who raised the most money in the primary, is more likely than Evans, who spent less than $1,000 on his campaign, to have the financial means for a recount. Yee, too, could likely raise cash from her supporters to pay for a recount. She'd remain the highest-ranking Asian woman in California if elected as the state's CFO.
Either way, with two candidates and unlimited party resources, Democrats have the advantage in almost every possible recount scenario, but one.
If one Democrat makes it into the second spot once the results are final, will California Democrats allow the loser to request a recount and thereby risk delivering victory to Evans?
Yee's 351-vote lead over Perez is microscopic in an election involving millions of votes. If that margin remains even close to the same after the remaining ballots are processed, this race ain't over even when it's over.
---
---
Related Articles
The two-week federal government shutdown was an interesting public relations move by the White House. The media, predictably, blamed Republicans and
July 15, 2013 By Chris Reed At 11 a.m. today, there will be another press conference by the three longtime
Nov. 17, 2012 Katy Grimes: One of the worst editorials I've ever read was in today's Sacramento Bee. Throughout the