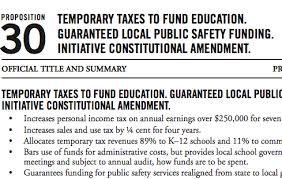 Eduardo Benard, a custodian at San Francisco's Leonard R. Flynn Elementary School, received $107,912.31 in pay and benefits in 2013.
He was one of 31 custodians employed by California public schools that boasted more than $100,000 in compensation last year, according to just-release figures revealed on Transparent California, a database maintained by the nonpartisan California Policy Center.
The handsome compensation packages enjoyed by Benard and the other six-figure custodians almost certainly aren't what California voters had in mind when they approved Proposition 30 two years ago.
The measure, championed by Gov. Jerry Brown and the Democratic-controlled Legislature, and bankrolled by such special interests as the California Teachers Association and SEIU/California State Council of Service Employees, imposed $7 billion in new taxes for seven years, 89 percent of which was supposed to reach the state's K-12 classrooms.
But Prop. 30 has proven a bait-and-switch. Indeed, 80 percent of the Prop. 30 money the state has collected has gone to salaries and benefits of public school employees, according to the state Controller's Office.
$763,000 compensation
That includes Jose Fernandez, who left his post this month as superintendent of the Centinela Valley School District after revelations by the Daily Breeze in Torrance that he received more than $763,000 in total compensation last year.
And if that was not excessive enough for the superintendent of one of the state's smaller school districts, Fernandez's contract with the school district entitled him to a 9 percent annual raise. It also allowed him to secure a $910,000 low-interest loan from the district to purchase a home in Ladera Heights.
While none of California's other public school superintendents was as extremely well compensated as Fernandez, they haven't exactly been shortchanged by their school districts. Indeed, at least 100 superintendents received more than $250,000 in compensation last year.
Then there are the state's unionized public teachers, who were portrayed during the Prop. 30 campaign as grossly underpaid.
The reality is that the average full-time teacher received nearly $85,000 in pay and benefits in 2013, according to Transparent California. And nearly 35,000 teachers received more than $100,000 in compensation.
Among the well-compensated unionized teachers are more than 1,000 "retired" instructors, the Los Angeles Times reported, who have taken advantage of a loophole that allows them to keep on teaching (and receiving a salary for doing so), while receiving their taxpayer-funded pensions at the same time.
These are the kind of abuses opponents of Prop. 30 foresaw in 2012. And in 2014 their fears have been realized.
---
---
Related Articles
It wasn't supposed to be like this. Proposition 45 on the Nov. 4 ballot would have given the California insurance
In an unexpected exercise of judicial activism, the California Supreme Court has ruled judges must not participate in organizations that
APRIL 8, 2010 By KATY GRIMES Sen. Alan Lowenthal, D-Long Beach, has introduced a bill that would require the Department of