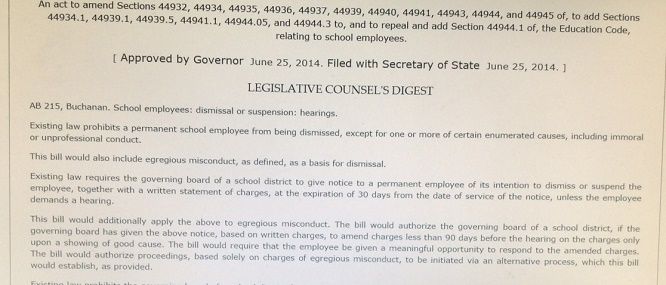 Tom Torlakson supports a status quo in which an average of 2.2 of the state's 275,000 public school teachers are fired each year for incompetence — a figure so ridiculous you barely need to add context. It shows the public school system is run for the adult employees, not the students.
Yet as he seeks a second term as state superintendent of public instruction against reformer Marshall Tuck, Torlakson continues to pretend he doesn't like horrible teachers in the classroom and did something about it.
As he has done throughout his campaign, Tuck condemned Torlakson's appeal of a Superior Court judge's ruling in Vergara v. the State of California, overturning laws creating tenure in two years, governing dismissals and requiring layoffs by seniority. Those laws, he said, "have led us to a situation where we can't have an effective teacher in the classroom" and are "crushing the hopes" of the state's most challenged students. …
Torlakson agreed that when "teachers are not up to it, move them out" and said that he wrote and helped pass a law this year making it easier to fire "ineffective and abusive teachers." The bill, AB 215, by Assemblywoman Joan Buchanan, D-Alamo, dealt primarily with teachers charged with abuse, not poor performance.
That's from John Fensterwald's coverage of the final forum between the two Democrats running for superintendent. I'm glad he mentioned Torlakson's, er, disingenuousness, but he was on the kind side. AB 215 has nothing — nothing — to do with getting rid of incompetent teachers. Fensterwald's use of "primarily" to describe what the bill is focused on gives Torlakson a bit of cover he just doesn't deserve.
I will once again cite the first three sentences of AB 215, the teacher discipline law Torlakson invokes:
Existing law prohibits a permanent school employee from being dismissed, except for one or more of certain enumerated causes, including immoral or unprofessional conduct. This bill would also include egregious misconduct, as defined, as a basis for dismissal. Existing law requires the governing board of a school district to give notice to a permanent employee of its intention to dismiss or suspend the employee, together with a written statement of charges, at the expiration of 30 days from the date of service of the notice, unless the employee demands a hearing. This bill would additionally apply the above to egregious misconduct.
The bill is about "egregious misconduct" — not incompetence.
You know what's "egregious misconduct"? Torlakson's utter dishonesty.
I await the education reporters of the state clearly calling him out on this. It's ridiculous.
If they don't, you know what? That's "egregious misconduct" as well.
The L.A. Times has endorsed Tuck as have all major California newspapers. This isn't something that's being ignored by newsrooms in California for ideological reasons. It has more to do with basic competence.
---
---
Related Articles
Every year brings attempts to gut Proposition 13, the 1978 tax limitation measure. It limits yearly increases in property taxes
March 16, 2013 By Calwatchdog.com Editors Dr. Ben Carson, joined by author Eric Metaxas, spoke at the Conservative Political Action
Steven Greenhut: Assemblyman Brian Nestande, the Palm Desert Republican who recently attended a "no more cuts" rally sponsored by the