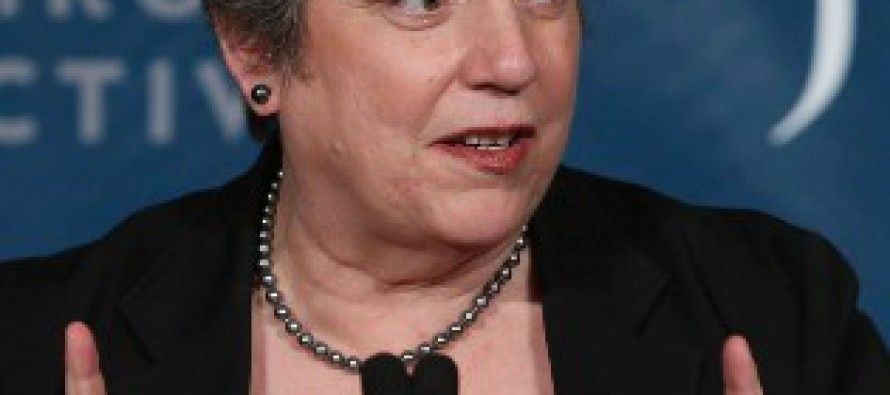 It has been 13 months since Janet Napolitano took over as president of University of California system. The former homeland security chief for the Obama administration has just dropped her second big hint in as many months that she's ready to move on — or at the very least that she does not consider the UC presidency a dream job but a steppingstone.
First came her response after Eric Holder announced he was leaving as attorney general. Instead of immediately saying she was not interested because she had just started her job at UC, she pointedly did not rule herself out in speculation about whom President Obama would pick to replace Holder. Her spokesman said she was "fully engaged" in her job running UC, which is not the same as saying "not interested, move along."
Now the Washington Post reports that Napolitano is wading into the never-ending inside-the-Beltway fights over immigration policy:
Former homeland security secretary Janet Napolitano is supporting executive action by President Obama to change immigration policy if Congress fails to pass a broad overhaul, citing what she calls her successful 2012 push to delay deportations of many younger immigrants.
"If Congress refuses to act and perform its duties, then I think it's appropriate for the executive to step in and use his authorities based on law . . . to take action in the immigration arena,'' Napolitano, a lawyer and former U.S. attorney in Arizona, said in an exclusive interview with The Washington Post.
Napolitano is of course free to do whatever she wants to do with her life. There are some of us who never thought she was right for the UC presidency in the first place.
However, I have to wonder how many regents are wincing at the fact that the woman they gave one of the iconic jobs in American academia to just a year and a half ago already is positioning herself for a return to national politics.
---
---
Related Articles
Editor's update, 2 p.m.: San Jose Mayor Chuck Reed is reportedly suspending the initiative push until 2016 because the court
Oct. 29, 2012 By Laer Pearce If the latest polling from the Los Angeles Times/USC from October 15-21 holds true, California voters will
Steven Greenhut: Reading through the news, I came across the latest legislative nonsense — a bill that would ban the