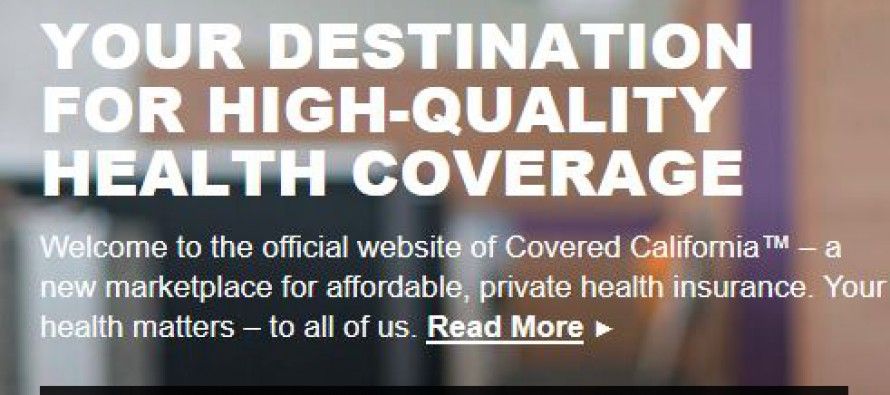 "Here we go again with the same nightmare as a year ago. [I'm] truly fed up with Covered California's technical incompetency." So complained Igal Koiman, a health insurance broker, in remarks published this week in the Sacramento Business Journal.
His frustrations echo those of many other brokers throughout the state who fear the Covered California website will be no less glitch-ridden on Nov. 15, when open enrollment begins this year, than it was 19 months ago, when the state's online Obamacare health exchange stumbled out of the starting gate.
Koiman related that, for the past two weeks, he has been unable to update plans for his established clients. When he contacted Covered California for help, he received an email reply informing him, "We do not currently have an ETA as to when this enrollment error will be corrected."
These are the kind of system failures that have persistently plagued CoveredCA.com since its rollout. Indeed, the website has crashed numerous times, not just for hours, but for several days.
The Covered California website was developed by the consulting firm Accenture, which in 2012 received a $359 million state contract to not only build the site, but to operate it during its first three-and-a-half years. Meanwhile, Accenture brought on CGI Federal as a subcontractor for CoveredCA.com.
Both firms have recent troubling track records.
Accenture in 2011 paid $63.6 million to settle a U.S. Justice Department lawsuit charging the firm received kickbacks for its recommendations of specific hardware and software to the federal government, fraudulently inflated prices and rigged bids on federal IT contracts.
Tony West, assistant attorney general for the Justice Department's Civil Division, said of the lawsuit:
"Kickbacks and bid rigging undermine the integrity of the federal procurement process. At a time when we're looking for ways to reduce our public spending, it is especially important to ensure that government contractors play by the rules and don't waste precious taxpayer dollars."
And Christopher R. Thyer, U.S. attorney for the Eastern District of Arkansas, said:
"We strive each and every day to bring justice to the citizens of the Eastern District of Arkansas. … Fraudulent business practices that steal hard earned and much needed tax dollars from appropriate use will not be tolerated. The United States Attorney's Office is committed to pursuing these cases to the full extent of the law."
Subsidiary
CGI Federal is a subsidiary of the Montreal-based CGI Group, which in 2012 was fired by the provincial government in Ontario after the IT firm failed to fulfill its contract to build an online medical registry for the province's diabetes patients.
According to the Washington Examiner:
"In Canada, eHealth, the Ontario provincial agency, scrapped its high-profile online medical registry for diabetes sufferers and treatment providers, and canceled CGI Group's $46.2 million contract, on Sept. 5, 2012. The company was 14 months behind schedule when it was given notice of termination by the Ontario government agency.
"In the meantime, a group of other Ontario IT companies successfully replicated the registry, rendering CGI's project obsolete.
"Because the contract terms stipulated payment only upon delivery of a satisfactory final product, the province has refused to pay CGI.
"CGI has not publicly discussed the eHealth failure, but has taken legal action, including filing a defamation suit against eHealth and the Toronto Star newspaper.
"CGI has received bipartisan condemnation from Ontario government officials for its failure on the registry.
"'They did not meet the requirements of their contract which was faced with many layers of delays, which caused great angst among the health care providers who are trying to do their best,' Frances Gélinas, a member of Ontario's provincial parliament, told the Washington Examiner.
"'They basically said, "This is not working." CGI is not delivering what we need,' Gélinas said. Gélinas also serves as a health policy spokeswoman for the NDP, an opposition Canadian political party."
Tterminated
In January, CGI's U.S. contract to build and maintain HealthCare.gov, the federal Obamacare website, was terminated in the wake of the site's disastrous rollout. The firm the Obama administration chose to pick up where CGI Federal left off was none other than Accenture.
The partnership of Accenture and CGI Federal on the Covered California website does not inspire confidence that the online portal will be good to go a mere two weeks from now.
The more likely scenario is that the persistent glitches that afflicted CoveredCA.com during its first year of operation, that caused repeated shutdowns of the state-run Obamacare exchange, will continue apace in year two.
---
---
Related Articles
It has turned into the Commission that Couldn't Redistrict Right. New accusations charge that the California Citizens Redistricting Commission isn't the
Feb. 24, 2010 Most people probably get the impression that I spend my days at the state Capitol, prowling the
Feb. 24, 2013 By Steven Greenhut SACRAMENTO — The U.S. Supreme Court's recent decisions regarding police powers were mixed, thus