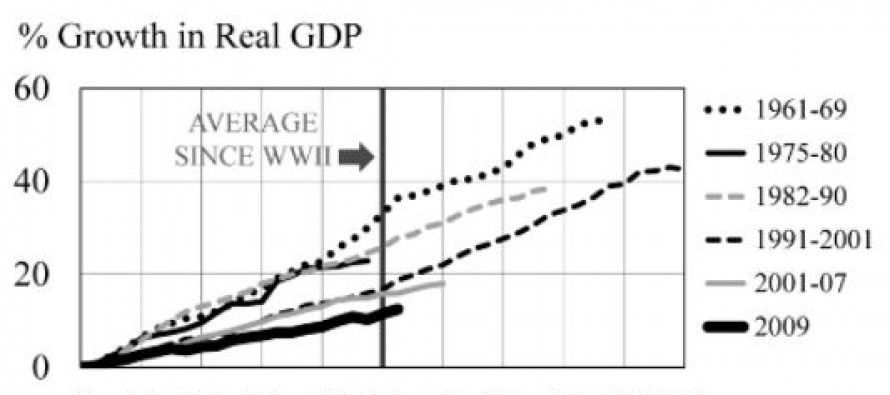 It's better than a recession. That's about all one can say about the current economic "recovery," which today's Chapman University 37th annual economic forecast expected to continue over the next year.
The forecast was given before about 1,500 local business and community leaders at Segerstrom Center for the Arts in Costa Mesa by President Jim Doti and Esmael Adibi, director of the Anderson Center for Economic Research.
For the U.S. economy, Doti noted that the current recovery is 64 months old, longer than most recoveries since World War II. But it's exceedingly shallow, with just 12 percent economic growth for the duration, compared to a 40 percent average for the other recoveries.
The U.S. unemployment rate of 5.8 percent certainly is 德州扑克 better than the 10 percent at the height of the Great Recession. But it's above the 4.6 percent at the height of the last recovery, in 2006.
Real GDP is expected to rise a bit, to 3.0 percent in 2015, from an average of just 2.2 percent the previous five years.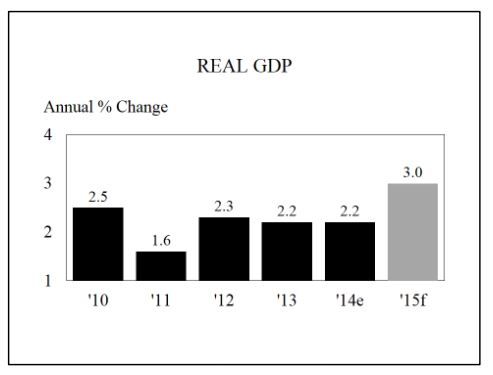 The main threat to the overall economy is a possible drop in demand for U.S. goods in 2015 because of economic problems in Europe and China. However, for now Chapman expects exports to increase slightly next year.
California
For California, Chapman forecasts similar modest growth, with employment picking up faster than the state Employment Development Department believes will happen.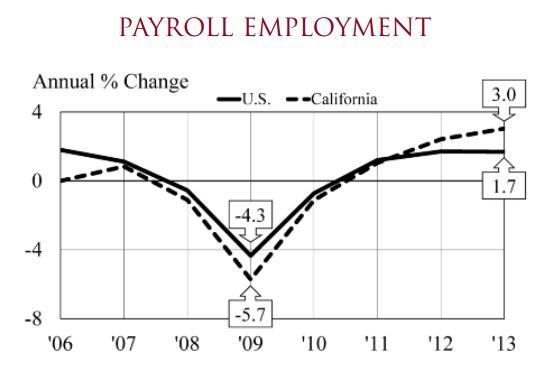 Growth will be led by construction and positive consumer sentiment, Adibi said.
The fastest growing areas remain Silicon Valley (Santa Clara County) at 4.4 percent and San Francisco at 4.3 percent. The digital economy continues to pull the rest of the state.
Next is one non-coastal area, the Inland Empire, growing at 4 percent. That's good news for an area hard hit by the recession. It's become the location of the vast warehouses of Amazon, Walmart and other companies shipping goods to the Coastal metropolises.
Next are Oakland, 3.4 percent. Then Sacramento, snatching a vast infusion of higher taxpayer funds from the recovery, at 2.7 percent. Then Los Angeles and San Diego counties, at 2.6 percent each; and Orange County, at a disappointing 2.5 percent.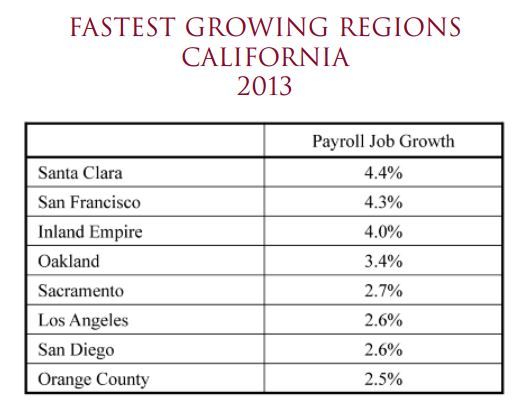 Chapman's Manufacturing Purchasing Managers' survey also is in positive territory, indicating continued growth. This is especially good news given the state's hostile climate for manufacturing.
Slow growth
A big problem with slow growth is that it doesn't make up for the losses of the previous recession. And the last slump, the Great Recession, was the biggest since World War II.
Although Chapman and other forecasts expect growth to continue, eventually another recession will strike. When that happens, it will decline from a lower "base" than if the current recovery had been more robust.
But in life, you take what positive you can.
---
Related Articles
Proposition 1, the new $7.5 billion water bond just passed by the Legislature, contains water storage in an statewide
Hollywood could soon reclaim its once-shaky status as America's production headquarters. After a near panic touched off by a nationwide spending spree on
Bringing cheer and presents, on Christmas Santa Claus is going to fly over a California a lot greener than was