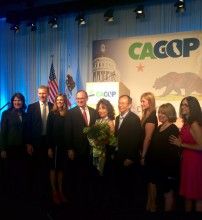 California Republicans wrapped up their annual fall convention Sunday — optimistic and united.
The three-day convention in Anaheim marked the second consecutive convention where Republicans have avoided controversial internal fights and expanded its reach to groups traditionally excluded from the party.
Earlier this year, the state party officially chartered the Log Cabin Republicans, the first and largest organization representing gay conservatives. At this weekend's convention, Republicans courted Latino voters by adopting new language for the state party's platform on immigration.
On Sunday, state party delegates approved an updated policy statement on immigration, authored by the party's Central Valley Regional Vice Chairman Marcelino Valdez. The revised language states that the party's members "hold diverse views" on "what to do with the millions of people who are currently here illegally."
"Today, the California Republican Party made a statement that we are pro-immigrant," Valdez said. "This is an anti-Proposition 187 plank. We are pleased to see that the immigration plank has been updated and the Party has adopted a stance that modernizes the platform while still maintaining the core values of the Party."
For decades, ideological battles between convention delegates have been used as fuel for bad headlines and to reinforce a perception that the party is out of step with the majority of Californians.
"This is a great first step in the right direction towards growing the California Republican Party," Valdez said.
GOP legislators honored for blocking tax hikes
The convention opened on Friday with a luncheon headlined by former Arkansas governor and current GOP presidential candidate Mike Huckabee. The former Baptist pastor served as the warm-up act for the primetime stars of Friday's convention dinner banquet: Republican lawmakers who stood firm this session and blocked billions of dollars in higher taxes.
"This convention followed a successful close to a legislative session where Republicans stood united against the Democrats' brazen attempts to raise taxes on all Californians," said Republican Assemblyman Travis Allen of Huntington Beach. "Excessive taxation and government overreach hurt our families' ability to make ends meet and get ahead. This weekend, the Republican Party reaffirmed its commitment to protecting hard working Californians."
Allen, along with other party delegates, also pushed for California Republicans to oppose initiatives calling for new taxes and a statewide plastic bag ban.
"Just as Republican legislators successfully fought for taxpayers at the State Capitol, the Party continued the fight this weekend by unanimously opposing the statewide plastic bag ban and consumer tax," he said.
Rep. Ed Royce, Ambassador John Bolton close convention
Although Republicans softened their tone on immigration, they offered tough talk on foreign policy.
Former U.S. Ambassador to the United Nations John Bolton and Rep. Ed Royce, Chairman of the House Foreign Affairs Committee, provided a tag team attack on President Obama's foreign policy, specifically targeting the proposed nuclear deal with Iran.
"A nuclear Iran is a lesson to proliferators that with a little persistence, you too can have nuclear power," Bolton told several hundred delegates and guests at a Saturday evening dinner. "If the country is not safe, everything else is secondary."
Bolton was a last-minute substitute for Wisconsin Governor Scott Walker, who was originally scheduled to speak on Saturday night but backed out to concentrate on early primary states.
Party elects new regional officers
In between workshops on improving grassroots campaign operations and training activists on the party's voter database, state delegates elected new regional officers, including San Diego County Republican Party Chairman Tony Krvaric as the party's new Budget Chairman.
"We will ensure our stakeholders' dollars are spent as effectively as possible," Krvaric posted on Facebook. "Let's get some Republicans elected!"
Other new officers include Associate Representative Guillermo Moreno and regional vice-chairs Mark Vafiades for Los Angeles County, Irvine Councilman Jeff Lalloway for the Southern Region, and Dave Willmon for the Inland Region. Those officers will support party chairman Jim Brulte's efforts to build the party's grassroots organization in advance of the 2016 presidential election.
Republicans are optimistic that a rebooted party can pick up more seats in Congress and the state Legislature next year. Among the featured speakers at the convention was Los Angeles County Supervisor Michael Antonovich, who is running for the open 25th state Senate District.
Democrats hold a double digit advantage in voter registration for the seat. However, a crowded field of Democrats, including Assemblyman Mike Gatto and former Assemblyman Anthony Portantino, could leave the majority party's nominee battered for the November run-off.
"With the wind at our backs and a presidential election ahead, we are bystanders no more," said Senate Republican Leader Jean Fuller.
---
Related Articles
John Seiler: Our great friend Alan Bock is remembered today in The Orange County Register's commentary section. Many friends wrote
June 28, 2012 By Steven Greenhut From Watchdog.org The U.S. Supreme Court's decision Thursday upholding the constitutionality of President Barack
Education reformer Marshall Tuck has accomplished a rare feat for a political challenger: He's raised more money than the incumbent. According to