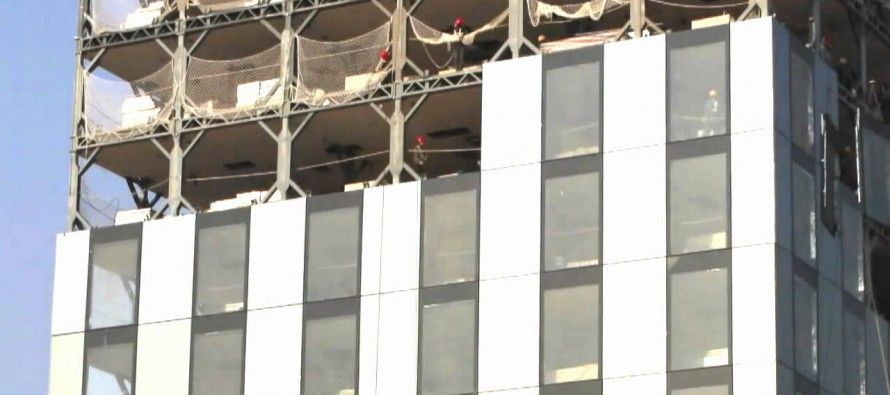 MARCH 16, 2012
Fifteen days. That's how long it took developer Broad Sustainable Building to complete construction of a 30-story hotel.
The near-miraculous feat has been attributed to a couple timesavers: The hotel's foundation was laid out ahead of its actual construction. And 93 percent of the building was pre-fabricated in an off-site factory.
But the biggest factor, no doubt, is that the hotel, called T-30, was built on the outskirts of Changsha, the capital of China's Hunan province. The developer didn't have to go through the lengthy, labyrinthine building process all too familiar to developers here in California.
Of course, there's absolutely no way a one-story — much less 30-story — hotel will ever get built in a mere two weeks here in the Golden State.
Not with the plethora of government approvals required before a developer can even think about breaking ground. Not with the reflexive opposition of NIMBY community groups to almost any proposed development.
Not with the pressure on builders, applied by unions, to accede to costly Project Labor Agreement. Not with the near certainty that a developer will face a project-delaying lawsuit.
California is as hostile a place to build a hotel — or any other structure for that matter — as China is accommodating.
Last August, for example, Barry Swenson Builder, a Bay Area developer, finally gave up on its $28 million La Bahia hotel project after the California Coastal Commission refused to approve a minor change in the city of Santa Cruz's coastal plan that would have permitted the proposed 125-room hotel to be built up to 5-1/2 floors (rather than 4 floors).
The infill project had been previously approved by the Santa Cruz City Council, after the developer endured more than 10 years and $2.2 million of study and redesign. The hotel was expected to contribute $700,000 a year to the city's treasury in lodging and sales taxes, while creating 100 permanent jobs for Santa Cruz workers.
Meanwhile, last December, the Long Beach City Council rejected a proposed $320 million project that would have included a 100-room boutique hotel, as well as residential units and retail space. The complex was to be built on the underutilized site currently occupied by Long Beach's rundown Sea Port Marina Hotel.
The lead developer, RCLCO, spent eight years trying to get the project approved, appearing at more than 75 public hearings along the way. Its economic impact report estimated that the proposed mixed-use complex, Seaside Village, would yield the city of Long Beach $2.8 million a year in taxes and fees, while adding 930 full-time jobs to the city's economy.
Red Tape
California developers don't expect to build hotels in a mere matter of weeks, as Broad was able to do in China. But they also don't think that they should spend the better part of 10 years just trying to get a project approved.
No, China's building standards aren't as stringent as those here in the Golden State. Chinese law isn't as protective of the environment as California law. And Chinese employers are able to demand more of workers than employers in this state would even consider.
But Broad notes that its 30-story hotel tower has been certified as earthquake resistant, up to a level 9 tembler. Its just completed building is "sustainable," with such features as energy-efficient lighting, low-flush toilets and elevators the generate electricity as they descend. And its 900 employees earn above-average pay, even though theirs is a non-unionized workplace.
Anyone who watched the video of T-30's construction — which was so amazing it went viral — will notice that the actual construction of the hotel wasn't very different from what might be witnessed at a California construction site. (See the YouTube below.)
The takeaway from that is, while we will never see hotels built in a mere matter of weeks here in California, it is possible that hotels could go from the drawing board to completion in the mere matter of a couple years.
That is, if the state was less hostile to development; if the process for getting a project approved wasn't rigged to obstruct developers as long as possible.
— Joseph Perkins
---
---
Related Articles
June 15, 2012 By Joseph Perkins After repeatedly failing over the years to get a law passed by the California
"Boom!" read the signs carried by some of the five dozen or so protesters who raised a ruckus Saturday
Anti-fracking forces are gearing up in California, aided by our pathetic state media, which never mention that the Obama administration