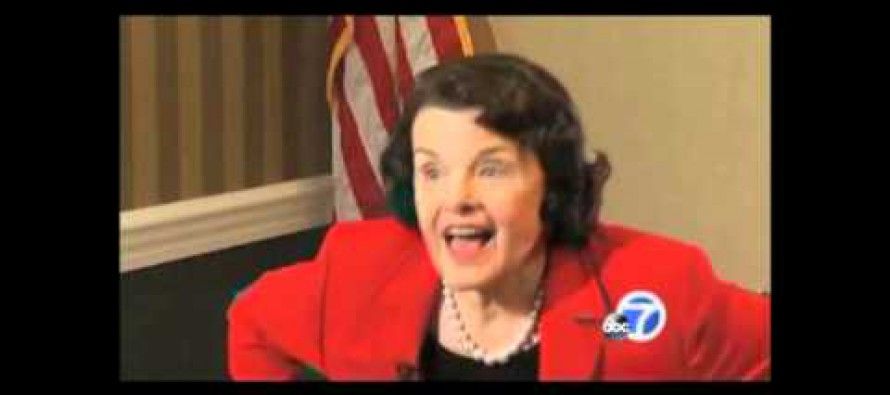 Sept. 26, 2012
Katy Grimes: Has anyone seen Sen. Dianne Feinstein lately? She refuses to debate challenger Elizabeth Emken, she runs from reporters, and now there is news that Feinstein will not meet with the editorial boards of California's newspapers.
What prompted her to walk away from Mark Matthews, the ABC reporter during an interview at the Democratic convention? "She (Emken) really wants to debate you," Matthews told Feinstein during the brief interview.
"I'm running my own campaign. Thank you Mark," Feinstein said as she started to get up. Then she sat back down and continued. "I did a large event in Modesto, three to four meetings, and Southern California… that's what I'm going to continue to do," Feinstein said. Then she got up, patted Matthews on the shoulder in a patronizing manner, and walked away.
"She really does not like that question," Matthews said. "I saved that question for last."
Senate royalty
Feinstein needs to be reminded that this is a race for the U.S. Senate — not a coronation. She's the only U.S. Senator running for reelection who will not debate her opponent.
"U.S. Sen. Dianne Feinstein continues to enjoy a large advantage in her bid for a fourth full term, with a new statewide poll showing the Democratic senator widening her double-digit lead over GOP challenger Elizabeth Emken," the Sacramento Bee reported Sunday. "Field Poll results released today show the 79-year-old incumbent leading her opponent by 26 percentage points, 57 percent to 31 percent, heading into the final seven weeks of the campaign."
But the Bee story failed to note that other polls, including the recent California Business Roundtable/Pepperdine poll show significantly different results, with Feinstein polling at 45.9 percent, Emken at 33.6 percent, and 'undecided' voters still reporting in at  20.6 percent.
"Compared with the Field Poll released last month, Feinstein's lead has shrunk from 19 percent to 12.3 percent among all voters, and just 10.3 percent among those who will 'definitely' vote. Feinstein continues to poll well under 50 percent, and leads with just 45.9 percent among all voters. By contrast, President Obama is polling at 52.5 percent, or 6.6 percent better than Feinstein, who has been in the office for nearly 20 years," the Emken campaign reported.
"Nothing screams 'entrenched incumbent' more than a refusal to debate an opponent," the Los Angeles Times recently wrote.
"I don't see any point in debating my opponent," is the response from Feinstein, the Emken campaign reported.
According to a recent Gallup poll, only one in 10 Americans approves of the job Congress is doing, tying the lowest approval rating in 38 years. Given that Feinstein has been in the Senate since 1992, and in politics since 1961, and also polls unfavorably, her refusal to debate publicly can't help her approval numbers.
Empty chair debate
In 2009, Dianne Feinstein proudly announced support for Solyndra.
"U.S. Senator Dianne Feinstein (D-Calif.) today applauded the U.S. Department of Energy's decision to finalize a $535 million loan guarantee to a California-based solar company, Solyndra," Feinstein's official Senate website reported. "The Department of Energy announced the initial selection of Solyndra as a conditional loan guarantee recipient in March and formalized the decision today at a ground-breaking ceremony in Fremont, California."
"This is a major milestone for California's solar industry," Senator Feinstein said. "This federal loan guarantee of $535 million will enable Solyndra to secure affordable financing – at a time when credit is extremely tight – in order to build and operate a commercial-scale facility to manufacture the next generation of rooftop solar systems.  The operation is expected to generate at least 3,000 clean energy jobs in an area whose largest employer – NUMMI – may soon shut down. And it will ultimately help make it more affordable for more Americans to power their homes and buildings through solar energy.  So it's a win-win for the economy and the environment."
Feinstein's ceremonial Senate seat has become an empty chair. Maybe Emken should hold a debate with Feinstein's empty chair.
Clint Eastwood proved that it can be done effectively.
---
---
Related Articles
March 14, 2013 By Chris Reed Well, that didn't take long. Bob Filner — a paleoliberal former Democratic congressman who
Sept. 14, 2012 By Chris Reed The budget battles of the past few years may have been aggravating, but they
Oct. 17, 2012 By John Seiler Our colleague Steven Greenhut writes in Bloomberg on how many California businesses are selling