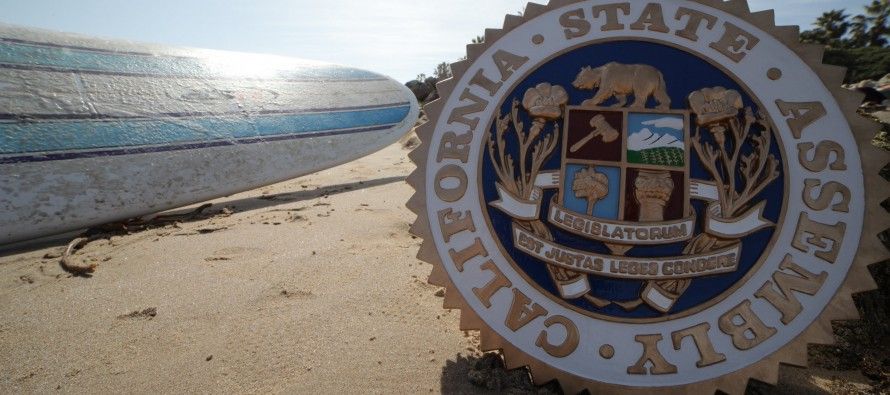 Editor's Note: This is Part One of a series on the Calderon family.
June 13, 2013
By John Hrabe
It wasn't quite the Academy Awards. But the 60 or so people assembled last Saturday afternoon at the Whittier Center Theatre were excited just the same.
The festival, a digital media competition organized by Assemblyman Ian Calderon, D-City of Industry, in conjunction with the California Arts Council, featured the works of 58 area high school students, who produced short clips on human rights and genocide. The nearby picture shows Calderon with two students getting awards.
"Around here, many of the kids won't go to college because of money," said Calderon, who provided small scholarships to some of the participants. "I want them to know there are opportunities out there."
The kids were vulnerable — putting their creations up for judgment by the community. It's something Ian knows about. Earlier this year, when he and two of his legislative colleagues released their own digital media creation, a surfer's perspective on coastal protection, Ian's father expressed his misgivings.
"The surf caucus?" recalled Ian's dad, Charles Calderon, a former assemblyman and state senator. "I mean, in my day, surfing was associated with 'Fast Times at Ridgemont High.'"
The film was released in 1982, the same year that Charles won his first election to the Assembly. The film's 1980s California slacker milieu is an anathema to Charles's tough-guy image, especially because he came within a handful of votes of dethroning then Assembly Speaker Willie Brown, the self-proclaimed "Ayatollah of the Assembly."
The old political rules, Ian says, no longer apply. Yet, he understands why it took some time for his father to come around. "The old guard keep things close to the vest because that's when they come after you," Ian said.
The Calderon "Dynasty" Storyline
This week, everyone seems to be coming after the Calderons. No sooner had FBI agents executed a search warrant at the Capitol offices of Democratic state Sen. Ron Calderon, Charles's brother, than the press was churning out headlines about the "political dynasty" mired in scandal. "Sen. Ron Calderon, target of FBI raid, is part of a political dynasty," read the headline of one LA Times piece. The Times wasn't alone. Almost every major outlet has repeated some version of the "Southern California political dynasty" storyline.
The Calderons have certainly made politics the family business. Charles, the eldest brother, started it off in the Assembly in 1982, followed by middle brother, Tom, in 1998, then Ron in 2002. Last year, Ian, the surfer son, won a hard-fought campaign for his own seat in the Legislature. The dynasty storyline is easy and convenient. It's also an oversimplification of the major differences among the Calderons.
The people who know the Calderons best, old friends, current and former staffers, community leaders, and Sacramento lobbyists, say that each of the Calderons has brought a unique style and approach to the family business. Far from speaking with a uniform voice, the Calderons often have had heated political disagreements within the family and been on opposite sides of controversial legislative fights.
The FBI says it won't comment on the ongoing investigation, which has only intensified the Capitol rumor mill. The best evidence suggests that the FBI is investigating Ron's relationship with the Central Basin Municipal Water District, where Tom has worked as a high-priced consultant. At least one state Senator, Kevin de Leon, D-Los Angeles, has confirmed that he has been subpoenaed.
That Ron and Tom are the subjects of the FBI investigation, without any evidence to suggest that either Charles or Ian is involved, doesn't surprise many Calderon confidants. When speaking candidly on background or not for attribution, these individuals described two brothers in conflict with Charles's reputation as an honest broker and effective legislator.
Centinela Valley school desegregation case
Last Thursday afternoon, I sat down with Charles Calderon just a few blocks from the Los Angeles City Attorney's office, where his professional career began as a deputy city attorney. Under then-City Attorney Burt Pines, now an LA County Superior Court judge, Calderon got his start prosecuting misdemeanor cases that ranged from assaults to drunk driving. "My dream was to be a lawyer," Calderon explained.
After two years, he moved into private practice, while also serving on the school board. Almost immediately, Calderon took up a low-paying, controversial school desegregation case representing a group of white, black and Latino parents that had already been turned away by the NAACP and MALDEF.
"Here I was, I'd just started with a private law firm, and I'm taking a risky case," Calderon recalled of the lawsuit. "The case was a 50-50 proposition, maybe."
Calderon's clients claimed that the Centinela Valley Union High School District had closed a Lawndale high school in order to prevent integration of other high schools in the area. It was an uphill battle; the parents had to show intentional segregation. So Chuck, in search of any evidence to show de jure segregation, headed down to the school district headquarters to review years of board minutes.
Hours into his search, a secretary offered Calderon something to drink and casually mentioned that all the meetings were recorded. "I immediately knew if there was going to be anything, it'd be on those tapes," he said. "Finally, I heard it."
Calderon found audio of school board members making racial slurs about the students at Lennox High School, the segregated school that the board kept open. The school district quickly settled. Writing of the case in 1985, the Los Angeles Times observed, "The Lawndale group raised the focus of the community debate to a loftier level."
"It takes discipline to go through that kind of exercise," Charles proudly shared as he sipped a cup of coffee and ate a slice of pie a la mode. "It also takes a lead ass."
A disciplined taskmaster who'd drive staff crazy
A year later, Charles was up and on his feet, walking door-to-door in his first legislative campaign. That first election, he estimates, he walked 98 precincts. He'd walk one side of the street, his mother the other side.
The discipline — to finish law school, to tediously review school board minutes, to walk door-to-door — explains Calderon's approach in Sacramento. His former legislative staff members consider him "a taskmaster."
"Chuck used to drive staff crazy," says Tom White, who worked for Calderon all six years of his second stint in the Assembly. "On policy, he was a taskmaster. He wanted to walk through the bill, talk through the bill and think his way through it."
Charles: "Head and shoulders above his brothers"
Phil Pace, a Montebello community leader whose friendship with Charles goes back decades, describes him as someone who has "always been straightforward."
"I consider him a good friend, a good person, and a good legislator," Pace said. "He tried to do the right thing for the right reasons."
Personal friends say that Charles's smarts and discipline are what separate him from his brothers. Another close personal friend, who has known the family since the days before a Calderon served in the Legislature, described Charles as "head and shoulders above his brothers."
"In terms of everything, smarts, style, class, honesty, work ethic," the friend said of Charles, the first in his family to earn a college degree and the only one to graduate from law school. "That doesn't take anything away from his brothers. They just don't have Chuck's smarts, not even close."
Part Two will explore Ron and Tom's Reputation in Sacramento
---
---
Related Articles
Nov. 11, 2012 By Chris Reed Republican strategists for years have looked contentedly on the fast-growing Inland Empire as a
Katy Grimes: Congresswoman Doris Matsui, D-Sacramento, must have an interesting mailing list. Some people in her Sacramento district receive her
OCT. 4, 2010 By WAYNE LUSVARDI Will a new law mandating green power storage facilities along green pathway electric transmission