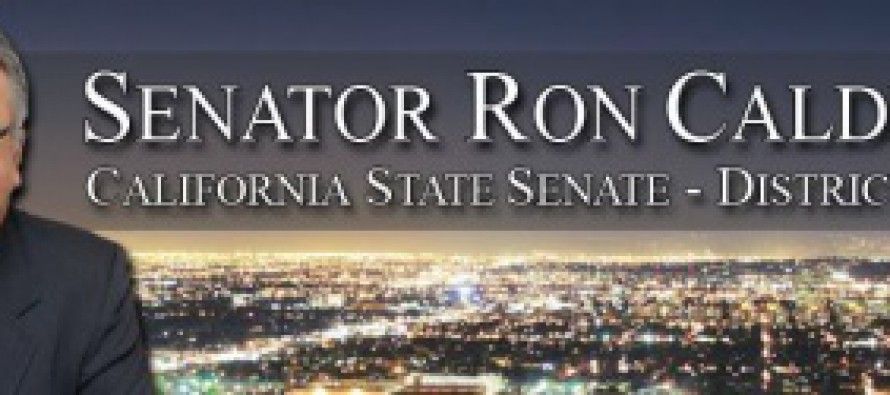 State Sen. Ron Calderon and his brother Thomas, a former assemblyman, were indicted late Thursday in a massive bribery and insurance fraud case that could send them to prison for the rest of their lives.
A 24-count criminal complaint made public Friday revealed that Ron Calderon, D-Montebello, solicited and accepted approximately $30,000 in cash bribes to push through legislation that helped a hospital owner who was engaged in workers compensation insurance fraud. Another $70,000 was solicited from undercover FBI agents posing as movie executives to create legislation to benefit the movie industry.
The crimes occurred between 2010 and 2013 and also involved Michael D. Drobot, former owner of the now-defunct Pacific Hospital in Long Beach, who was charged with submitting inflated insurance claims and paying the bribes to curtail legislation aimed at stopping such behavior.
"Sen. Calderon is accused of accepting tens of thousands of dollars in bribes and using the powers of his elected office to enrich himself and his brother Tom, rather than for the benefit of the public he was sworn to serve," U.S. Attorney Andre Birotte Jr. said in a statement.
The Calderon brothers were notified of the charges through their attorneys on Friday. Thomas appeared in court at the end of the day and pleaded not guilty. He was released on a $25,000 bond and ordered to stand trial on April 15. Ron is scheduled to turn himself in on Monday. If convicted of all 24 counts, Ron faces a maximum prison sentence of 396 years in prison.
Laundering allegedly done via nonprofit group

Thomas, who is charged with seven counts of money laundering, could receive a maximum of 160 years. The indictment said he conspired with Ron to launder the bribery funds through a nonprofit that the brothers controlled called Californians for Diversity. Funds were then diverted from the nonprofit to either Thomas Calderon's personal bank account or his consulting business, The Calderon Group.
Last April, FBI agents had tapped telephone lines and recorded the pair discussing the money laundering. On one occasion, Ron told Thomas that he had "closed the deal" with the movie executive who had agreed to send "future bribe payments through defendant Thomas M. Calderon's company," the indictment said.
The federal investigation was no secret to Ron Calderon, who learned about it on May 4, 2013. On that date, he flew to Las Vegas to meet with the purported owner of an independent film studio he had allegedly been receiving bribes from as payment for introducing legislation granting tax breaks for low-budget filmmakers. A ruse was set up to receive the funds: Calderon's daughter had a job with the studio and began receiving a series of payments even though she did no work.
True to his word, Calderon introduced legislation lowering the threshold for a filmmaker's tax break from $1 million to $750,000.
But Calderon's plans went awry when he arrived at the Bellagio resort and discovered that the filmmaker and an assistant were actually undercover FBI agents from the Public Corruption Squad who disclosed that he had been under investigation "for quite some time," a U.S. Attorney's Office court document said.
Calderon was not arrested and told that he could leave the meeting or cooperate with the investigation. He chose the latter and spoke to the agents for three hours, implicating other senators in his discussion. Then he agreed to another meeting the following day and on four other occasions within the next week.
Calderon agreed to roll over — but not on his family
"Calderon made it clear from his first meeting with the FBI agents that he was willing to wear a wire and record his conversations with other public officials," the court document said. "The only people Calderon said he was not willing to record were his family members."
Calderon actually did record two conversations with an unnamed person who has not been charged. He then stopped communicating with agents, so on June 4, 2013, a search warrant was served on his Capitol offices, an event that was covered by the media.
Pacific Hospital was the go-to place for spinal surgeries and several thousand were performed between 2008 and April 2013. During this time, Drobot owned the hospital and he gave doctors kickbacks of $15,000 for performing such surgeries at his hospital and utilizing implantable devices supplied by a company that he owned. That company, International Implants, overcharged the hospital by at least double and the hospital would submit the bills to insurance carriers through the mail – also creating mail fraud, the indictment said.
Beginning in January 2010, the California Senate and the Division of Workers' Compensation decided to revamp the billing procedures to curtail excessive spending and fraud. Rather than letting hospitals bill separately for hardware, the amount was to be folded into the total cost of the surgery which had a set fee schedule.
Allegedly fought to preserve hospital scam
Calderon met with two other senators and emailed a third in order to quell this overhaul. He also arranged to have his son work at International Implants as a file clerk during the summers of 2010, 2011 and 2012. The younger Calderon was paid a total of $30,000 – money that went toward his college tuition — even though he only worked 15 days per summer. Then he filed tax returns showing a write-off of most of the money, the indictment said.
Drobot also showered Calderon with other gifts like vacations with usage of a private jet, rounds of golf at high-end resorts and meals at pricey restaurants. None of this was disclosed on Calderon's conflict of interest forms, the indictment said.
Eventually this was for naught, because the law overhauling the medical hardware passed in January 2013. By that time, Drobot had billed insurance companies approximately $500,000 for spinal surgeries and had paid upwards of $50 million in kickbacks to doctors. Other professionals such as chiropractors and marketers would receive kickbacks as well for their referrals for other types of surgeries. The kickback amount was just folded into the contract for services.
"In some cases, the patients lived dozens or hundreds of miles from Pacific Hospital and closer to other qualified medical facilities," Drobot's plea agreement said.
When he is sentenced, Drobot faces a maximum of 10 years in prison, an order of restitution and a fine that could equal twice victims' loss.
---
---
Related Articles
AUGUST 20, 2010 By JOHN SEILER The research by Adam Schaeffer of the Cato Institute's Center for Education Freedom seemed
California is becoming ground zero for lawsuits seeking class action status that allege companies are, somewhere along the line, misrepresenting
With all the protests swirling around Arizona's immigration law, why aren't there similar protests scheduled against a proposal by Democrats