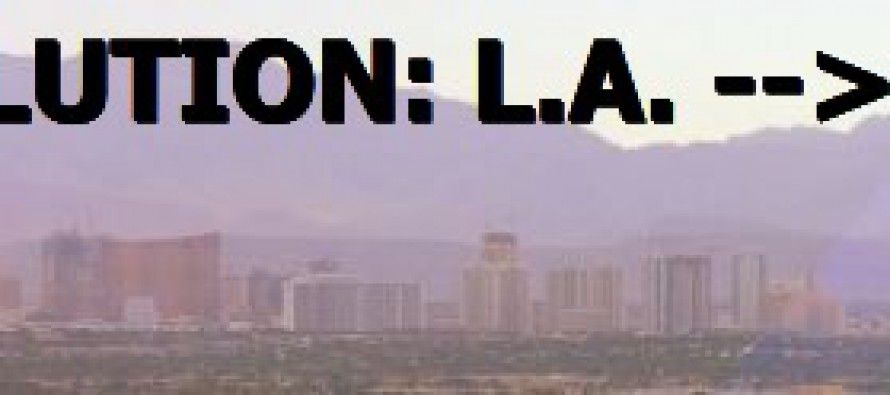 This is Part 2 of a two-part series on the Ivanpah solar plant. Part 1 is here.
As its name implies, the Ivanpah Concentrated Solar Thermal Power Plant in the Mojave Desert is supposed to provide renewable energy from the rays of the sun.
But on March 26, 2014, Ivanpah applied to the California Energy Commission and the California Air Resources Board to increase, from one to five hours, its auxiliary gas-fired boiler's use of pre-warmed fluid for its steam generators.  Ivanpah generates power for about 12 hours of solar insulation each day, of which four to five hours are peak generation. Ivanpah is projected to generate electricity for 249 days each year due to cloud cover, desert windstorms, nighttime and other constraints.
So Ivanpah has morphed into a hybrid natural gas-solar power plant.  But it shouldn't be considered like a Toyota Prius car that has a nearly non-polluting hybrid gas-electric engine. It is more like a 1950's hot rod without a modern catalytic converter in the exhaust tailpipe.
Ivanpah denied any environmental impacts because a similar-sized natural gas power plant would emit greater tons of C02 per year. Ivanpah's application to the Energy Commission stated that "the Project's impacts therefore round down to 0.0" (Section 3.2).
The application asserted that Ivanpah met all applicable state and federal ambient air quality standards. But so did many of the coal-fired power plants in Arizona and Utah that Ivanpah was designed to replace that still serve the Los Angeles area with electricity, albeit with greater C02 emissions.
The application further said emissions of particulates (soot) exceeded regulatory standards, but the background concentrations already exceeded the standards anyway. The application said, "However, PM10 (particulate) impacts from Ivanpah operations are very small, and will not contribute significantly to the exceedance of an AAQS (Ambient Air Quality Standards)."
Worse air quality
Yet according to an April 26, 2010 article in the Las Vegas Sun, "New Wave of Solar Plants Could Worsen Air Quality," there were 60 new solar plants planned to build out in the Ivanpah area, many of which also would be solar-thermal power plants.
The relatively small impacts from Ivanpah alone might not exceed air quality standards. But the cumulative impacts from massing solar thermal power plants all in one area of Southwestern Nevada and Southeastern California likely will exceed air-quality standards. Ivanpah could have been sued by environmental groups on the grounds of cumulative impacts and possibly stopped.
But as noted in the first article in this series, on October 4, 2011, Gov. Jerry Brown signed Senate Bill 226, amending the California Environmental Quality Act so that "cumulative" impacts from a number of related public projects do not disqualify a project from categorical exemptions under certain circumstances.
Like much of urban California, Las Vegas is located in an arid basin surrounded by mountains. (For smog to become a visible problem, there needs to be a topographical smog trap such as an air basin.)
The emerging problem of massing solar thermal-power plants originates with the U.S. Bureau of Land Management's policy of designating specified areas for solar energy development that do not create visual impacts on highway visual corridors or on the natural view sheds of national or state parks.
Yet massing thermal-solar power plants runs counter to Paracelsus' first principle of toxicology: concentrating anything will make it toxic.
Ivanpah solar now 'dirty power'
With a number of other large solar projects queuing up behind Ivanpah to locate nearby, the ultimate result could be just exporting Los Angeles' air pollution to the desert 35 miles from Las Vegas, the Lake Mead Recreation Area and the Mojave Desert National Reserve.
Las Vegas so far has not been initially opposed the Ivanpah plant near the Nevada borderline with California because of the jobs solar projects would create for the area. Nevada's unemployment rate in March was the second worst in the country, at 8.5 percent; California's was fourth worst, at 8.1 percent. So the jobs will be appreciated in both states.
Ivanpah received a $660 million federal tax refund under the 30 percent Investment Tax Credit in Lieu of Production Tax Credits as part of the American Recovery and Reinvestment Act (President Obama's  2009 federal Stimulus Program).
It has also been reported that Google profited from tax credits for its $750 million renewable energy investment plan.
California's environmental policies are proving to be more successful reducing relative regional air pollution, not overall pollution — with the dirty air just shifted to the Las Vegas-Lake Mead areas.
---
---
Related Articles
A bill requiring California businesses to provide double pay for employees working on Thanksgiving and Christmas recently passed the Assembly
Feb. 17, 2012 Newt Gingrich, the Republican presidential candidate, was in California this week to attend a series of campaign
June 4, 2013 By Wayne Lusvardi Mark Twain wrote, "History doesn't repeat itself, but it does rhyme." California is replaying