California's oil industry is celebrating the defeat of a bill that would have placed a moratorium on hydraulic fracturing — but warned that the fracking war is far from over.
Senate Bill 1132 by Sen. Holly Mitchell, D-Los Angeles, failed 18-16 on the Senate floor May 28. Four Democrats joined Republicans in voting against it, while three Democrats sat out the vote. The bill was reconsidered the next day, resulting in a loss of two more Democratic votes.
Catherine Reheis-Boyd, president of the Western States Petroleum Association, sent out a congratulatory email to supporters last week:
"The legislation would have banned hydraulic fracturing and other well stimulation technologies, putting existing petroleum industry jobs at risk and preventing the creation of potentially tens of thousands of others – not to mention depriving Californians of much-needed state and local tax revenues and enhanced energy security.
"Not surprisingly, anti-oil special interests who fed the public, the state Legislature, and media egregious misinformation about hydraulic fracturing and other oil extraction techniques have vowed to continue their efforts in Sacramento and throughout California's local communities. WSPA will continue to push for common sense legislation that balances environmental protection with domestic energy security, job creation, and economic development."
Mitchell: Big Oil 'polluting for profit'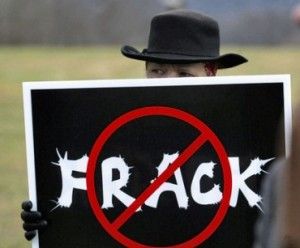 Mitchell did indeed vow to keep up the fight against an oil-and-gas drilling process that she believes pollutes the environment.
"[She] is proud of the bill's successful journey in raising awareness around public safety, fossil fuels and environmental justice," Mitchell said in a press release.  "Although the bill fell short of passage, she is confident that the movement to re-assess fracking, acidization and other well stimulation methods will continue to grow until the public's concerns are thoroughly addressed.
"We have the momentum, this issue's gone viral nationally, and it's just a matter of time before the dangers of fracking prompt people to put it on pause until its safety can be established. When the impacts on the public of a for-profit endeavor are unknown, we try it out first in minority neighborhoods – assuming low vigilance and the need to bring in jobs makes safety irrelevant.
"But we've put big industry on notice: That ploy won't fly forever. People's neighborhoods aren't fodder for fracking, environmental justice must come, and one day soon the vote to refrain from polluting for profit will prevail!"
State, feds: Fracking not a danger
But the California agency charged with oversight of fracking assures that more than a half-century of hydraulic fracturing in the country have shown it to not be an environmental danger.
"Hydraulic fracturing was first used in 1947 in a well in Kansas," states the California Department of Conservation's Division of Oil, Gas and Geothermal Resources. "Since then, hydraulic fracturing has become a regular practice to tap into previously unrecoverable reserves, or to stimulate increased production from existing oil or gas wells in the United States.
"In California, hydraulic fracturing has been used as a production stimulation method for more than 30 years with no reported damage to the environment."
The Obama administration also has long depicted fracking as safe. In May 2013, at a news conference on draft rules for fracking on 700 million acres of federal land, Interior Secretary Sally Jewell defended the drilling process: "I know there are those who say fracking is dangerous and should be curtailed, full stop. That ignores the reality that it has been done for decades and has the potential for developing significant domestic resources and strengthening our economy and will be done for decades to come."
SB1132 came hard on the heels of another fracking crackdown bill, SB4, which was approved by the Legislature last year and signed by Gov. Jerry Brown. It increases regulations on fracking, including disclosure of the composition and disposition of fracking fluids to state regulators.
It also requires a study be completed by the end of this year on "the hazards and risks that fracking poses to natural resources and public, occupational, and environmental health and safety," according to the bill's legislative analysis. "No permits for fracking would be allowed to be issued after Jan. 1, 2015, unless the study is completed and peer reviewed."
SB1132 would have extended that study an additional six months, and imposed additional governmental reviews before fracking could resume in the state.
Sharp disagreements in Senate floor debate
Democrats and Republicans debated the bill May 28 on the Senate floor.
"SB1132 puts a temporary moratorium on hydraulic fracturing and acidization until they are proven safe by an exhaustive study that looks at many of the concerns and complaints commonly made by the citizens who live and work near the oil fields," said Mitchell.
She dismissed concerns about potential job loss, saying the oil industry claims that only a small minority of wells are fracked. And she cited media reports that the oil recovery potential of California's Monterey Shale formation has been cut by 96 percent, according to the U.S. Energy Information Administration.
"SB1132 simply calls for a 'time out,' if you will, a temporary moratorium pending verification that fracking and acidization methods are safe," said Mitchell. "Along with many of you, I have no desire to increase our over-reliance on foreign oil. However, the safety of oil drilling is fundamentally an environmental justice issue that I believe we must view with great scrutiny."
Jackson: No need to 'frack, frack, frack'
She was backed by Sen. Hannah-Beth Jackson, D-Santa Barbara, who said that fracking has caused earthquakes in Ohio and degraded water quality in Texas.
"There would be no harm in hitting the pause button and evaluating specifically and more independently what the impacts are of this process on our water quality, air quality, the public health of people in surrounding communities," said Jackson. "There is no urgency to frack, frack, frack. Let us be cautious. Let us be circumspect. And let us have the information that we need in order to determine whether we should continue a procedure that has demonstrated negative results in other parts of the country."
Sen. Mark Leno, D-San Francisco, said that 70 percent of Californians support a fracking moratorium. And he noted that other states have adopted moratoriums.
Two Republican senators representing inland valley areas pointed out that their districts are still suffering double-digit unemployment, which will worsen with this year's drought.
GOP response cites economic potential, need for fuel

Sen. Tom Berryhill, R-Stanislaus, discussed a trip to North Dakota last year where the economic contrast could not have been more stark due to that state's oil and gas drilling boom.
"It was mind-boggling," he said. "There was 'help wanted' on every corner and every small business. It was a tremendous opportunity to get people back to work. This technology has the potential to create thousands of jobs and a second gold rush to the local economy in the state of California that we haven't seen in years."
Sen. Jean Fuller, R-Bakersfield, challenged Mitchell.
"Californians require 44 million gallons of gasoline a day," said Fuller. "Our state refineries provide all of that gasoline, and they must be supplied with oil from somewhere. My question for the author is: What other methods or new technology does this bill propose to use to backfill the lost oil production in California? Tankers, rail, rationing or something that I don't know?
Mitchell responded, "This bill does not propose to offer an alternative." The time for that is if the study determines that fracking is unsafe, she added.
That did not satisfy Fuller, who said, "My area produces about 80 percent of the oil and gas. Most of those wells that are being fracked have been fracked for many, many years. Most of them are in an oil well footprint where there's no groundwater underneath, there's no residential houses nearby. And they haven't had safety violations.
"I think that we'll get [safe fracking] without having to suffer loss of jobs and tremendous economic upheaval in my area. Some of the small cities in my area have 30 percent unemployment now. We're about to head into a drought in August, and that will probably double [unemployment], because the last time we had a drought there was 30 percent unemployment just from the drought. To have even a day's loss of this work, which are very good wages and very good health benefits, is absolutely crushing for us."
Sen. Jim Nielsen, R-Tehama, argued that Mitchell's bill puts up so many obstacles to completion and certification of the study, that it would amount to a de facto ban on fracking.
"Would it affect the citizens of California?" he asked. "Absolutely. We cannot conserve our way to the future in either water or energy."
Mitchell: You're crying fire
Mitchell accused her bill's opponents of being alarmists on the threat of lost jobs.
"I don't think it's appropriate for us to cry fire in a crowded theater when we are unable to quantify the actual statistical job loss based on the narrow parameters of this bill," she said. "We as policy makers have to make a very, very difficult, delicate decision: employment versus public health and safety. I appreciate the challenges many of the districts are experiencing. I hope you appreciate the challenges my constituents are facing who live in very, very dangerous close proximity to wells that are being fracked and where acidization is being used."
Reheis-Boyd discussed in her blog her organization's next steps, now that there has been a temporary truce in California's fracking war:
"[The] defeat of Senate Bill 1132, legislation that would have imposed a moratorium on hydraulic fracturing and other well stimulation technologies, clears a path for a concerted and collaborative effort to fully implement new statewide regulations embodied in Senate Bill 4.
"The SB 4 regulations put into place a robust set of monitoring, disclosure, testing, land use and research requirements that ensure hydraulic fracturing in California is conducted safely and without harm to the environment. But there is still much to be done to finalize these new regulations, and the petroleum industry is going to be a constructive partner in getting them accomplished.
"For example, we are working with the State Water Resources Control Board and regional water boards to develop groundwater monitoring criteria and planning required by SB 4. Once finalized, these new requirements will give us the data necessary to demonstrate hydraulic fracturing and other well stimulation technologies are not adversely impacting California's precious water supplies.
"We are working with the California Air Resources Board and regional air boards to ensure air quality concerns are addressed as required by SB 4. We are working with the Division of Oil, Gas & Geothermal Resources to develop the in-depth CEQA analysis of well stimulation operations also required by SB 4. And we look forward to the findings of the science-based study of hydraulic fracturing – yet another requirement of SB 4. …
"As Governor Brown has noted, close to a third of the new wells drilled in California are hydraulically fractured as a way to improve their productivity. These wells are an important part of California's ongoing, conventional oil production that supplies 37 per cent of our daily petroleum needs. 
"The more than 100,000 men and women directly employed in oil production and transportation in California appreciate the Legislature's support for the work they do and welcome the opportunity to move forward under the guidance of SB 4 regulations."
---
---
Related Articles
Mickey Kaus is a very smart L.A. pundit whose Kaufiles was one of the original news blogs that mattered. He
SACRAMENTO – Does California have a voter turnout problem? The state's voter-turnout rates hit the skids in the 2014 election
Is it a passive-aggressive way for independent businesses to let customers know about the cost of government regulation? Or just