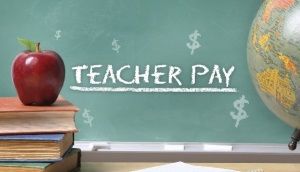 The Transparency California group's database of school district compensation undercuts teacher unions' claims that teacher pay scales are ungenerous and capped at unfairly low levels.
When very generous health benefits and good pension benefits are factored in, that doesn't look to be true in the state's second largest county. Here are some of the findings about San Diego County, as reported by the U-T:
More than 7,500 school district employees in San Diego County received six-figure compensation packages last year, including 4,600 teachers. …
More than 1,300 San Diego Unified teachers also received six-figure compensation packages.
About 570 Sweetwater [Union High School District] teachers received more than $100,000 in compensation.
About 390 Oceanside [Unified] teachers received $100,000 or more, data shows.
The data shows that 359 teachers in the Poway district also received six-figure compensation in 2013.
Poway's highest paid teacher … has her masters degree and teaches regular and A.P. U.S. History at Rancho Bernardo High, as well as civics and U.S. History for Poway's online school. After 24 years in the district, [her] total compensation topped $132,130, including $22,106 in benefits, according to the data.
Negative correlation between $100k employees, district quality?
What's particularly striking about the data is how the best school system isn't remotely the one with the most high earners. Poway Unified — which has 35,000 students in a mostly upper-middle class district ranging from 4S Ranch in San Diego County to the city Poway to San Diego communities Rancho Bernardo, Poway, Scripps Ranch and Rancho Penasquitos — is widely considered one of the best medium-sized school districts in the nation.
But Poway has fewer $100,000 earners than Oceanside, which is much smaller with an enrollment of 21,200, and far fewer than Sweetwater, which is slightly bigger with a 40,900 students. Neither Oceanside or Sweetwater has a reputation even close to Poway's.
There may be no conclusion to be drawn from this. But from talking to active parents in Poway Unified, one theory is quite plausible: a school that's well-run on the academic side is likely to be well-run on the finance side, because they're so interconnected. Poway Unified pays enough to avoid faculty turnover and resists pressure for unnecessary raises.
The budget figures back this up. In 2013, compensation for Poway Unified employees took up 84 percent of the operating budget. In San Diego Unified, compensation costs were a stunning 92 percent of the operating budget.
That's a pretty intriguing theory to contemplate: that there is a negative correlation between percentage of teachers earning $100,000 in compensation and a school district's quality.
---
---
Related Articles
Over the weekend, two sources indicated to me that the Chuck Reed/Carl DeMaio pension reform initiative would be pulled, re-written,
When California voters passed Proposition 39 in 2000, they thought they were simply making it easier to pass school bonds
Basic concepts of police professionalism were more or less born in Northern California, courtesy of a reform-minded police chief, as