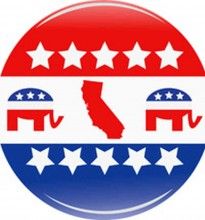 Analysts expected it, but it hurt all the same. The gains in the California Legislature were welcome. But in state-level races, California Republicans did not enjoy the same tidal-wave election results as their fellow party faithful across the country.
For decades at the national level, moderate, centrist and liberal Republicans have urged the GOP to pivot leftward on social issues in order to broaden the size of the party's base. But in California, that strategy has long been baked into the cake of the political establishment's culture — and it hasn't turned back the Democratic tide.
That's why California Republicans have begun to look even more closely at social issues amid this year's disappointing — but not crushing — elections. To begin with, the limits of liberalizing have become apparent even among Democrats.
Nationwide, Democrats were widely judged to have badly miscalculated that identity politics would suffice to drive voter enthusiasm and win close contests. Party elites and opinion-makers have begun to argue that Democrats must focus on an economic message over a culture one.
For California Republicans, two takeaways have emerged. First, a further turn to the left on social issues may not translate into more votes. Second, a tilt back to the right probably won't do much either.
Importantly, while the substance of identity politics failed Democrats, the symbolism also foundered. Wendy Davis's strongly gendered campaign for Texas governor was a painful flop even by the low standards of this year's elections. She lost to Republican Greg Abbott, 59-39. That was even worse than Republican Neel Kashkari's 59-41 loss to Democratic Gov. Jerry Brown here in California.
A Washington Post post-mortem was headlined, "Wendy Davis' campaign was even worse than you thought." It reported on an internal campaign memo which warned way back in January of a "lurch to the left. … There is not a model where a candidate who appears this liberal and culturally out of touch gets elected statewide anywhere in the south — much less in Texas."
Unsuccessful candidacies
In one notable instance, a California Republican whose identity implicated social issues lost — but not for that reason. After a high-profile and costly race, Carl DeMaio had to concede defeat to incumbent Rep. Scott Peters in their fight for the state's 52 Congressional District.
As U-T San Diego reported, "DeMaio positioned himself as a 'new generation Republican,' potentially breaking new ground as a gay Republican in Congress. Peters ran on his bipartisan record and had substantial support from the business community."
Two years ago, DeMaio, a former San Diego councilman who helped push pension reform, lost another close election for mayor to Democrat Bob Filner, who later was forced to resign due to personal scandals.
Although it has never been easy to unseat an incumbent in a state where the dominant party has a strong advantage, DeMaio's experience paralleled that of a second gay Republican candidate. Richard Tisei, running for the 6th District in Massachusetts, lost out to Seth Moulton, a Marine veteran of the Iraq War who had defeated incumbent Democrat Rep. John Tierney during the district's primary race.
In Tisei's case as well as DeMaio's, voters in a deep-blue state didn't jump at the chance to vote for a credible, competent and openly gay Republican.
But in DeMaio's case, importantly, the margin of defeat was very narrow, indicating that few Republican voters were deterred by the political implications of DeMaio's sexual orientiation.
Although allegations of sexual misconduct by DeMaio toward staffers did cloud the campaign waters in the home stretch, Gregory Angelo, executive director of the Log Cabin Republicans, told the Atlantic magazine that he didn't believe anti-gay attitudes caused DeMaio to fall short.
Pot issue
At the same time, at least one social issue — the legal status of marijuana — continued its movement toward the mainstream in a way that Republicans could capitalize on.
In recent remarks before members of the press, Rep. Dana Rohrabacher, R-Calif., said his view from the Golden State counseled a liberalized, and pro-liberty, attitude toward pot. For more than two decades representing coastal Orange County, one of America's most conservative areas, he just won-reelection, 64-36.
"The members of the Republican Party just should become more practical if nothing else," he said. "The American people are shifting on this issue." He warned the change would "make a difference in the election of some very close races."
---
---
Related Articles
Nov. 23, 2012 By Chris Reed Many California government workers — and more than half of all teachers — get
A judge has found that the records of lawmakers can be subject to open records requests, making California one of 28
Some members of the Contra Costa County Board of Supervisors are facing sharp questions about their ethics and honesty over