Hundreds of Californians have requested free custom research of their property from state regulators, following the governor's request for a personal evaluation of oil, gas and mining interests on his Northern California ranch.
Earlier this month, the Associated Press first reported that Governor Jerry Brown had directed state employees at the Division of Oil, Gas and Geothermal Resources with the California Department of Conservation to evaluate his 2,700-acre property for its oil, gas and mining potential. The request raised questions about whether the governor had inappropriately used state resources for his personal benefit.
State officials, including department heads appointed by Brown, defended the governor's actions by saying that he received the same services that are available to members of the general public. That claim inspired the statewide advocacy group, Consumer Watchdog, to send out an email campaign urging average citizens to obtain their free oil, gas and mining maps.
"Isn't it a misuse of public funds for the governor to have the state's oil and gas agency map and survey his personal property?" wrote Carmen Balber, executive director for Consumer Watchdog. "Why not find out if your house is sitting on a black gold mine? Go to our website and send an email asking for your free oil and gas map."
About 200 Request Custom Maps
A spokesman with the Department of Conservation says approximately 200 people have made the request — with only about a dozen following through with the complete evaluation.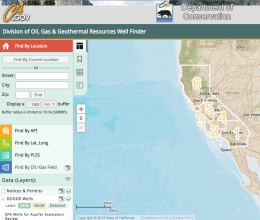 "Since the Associated Press' recent story, we have received about 200 requests from individuals seeking data," said Don Drysdale, the oil and gas division's spokesman. "The Department has contacted all of those individuals; only about a dozen have followed through on the data request and were provided a custom map, access to relevant well records, a brief summary of the activity in their region, and links to other data."
Drysdale said that the public has access to "a significant amount of both current and historic data, as well as mapping tools." He added that the department has not changed its policy since the Associated Press story broke.
When CalWatchdog.com submitted a request for a free custom oil, gas and mining map, the state department said that it would be happy to provide the information.
"The Department of Conservation, which includes the Division of Oil, Gas, and Geothermal Resources, the Office of Mine Reclamation, the California Geological Survey, and the Division of Land Resource Protection, would be happy to carry out your request to find geologic or resource information on or around your property," the agency responded to CalWatchdog.com's email request.
AP: No Records of Same Level of Service
Although the department has been quick to provide free access to its mapping tools, experts in the oil and gas industry say that the governor received advanced geological information and a determination of his property's potential value.
"It's not part of the division's charge," Anneliese Anderle, a former state oil and gas engineer told the Associated Press. "Bottom line was we wouldn't be doing what was provided to the governor."
There's no evidence that any member of the general public has received the same level of personalized service that the governor received from state employees.
"The Associated Press found no records that show anyone else received the same level of service on private land — and one state lawmaker was even told that state officials couldn't help him map oil wells that were potentially endangering drinking water supplies in his Southern California district," the news service reported this week.
Like so many controversies, the response to the scandal has itself drawn scrutiny. A state employee with the state oil and gas agency has filed a whistleblower complaint alleging that she was retaliated against for being suspected of uncovering the potential wrongdoing.
---
Related Articles
San Diego Mayor Kevin Faulconer, San Diego County Supervisor Ron Roberts and Assembly Speaker Toni Atkins, D-San Diego, told a
On the day before Christmas, the U.S. Department of Labor issued its weekly report on new unemployment claims. While
President Obama, during his press conference Thursday, identified three policy areas where he believed Congress — at its most dysfunctional