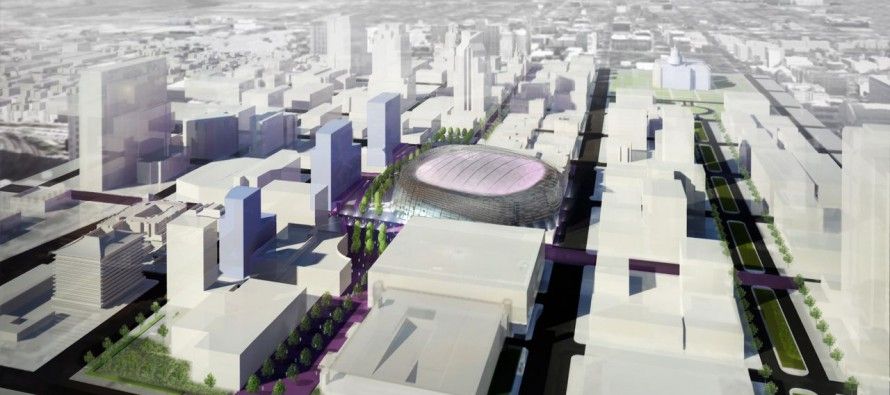 A new coalition has emerged in Sacramento's battle of the publicly subsidized sports arena. But this new player is on behalf of the taxpayers and citizens of Sacramento.
On the steps of Sacramento City Hall Tuesday afternoon, I witnessed members of "Our City — Our Vote" announce the formation of "Voters for a Fair Arena Deal," to help an arena initiative qualify for the June 2014 ballot. The group said it plans to vigorously advocate for a fairer arena deal for the City of Sacramento and city taxpayers.
And they stressed they want an arena built — just not on the backs of the taxpayers.
"Voters for a Fair Arena Deal," was formed amidst unanswered concerns about the pubic cost of the current arena subsidy plan, which will require payments of $25 million per year for 27 years after the initial 8 years of "interest only" payments.  The state recently prohibited school districts from using similar long-term "capital appreciation" bonds. Ahem.
The new group has filed registration papers with the Secretary of State and the Fair Political Practices Commission. They expect to get some financial help from nonunion building contractors who have been cut out of the arena deal by the Sacramento Kings owners when the unholy deal ensured the use of only union labor on the half a billion arena project.
The Sacramento arena deal, led by Mayor Kevin Johnson, has suffered from a lack of public debate, dubious financial numbers from the city, along with a growing public subsidy, and last-minute legislation by Sen. President Pro Tem Darrell Steinberg, D-Sacramento, to let the stadium avoid a real environmental impact review.
"The City's attempt to suddenly speed up the schedule makes it appear they are trying to circumvent the public's right to be heard," said Susan Patterson, Sacramento city resident and former SMUD Board member, "that's not how you build public confidence.  We need to move past the angry twitter wars and campaign stunts — that's why we're adopting Our City, Our Vote's campaign ethics code at the same time."
Too many politicians seem to have one thing in common — they all are always willing and eager to put taxpayers in more debt on ego deals the cities do not need, and cannot afford.
Non-union contractors offer help
Voters for a Fair Arena Deal said non-union contractors will likely donate between $15,000 and $25,000 to help mount the campaign, along with other donations.
Interestingly, the largest area electrical contractor qualified to do the work on a new arena is non-union. Rex Moore Electrical Contractors and Engineers would probably rather see a project allow free and open competition for all construction contracts, instead of going out of the city for contractors — especially if this arena project is all about creating jobs for Sacramento, as proponents claim.
The "deal," known as a project labor agreement between private developers, the city of Sacramento, and one big labor union, happens when the government awards contracts for public construction projects exclusively to unionized firms.
According to Eric Christen, executive director of the Coalition for Fair Employment in Construction, the Sacramento construction market is 85 percent union-free. In a September op-ed in the Sacramento Bee, Christian asked, "why would the owners agree to a PLA that will only make this project more expensive?
The Coalition for Fair Employment in Construction is a California-based organization dedicated to opposing project labor agreements. The CFEC called the arena PLA "a waste of taxpayer money and a payoff to unions to avoid baseless complaints and lawsuits under the California Environmental Quality Act."
10 Principles of a Fair Arena Deal
"Voters For A Fair Arena Deal are committed to allowing a public vote on the Sacramento Entertainment and Sports Complex project, and towards advocating for a deal which is equitable, fiscally responsible, and appropriately risk-managed," the
website
says.
1. Voter approval of all public spending in connection with arena.
2. Establish firm dollar cap on public subsidy for the arena (including on-site and off-site infrastructure costs) based on what can be paid without tax increase or service cuts.
3. Majority of arena construction & development costs will be borne by the private developers.
4. Limit public subsidy dollars to direct funding of arena construction.
5. Profits from arena operation will be shared equitably based on the total contribution from public and private sources.
6. Free and open competition for all construction contracts.
7. Public oversight of the expenditure of public funds, including creation of an independent bond oversight commission that exercises "best standards" of oversight.
8. Arena bond financing must include fully amortizing payments (no interest-only payments) and be limited to a 25-year term (the standard established for school bonds by AB182).
9. Complete an independent assessment of traffic impacts of new arena; and secure assurances that traffic mitigation costs above the pubic subsidy cap will not be borne by city taxpayers.
10. Require independent economic study to examine arena deal and financing plan.
Redevelopment 2.0
The Voters for a Fair Arena Deal has a gigantic task ahead. The $447.7 million arena deal at the Downtown Plaza in Sacramento has been billed as "the largest redevelopment project in city history."
"We are not opposed to an arena, we are not opposed to a public subsidy for an arena," Voters for a Fair Arena Deal member Craig Powell said today. "What we are in favor of is an arena subsidy we can afford." Powell said the current City Council proposed subsidy of $258 million, is far too expensive and will only serve to hurt the city financially.
---
---
Related Articles
The recent Standard & Poor's report upgrading California's credit rating prompted headlines not just in the Golden State but in
Steven Greenhut: California Democrats insist that they really are interested in pension reform, it's just that there are many other
In late 2012, as officials with the California Air Resources Board were refining rules for the state's nascent cap-and-trade pollution