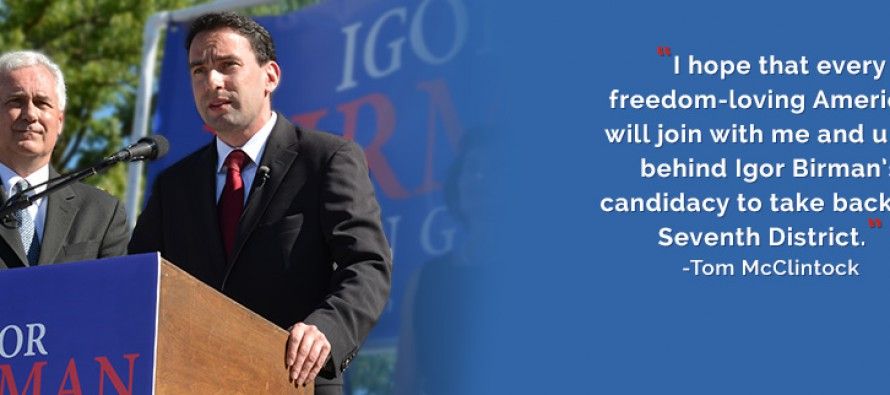 Note: This is the first in a series of interviews of all the major candidates for the crucial 7th Congressional District in California.
SACRAMENTO — Having faith in freedom, Igor Birman is hoping voters "hire" him for Congress. "I'm here on a job interview asking you to hire me," Birman tells voters he meets.
Birman, a Russian Jewish Immigrant and Republican, announced in September he is running for Congress against Rep. Ami Bera, a Democrat from Congressional District 7. At 32, Birman has a unique ability to reach young and ethnic voters who historically have been wooed by Democrats. At a Sacramento coffee shop, he sat down to talk to me.
"I was defined by freedom," Birman said when we met this week. "But that freedom now is in great jeopardy based on the policies of many leaders in our government."
"This is all in your hands"
Birman is the former Chief of Staff to Rep. Tom McClintock, R-Elk Grove, a post he held since 2009. McClintock has endorsed Birman.
Birman was born in the Soviet Union in 1981. His father father is a physicist and a Refusenik, a term for Soviet Jews who were denied permission to emigrate abroad. Soviet officials said Birman's mother could leave the country and take Igor and his younger brother, but officials would not let his father go because of his scientific expertise. Finally, after the Soviet Union was dissolved in 1991, eventually the family was allowed to leave in 1994, when Igor was 13.
Birman said a few days before the family left Russia, his parents discovered the secret police had been conducting surveillance of them. The police tore apart their small Moscow apartment trying to intimidate the family. Birman said his parents risked everything and gave up everything they owned to come to America.
"This will never happen there," Birman said his mother repeatedly assured him.
As the Birman family was preparing to leave, his father received a suspicious letter claiming to be from the American Embassy. "But it was in Russian," Birman said. The letter read:
"Dear Mr. Birman,
"Due to the new fiscal year, the U.S. is no longer accepting new immigrants. Please cancel your plans to come."
Igor said since his English was good, he called the U.S. Embassy for his parents and asked officials about the suspicious letter. He was told it was a fake. "Come, and come right away," the U.S. Embassy representative told him.
"My parents risked their lives to get me here, to live in freedom, to flourish," Igor said. "And now that that same freedom is being threatened by our own leaders, how can I not dedicate my life to make sure that my children and grandchildren are born into a society that I came here to find?"
Consequences of an overgrown government
Birman said Americans are faced with the consequences of an overgrown government everywhere. Obamacare is just one example.
"You don't have to look much further than families who can no longer find full-time jobs, or who now find themselves with less than full-time work, with 29-1/2 hour work weeks," Birman said. "Families whose husbands and wives came home and reported their companies no longer carry health care coverage. That's not because the ingenuity of the American people is sapped. It's because of government policies that ultimately are up to us to reverse. Many of these folks realize it's public policy to blame, and that's why I'm running."
People are the sovereigns
"People are the sovereigns," Birman said, meaning that "the people" have all of the rights of kings.
Indeed, the U.S. Supreme Court found in Yick Wo vs. Hopkins, "Sovereignty itself is, of course, not subject to law, for it is the author and source of law."
"But instead, the people have become supplicants to government," Birman said. "They tell us what to do, but we hire them." He said this is reversible. "This is all in your hands," he tells constituents.
Congressional District 7 contenders
Rep. Ami Bera narrowly won a 2012 election rematch against Rep. Dan Lungren, a veteran Republican, with a long history of holding political office, including as California attorney general. Bera is vulnerable in the district, with 39 percent registered Democratic voters, and 38 percent Republican voters.
In the new "top two" voting system, the two candidates with the most votes in the June primary face off in a November 2014 runoff. Bera almost certainly will be one of those two. Which means that, for the second slot, Birman is challenging Republicans Doug Ose, a former California congressman from 1999 to 2005; and  Elizabeth Emken, who in 2012 ran as the Republican Party nominee for U.S. Senator, losing to incumbent Democratic Sen. Dianne Feinstein.
"Do your best to stand for freedom," Birman said. "If you lose, history will remember you. If you win, my God! Then everyone wins. Americans want someone who will uphold freedom. You don't win every battle when you stand on principle. But you may win many."
---
---
Related Articles
By Steven Greenhut TAMPA – Californians typically embrace the notion that their state is so special that the normal rules
  A bill to ban lead ammunition in California has sparked a heated debate among environmentalists, conservationists, hunters and sportsmen.
New legislation on guns was signed by Gov. Jerry Brown and advanced on Capitol Hill, as California elected officials