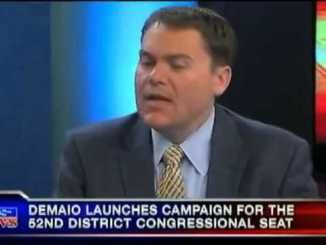 Former San Diego city councilman and mayoral candidate Carl DeMaio, who brought comprehensive pension reform to San Diego, is taking his fight to Capitol Hill.
A new report published by the GOP congressional candidate identified 102 members of Congress that receive public pensions on top of their congressional salaries. That's nearly one in five members of Congress that double, and in some cases, triple-dip from taxpayer funds.
"I'm perfectly fine being the skunk at the party," DeMaio, a frequent critic of government waste, told the Wall Street Journal.
The report, Congressional Pension Double-Dippers Club, was first published by the Wall Street Journal today and immediately sparked controversy inside and outside the Beltway. The single biggest recipient of a government pension on top of a congressional salary is Rep. Joyce Beatty, D-Ohio, who takes home a whopping $253,323 per year from the Ohio Public Employees Retirement System.
California politicians named in report
Unsurprisingly, with the largest congressional delegation, California topped the country with 19 members on the list, including both of California's Democratic U.S. Senators, Barbara Boxer and Dianne Feinstein. Boxer receives a meager $4,445 pension a year from the Marin County Employees Retirement Association, while Feinstein collects $54,925 every year from the city and county of San Francisco.
Of the 17 Democrats and two Republicans on the list, Rep. John Garamendi, D-Solano, received the highest pension — $88,000 per year. He is a former state legislator (vested before their pensions were canceled with Proposition 140 in 1990), lieutenant governor and insurance commissioner.
"Garamendi's multiple government pensions tally up to over $88,800 a year," the report notes. "It's hard to be a double-dipper, but even harder to be a triple and quadruple dipper!"
Other notable California politicians that collect pensions on top of their salary are Rep. Tom McClintock, R-Elk Grove; Rep. Mike Honda, D-San Jose; and Rep. Lois Capps, D-Santa Barbara, all of whom are locked in competitive races in June.
Rep. Scott Peters donates pension to charity
DeMaio's report also singled out his congressional opponent, Rep. Scott Peters, a first-term incumbent that represents the 52nd Congressional District.
"Rep. Scott Peters is a multi-millionaire and the 6th wealthiest member of Congress," the report states. "Despite the fact that the City of San Diego's Pension System is billions in debt, Peters took his pension early – and has received over $100,000 since he turned 50."
The Peters campaign immediately shot back that the Democrat has donated his pension to local charities.
"Mr. DeMaio is well aware that Scott does not keep a penny of his city pension but rather donates it – and then some – right back to the city to fund the public library system," said Kate Lyon, Peters' deputy campaign manager, in a Monday morning press release. "Yet in his most recent attack, he failed to reveal this in a shameful attempt to hoodwink the press and deceive the voters."
DeMaio says the purpose of the report is to "take Pension Reform to the national level – starting with major reforms to the pensions received by Members of Congress." The GOP candidate is proposing that 1) any government pension be deducted from the regular congressional salary and 2) members of Congress be moved from the lavish Congressional Pension Program to a combination of Social Security and a 401(k) system.
Controversy: McCain excluded, copied from National Journal report
As with all pension reform proposals, the report was accompanied by controversy. One complaint: DeMaio's report excluded Republican U.S. Sen. John McCain.
"McCain received more than $70,000 in pension benefits from the U.S. Navy in 2012, according to a financial disclosure obtained by National Journal," the UT San Diego's Joel Hoffmann reports. "DeMaio left McCain off his similar list of pension-receiving legislators, saying in a footnote that military pensions are excluded."
Since the report was published, DeMaio apologized to National Journal, a publication for Capitol Hill insiders, after portions of the report were taken without attribution from a 2013 report on congressional pensions.
"[H]is 'report' looks like little more than a copied-and-pasted version of a National Journal database that accompanied a cover story last June on congressional double-dipping," National Journal's Shane Goldmacher wrote. "National Journal reviewed the financial disclosure forms of every member of the House and Senate to create the database and reveal that nearly one in five members of Congress are collecting taxpayer-funded retirements atop their $174,000 salaries."
Dave McCulloch, a spokesman for DeMaio's campaign, said that the candidate has been drawing from publicly available databases and news reports ever since he began fighting for pension reform in 2004.
"As Carl takes his pension-reform efforts national, the campaign expanded his list to include members of Congress, using publicly available data including Member Financial Interest Disclosures and the previous reporting done by National Journal," McCulloch said.
California Politicians on the Pension Double-Dip List
Member of Congress
Party
District
Amount
Pension System
Boxer, Barbara
D
California Senate
$     4,445
Marin County Employees Retirement Assoc
Capps, Lois
D
California-24
$   68,768
Multiple
Cook, Paul
R
California-08
$   40,695
Multiple
Costa, Jim
D
California-16
$   11,205
Multiple
Eshoo, Anna
D
California-18
$   11,728
County of San Mateo, CA
Farr, Sam
D
California-20
$   19,280
California Public Empl Retirement System
Feinstein, Dianne
D
California Senate
$   54,925
City & County of San Francisco, CA
Garamendi, John
D
California-03
$   88,800
Multiple
Honda, Mike
D
California-17
$   50,014
Multiple
Lowenthal, Alan
D
California-47
$   46,941
California Public Empl Retirement System
McClintock, Tom
R
California-04
$     9,579
Multiple
Napolitano, Grace
D
California-32
$     6,356
California Public Empl Retirement System
Negrete-McLeod, Gloria
D
California-35
$     3,348
CalPERS
Roybal-Allard, Lucille
D
California-40
$     2,501 –
$     5,000
California Legislators Retirement System
Speier, Jackie
D
California-14
$     6,000
California Legislators Retirement System
Vargas, Juan
D
California-51
$   20,304
San Diego City Employees Retirement Syst
Waters, Maxine
D
California-43
$     5,720
California Legislators Retirement System
Waxman, Henry A
D
California-33
$    5,000 –
$  15,000
California Public Empl Retirement System
Peters, Scott
D
California-52
$  20,298
SDCERS
---
---
Related Articles
APRIL 26, 2010 By DAVE ROBERTS The California Occupational Safety & Health Standards Board (OSHSB) has probably been one of
FEB. 8, 2011 By KATY GRIMES During the gubernatorial campaign, job creation and retention was a prominent theme in candidate
March 22, 2013 By Chris Reed The pro-gay marriage movement continues to gather momentum, and I fully expect the Supreme