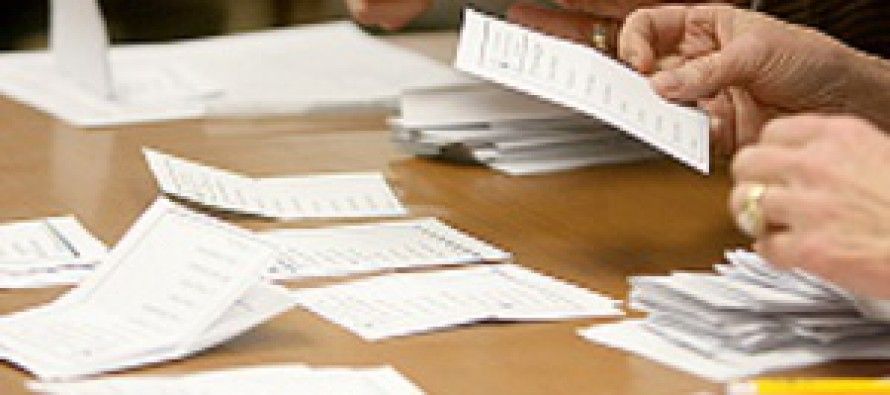 California's never-ending race for state controller entered a new phase Monday, as election officials are expected to begin recounting ballots in at least two counties.
On Sunday afternoon, Democratic Assemblyman John A. Perez, who finished just 481 votes behind Board of Equalization member Betty Yee in the June 3rd primary, formally requested a recount in the controller's race. Perez's recount, which will begin in Kern and Imperial counties, could ultimately span 15 counties and decide which Democrat will face Republican Ashley Swearengin in the November run-off.
"Never in California history has the vote difference between two candidates for statewide office been so narrow, 481 votes or 1/100th of one percent, out of more than four million ballots cast," Perez said in a statement released by his campaign. "It is therefore of the utmost importance that an additional, carefully conducted review of the ballots be undertaken to ensure that every vote is counted, as intended."
Perez's call for a "carefully conducted review of the ballots" is careful indeed. He's requested a partial recount in 15 counties where he out-performed Yee. That's in accordance with state law, which allows any voter to request a partial recount that is targeted at the precinct level.
Although the recount can be limited to select precincts, "all of the ballots in all of the requested counties would have to be recounted and the compilation of the recount in those counties would have to lead to a different candidate winning the contest before the results would be recertified," according to the Secretary of State. 
Yee accuses Perez of "cherry-picking only 15 counties"
Yee's campaign balked at the partial recount slanted in Perez's favor.
"Cherry-picking only the 15 counties that he won, and sorting the precincts within the counties to reflect his strongest areas, indicates that he has no interest in a fair and impartial recount," Yee said.
CalWatchdog.com's analysis of the county recount list shows Perez's margin over Yee, ranging from a high of 31 percent in Imperial to a low of just 1 percent in Orange.
1. Kern +10 Perez
2. Imperial +31 Perez
3. San Bernardino +8 Perez
4. Fresno +3 Perez
5. San Mateo +2.5 Perez
6. Orange +1 Perez
7. Ventura +5 Perez
8. Los Angeles +5 Perez
9. Riverside +6 Perez
10. Stanislaus +5 Perez
11. Tulare +7 Perez
12. Napa +8 Perez
13. Kings +9 Perez
14. Lake +7 Perez
15. Merced +9 Perez
The targeted recount can be stopped at any time, because Perez is footing the bill. A statewide recount could cost several million dollars. According to the Secretary of State's office, if Perez begins to pick up votes, Yee's campaign could at "any time during a recount and for 24 hours after it concludes" request her own recount, "as long as it does not include any precincts that were recounted as part of a prior request."
That could be in the cards, based on statements from Yee's campaign, which has criticized the unfair nature of the recount process. "No recount is going to be fair that doesn't include more counties," Parke Skelton, Yee's campaign consultant told KQED's John Myers by phone Sunday afternoon.
Independent election experts agree with Yee's complaint, but acknowledge that under state law, Yee's only recourse is to request her own recount.
"It's completely unfair unless they do a re-canvass of the whole state," Jimmy Camp, a Republican political consultant and expert on ballot counting, told CalWatchdog.com last month. "Recounts are a crap shoot no matter what."
Perez' strategy: Searching for invalidated votes
So, what is the Perez campaign's recount strategy?
In addition to limiting the recount to counties he won, Perez requested a review of all unopened, rejected vote-by-mail and provisional ballots as well as precinct rosters.
"I am also seeking to review all voted ballots that were not counted in the official canvass, including unopened rejected vote-by-mail ('VBM') ballots and provisional ballots, and any relevant information related to those ballots, including, but not limited to, all VBM and provisional ballot envelopes containing each uncounted or rejected ballot, all precinct rosters, and any other materials related to the uncounted or rejected ballots," Perez wrote in his recount request to the Secretary of State.
That falls in line with the predictions of an election expert CalWatchdog.com consulted last month. "One of the goals of any recount would be to get more of your supporter ballots counted," Paul Mitchell, vice-president of Political Data, Inc., a company that specializes in election data, told CalWatchdog.com. "So, this could mean going into counties where there is a large potential for ballots that were disqualified because of signature problems, and digging through those to find any that can be challenged."
It's unlikely such a strategy will prove fruitful in Los Angeles County. Perez's campaign already closely scrutinized the counting of late absentee and provisional ballots in his home county. Even Perez's campaign acknowledged Los Angeles as a lower priority, ranking it eighth in the order of recount counties.
Potential to flip outcome, but unlikely
What are the chances that the outcome will change?
In recent years, California has seen two recounts in statewide propositions. In July 2012, a Bay Area surgeon requested a recount for Proposition 29, a $1-per-pack cigarette tax increase defeated by voters. In Dec. 2012, a recount was requested for Proposition 37, a food labeling initiative that was also defeated. Neither outcome changed with the recounts.
However, those results weren't nearly as close as the current state controller's race. A study by the Center for Voting and Democracy analyzed statewide recounts from 2000-2009. According to the study, "In the five cases in which the total votes cast were above two million, the margin shift was on average 0.016% of the vote (fewer than one for every 6,400 votes cast)."
With more than 4 million votes cast in the controller's race, that tiny margin, 0.016 percent of the vote, would be 646 votes. As Yee's campaign consultant has pointed out, that figure should be expected to be spread among not just Yee and Perez, but all six candidates who were on the ballot for controller.
"It would be strange indeed for Perez to pick up every vote in a recount with multiple candidates," Skelton, Yee's consultant, has said.
---
---
Related Articles
When people talk about gasoline, it's usually because prices have dropped — or skyrocketed. But with prices remaining between $3.90
Amid a shifting, uncertain health care landscape, Covered California's latest round of enrollments fell short of administrators' goals. In a
May 22, 2012 By Katy Grimes Retribution in politics isn't unusual. Every year we witness members of the Legislature receiving