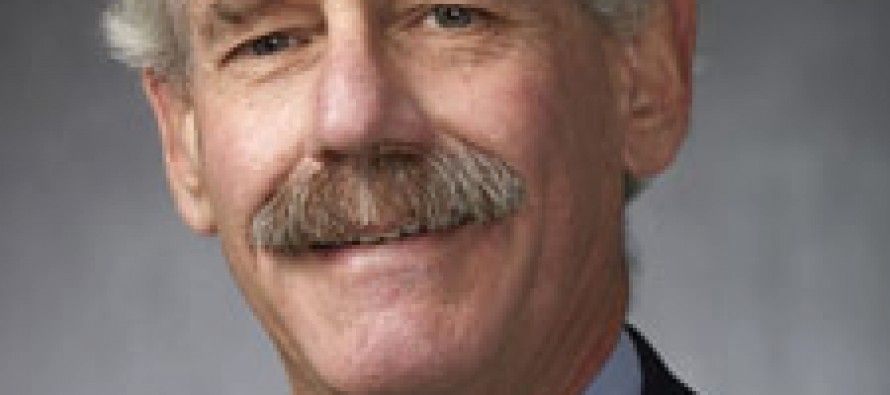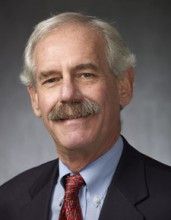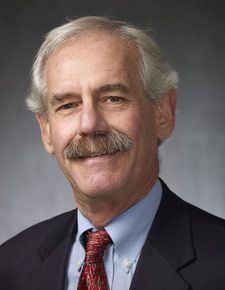 After months of damaging headlines and questions about its coziness with energy companies, the California Public Utilities Commission is getting new leadership.
On Tuesday, Gov. Jerry Brown promoted Commissioner Michael Picker, a longtime Democratic political consultant and Brown's former energy adviser, to serve as president of the scandal-plagued agency. Picker fills the vacancy created with the departure of President Michael Peevey, whose 12th year at the state's energy regulator ended in controversy over his close relationship with and political favors for the energy companies under his jurisdiction.
"I'm honored by the Governor's trust and confidence, and take his charge to heart – reduce greenhouse gas emissions, strengthen safety programs and modernize the agency," Picker said in a press release. "I look forward to continuing this important work with my fellow commissioners."
Picker, who has served on the commission since January, will be replaced by Liane Randolph, a deputy secretary and general counsel of the California Natural Resources Agency. Randolph also is a Democrat.
"Michael Picker's deep experience and sound judgment make him uniquely qualified to take on this role," Brown said in a statement. "Liane Randolph has handled very difficult issues with insight and balance and will be a real asset to the commission."
Peevey's term ends in controversy
With its new leadership, the PUC hopes to turn over a new leaf in 2015, after facing serious questions about its ethics under Peevey. As far back as 2005, Peevey, a former president of Southern California Edison, has been questioned about his close ties to energy companies. In 2011, he "jetted off on an all-expenses-paid study trip to Sweden" that was partially funded by energy companies, according to the San Francisco Chronicle.
The Peevey-led PUC faced renewed scrutiny this year, when emails revealed the agency's assistance to energy giant PG&E. According to the San Francisco Chronicle:
"In one case, highlighted in an email PG&E was forced to disclose by a judge's order, a commission official offered to write a favorable opinion on a $1.3 billion gas-rate case if the utility 'did not like' one from another commissioner.
"Additional emails showed Carol Brown, then chief of staff to Peevey, had promised to help PG&E executives who were trying to get a specific judge of their liking in a key gas-rate case arising from the San Bruno explosion, which killed eight people and injured nearly 60. In another internal email between the executives, Peevey appeared to broker a deal to swap favorable treatment in a regulatory case for PG&E's help fighting a ballot measure that would undo California's law capping greenhouse emissions."
PUC's new power to promote renewable energy
Brown said "both appointees share a commitment to seeing California achieve its ambitious renewable energy goals."
An expert on renewable energy, Picker has played a crucial role in shaping California's energy policy. He served as a senior adviser to both Brown and his predecessor, Gov. Arnold Schwarzenegger, as the state shifts towards more and newer renewable energy requirements.
"During the last four years Michael has been involved in the authorization of 150 clean energy projects, totaling nearly $25 billion in in-state investment and 16,000 megawatts of electricity and creating almost 25,000 highly skilled construction jobs," Picker wrote in his 2012 biography as a candidate for the Sacramento Municipal Utility District. "He coordinates the statewide effort to help reduce California's reliance on polluting coal and fossil fuels and bring us closer to our goal of providing at least 33 percent of electricity from renewable generation sources."
In 2011, while Picker was advising the governor's office on renewable energy, Brown signed into law SBX1 2, which adopted a new requirement that a third of the state's energy must come from renewable sources by 2020. Known as RPS or Renewable Portfolio Standard, the legislation was criticized for legislating by popular slogan rather than by sound public policy.
State Senate confirmation expected
Although both Picker and Randolph take over on Jan. 1, they must be confirmed by the state Senate. However, it doesn't appear either will face an uphill confirmation battle.
One state lawmaker critical of the PUC in recent months offered praise for Brown's appointees.
"We will see some good things from President Picker," state Sen. Jerry Hill, D-San Mateo, told the San Jose Mercury News. "He encourages open dialogue, and he has emphasized public safety as a culture."
"Liane Randolph sounds like an excellent choice at first blush," he said. "She looks like she would be an excellent independent commissioner. She has no ties to the utilities industry."
---
---
Related Articles
JUNE 7, 2010 By KATY GRIMES With PG&E spending $43 million on radio, television and print ads promoting Proposition 16,
Jan. 26, 2013 By Chris Reed There's finally some mainstream media coverage of the astounding decision of the Franchise Tax
Editor's Note: This is Part 2 of two. Part 1 is here.  Nov. 27, 2012 By Katy Grimes PG&E has